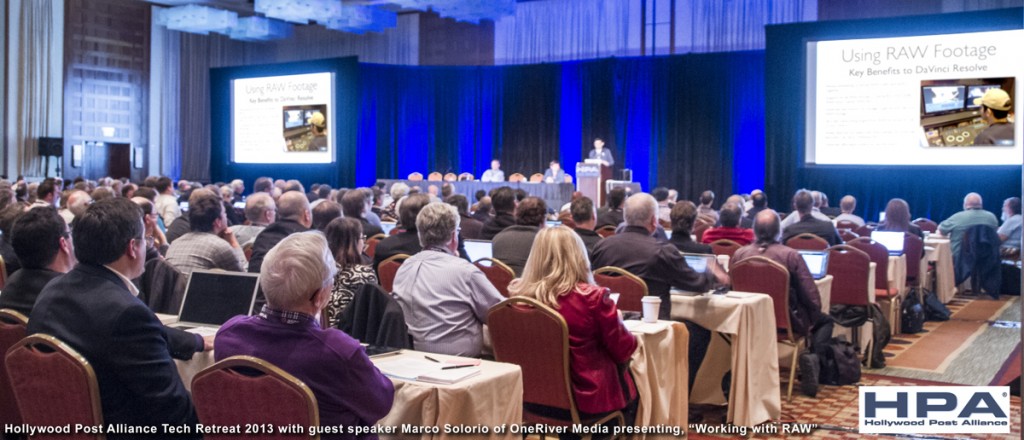 Just a quick post to update our presentation at the Hollywood Post Alliance, here in Palm Springs, California.
I had a GREAT time presenting at this year's Hollywood Post Alliance Tech Retreat in sunny Palm Springs this week! Not knowing what to expect, I was treated by a very large crowd of industry experts, most of which are in the feature film circles in Hollywood and beyond. A little bit of irony… here in this photo I am speaking to the audience about DaVinci Resolve and RAW workflow, only later to accidentally run into Dr. Henry Gu, the guy who basically invented DaVinci Resolve and who holds many patents on all sorts of color-correction technologies that were developed for Resolve. What a treat it was to speak with him one-on-one. Who's teaching who?!?! Oh the circle of knowledge! Very fun event!
A lot was covered in my presentation, including RAW acquisition (the different cameras supporting RAW formats), the flurry of RAW footage that will soon flood editors in post-production and what to do about it, the advantages of RAW, an interactive example of RAW footage and the latitude you can achieve with it, some of the hurdles of RAW and what to do about it, tips on transferring RAW footage, an overview of various RAW-supported applications, an inside look at DaVinci Resolve and its inherent benefits specifically to RAW, an overview of various RAW workflows at the post-production phase, and how to best choose a RAW workflow for your needs.
A lot was covered and there was a good session of Q&A after the presentation.
Special thanks to Paul Chapman of Fotokem for moderating, and to Mark Schubin and Eileen Kramer of the Hollywood Post Alliance for organizing and inviting me to present at their event.