Documentary Shooting with an ENG Cinema Camera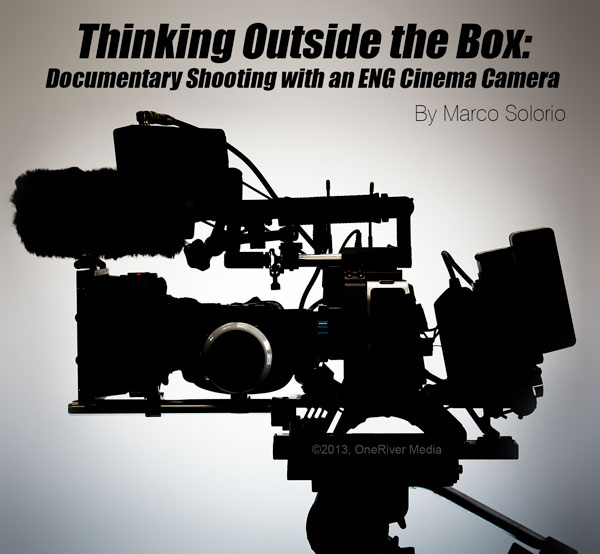 In this exclusive article by Marco Solorio of OneRiver Media, he breaks the confines of what many perceived as an impossible task: shooting the Blackmagic Cinema Camera in an ENG configuration for documentary film production. As we quickly see, not only is the Cinema Camera more than capable of acting as an ENG camera, it does so with image quality that blows the doors off any traditional ENG camera. The results are so powerful in fact, that shooting any other style will be hard to go back to.
Take naysayers with a grain of salt
I remember reading long ago that the Blackmagic Cinema Camera would never be able to shoot super wide due to its crop factor. I happily showed that not only could you shoot wide with it, but that you could shoot as wide, or wider, than that of a Canon 5D Mk III.
I remember reading the Cinema Camera would never be able to shoot with narrow depth-of-field (DOF). Again, this notion was proven inaccurate with my real-world testing.
I remember reading the Cinema Camera would never be able to shoot in low light. Although not a low-light photon sucker, I again proved this notion inaccurate, thanks to the help of 12-bit RAW and proper exposing techniques.
The thing that I commonly found interesting is that all the things people said the Cinema Camera "couldn't do", were from the same people that never really had a chance to actually shoot with the Cinema Camera in the first place, or in very limited fashion at most. These early speculations of the camera's "deficiencies" were nothing more than assumptions without any controlled testing or extended use.
With that said, it came to no surprise when I read that the Cinema Camera will never be able to shoot in true ENG (Electronic News Gathering) style. Again, my initial feeling was that this was stemming from a small crowd of people that either don't own a Cinema Camera, or did not put forth the effort to see how closely their Cinema Camera could in fact shoot in ENG style with proper rigging.
Is the Cinema Camera an ENG camera in of itself? No, of course not.
Can the Cinema Camera be configured to work like an ENG camera? Hell yeah it can!
The foundation of ENG shooting
So let's back up a little bit. Why is ENG shooting even important anyway?
For anyone that has shot with true ENG cameras, they will quickly tell you the sheer flexibility these cameras employ. When shooting true documentary style, where taking the time to swap lenses is not an option, an ENG camera is truly the only way to go, whether it's a full-size ENG camera, like the tried and true Panasonic HDX-900, or a much more affordable alternative like the Sony EX1 or EX3 in smaller form factor.
At the heart of any true, full-size ENG camera is a form-factor that molds the camera body to your shoulder, the lens in your hands, the electronic viewfinder (EVF) on your eye. In essence, you become one with the camera.
The ENG lens (typically in B4 mount), is a stable extension of the ENG camera body, and allows the shooter to quickly (or slowly) zoom extremely wide and extremely long with an electronically controlled rocker, for highly accurate, and incredibly smooth zooms. So what kind of zoom throw do these ENG lenses have? If you're only familiar with photographic still lenses, prepare for your sox to be blown off.
It's not uncommon for most ENG lenses to start at the 15x zoom ratio at a minimum, but typically start at 11x, 15x, 17x, 20x, and even 22x (or as much as 42x for a paltry $80k). What does that exactly mean? If you have a 20x zoom that starts at 8mm natively, then you'll have a zoom range of 8mm to 160mm. When finally mounted to the Cinema Camera, and the mathematical conversion is equated to relative full-frame sensor size, that's an equivalent of about 16-320mm. Yup, this is the part where your sox get blown off. Oh but wait, this is only the beginning. Your pants may possibly get blown off too.
ENG lenses are fully manual at the heart of their build. Likewise, the focus ring, zoom ring, and aperture ring are all externally geared for added controllability (note that they're a finer "mod" at  .4, .5, and .6, as opposed to .8 found in cinema lenses). And because we're talking video lenses here, the aperture ring is smooth from end-to-end (non-clicked steps, unlike still photo lenses). And typically speaking with ENG lenses, the iris is also constant aperture throughout the zoom range. Inherently, these ENG lenses commonly open up at f/1.7 or f/1.8 (but when mounted to larger sensors, the result is about twice the stoppage… more about that in a minute).
Another major benefit to ENG lenses is their parfocal optical elements. Watch any ENG shooter work, and you'll quickly notice they zoom all the way into their subject (where DOF becomes narrow and focusing more accurate), focus on the subject, and then zoom out to their desired composition. When the image is initially focused at their longest zoom range, any other zoom range selected will also stay in focus. The vast majority of still photography zoom lenses cannot do this, and require your focusing assessment to be made at the exact zoom length you're currently at. If your zoom changes mid-shot, chances are your focus will be off if you don't have a focus puller, or are paying attention to the focus yourself as the shooter. Once you start using parfocal lenses, it's incredibly annoying to go back to anything else that doesn't employ this focusing method.
The more that I use manual lenses (even non-ENG lenses, and cinema primes) with the Cinema Camera, the more I dislike using electronic aperture photographic still lenses with the Cinema Camera. It's not a fault of the camera itself, but manual lenses just offer such a greater array of controllability, flexibility, smoothness, speed, and almost a direct organic connection with the optics. Sounds crazy, I know, but you'll quickly realize what I mean once you only use manual lenses for a long time, then switch back to electronic lenses. In the same vein, even low-cost Rokinon/Samyang fully manual cine prime lenses are such a treat to work with (on any video camera that can use them). I started using manual lenses thirty years ago with 35mm film cameras, and then again for video in the 1990's, but as DSLR shooting became quick and easy, I slowly moved over to electronic lenses, almost forgetting how much I love using fully manual lenses. It's very nice to work again with manual lenses more frequently these days.
ENG lenses too good to be true?
With full manual control, geared focus/zoom/aperture rings, smooth aperture, perceivably fast and constant apertures, electronic zoom rocker, greater hand manipulation than other types of lenses… what's the catch?
Indeed, there are some catches. The first and foremost is that these HD ENG lenses use a B4 mount. The mount itself is proven and strong, but these B4 mount lenses are built with 2/3" sensors in mind. The trick is using an ENG lens with a 2X telephoto extender built into it. It's this 2X extender that allows the small native image circle to expand out, which results in covering the Cinema Camera's sensor. If you don't use the 2X extender, the resulting image will vignette like crazy, and will be completely useless. So if you decide to buy an ENG lens for your Cinema Camera, do not, under any circumstance, buy one without a 2X extender! This includes using it on a Blackmagic Design Pocket Cinema Camera with its 16mm sensor… it's still much larger than the 2/3″ sensor size origins of these ENG lenses.
The next catch is the quality of the glass in the ENG lens itself. I highly suggest against using SD ENG lenses with the Cinema Camera, and stick only with HD ENG lenses. After in-depth analysis and testing with the Cinema Camera, I've found SD ENG lenses just do not have the resolving power on the Cinema Camera as their HD counterparts do. In many cases, there's noticeable edge smearing in real world footage, not just test charts. Start with a clean image, and smear the edges in post if you want that hipster look an SD lens would alternatively provide!
I'm always curious how well any particular lens can perform on a resolution test chart. In some cases when a lens doesn't bode well on charts, it may still be acceptable in many real-world shooting environments. But using an SD ENG lens, coupled with its 2X extender seems to go beyond that point of acceptability and suffers in both charts and real-world examples.
With HD ENG lenses, I'm getting very good results, even on test charts. I admit, the sharpness and resolving power is not as good as my Canon L zoom lenses, but my Canon L zooms don't have anywhere near the zoom power and mechanical flexibility that ENG lenses so greatly provide… not by a long shot! Sorry for the pun.
Like many things in life, there's a compromise; you have to decide for yourself if what you're shooting requires speed and flexibility that ENG lenses provide, or if high quality photo lenses (or cinema lenses) give you the results you need. Use the tool that fits the job.
If you're going for the highest quality, most cinematic look for your image, then ENG lenses probably aren't best for you. But if you're shooting documentary style, or in some cases, corporate or industrial videos, then HD ENG lenses could be your best friend. Personally, I do not use ENG lenses for any of our cinema style productions or commercial work. For documentary or some corporate work, ENG lenses are perfect.
ENG lenses in real world use
Every month since December of 2012, we've been in production on a BMW documentary film, and will complete production in January of 2014. The vast majority of cameras used for our documentary have been the Cinema Camera EF and MFT models. The Cinema Camera MFT model in particular is exceptionally flexible in regards to lens mounting. It costs less and provides a cleaner/sharper image using the Cinema Camera MFT model with an MTF Services B4 to MFT adapter, than it is to use a Cinema Camera EF model with a B4 to EF adapter. The latter example uses optics within the adapter to fit the image circle in the EF mount. ENG lenses already use a lot of glass, coupled with the 2X extender, so adding another layer of optics only adds to image degradation. This is not to say it looks bad, but if you have the choice, go with the MFT route. Again, it costs much less, and produces a cleaner image.
Side note: the Blackmagic Production 4K camera is EF mount and would require the latter said B4 to EF adapter. Optical quality in this configuration is not known at this time, but resolving power to the camera's 4K resolution from all this layered HD glass may not be very high. Only an educated guess for now, as I do not have said optical B4 to EF adapter to test with.
In some of my recent presentations in Los Angeles, I previewed some samples from my BMW documentary film and how my ENG footage intercuts with other footage using high quality photo and cine optics. By in large, nobody in the viewing audience can discern which lens was used between the shots. And in reality, isn't this truly what it boils down to? Overall, I've been extremely pleased with the optical results using HD ENG lenses on our Cinema Cameras for our documentary work. I'm so sold on it in fact, that I refuse to use any photographic zoom lenses when we need powerful zoom flexibility when shooting documentary format with no time for lens swapping.
Having had the original Cinema Camera EF for about a year now (since before its public release), I've had the opportunity to use the camera in countless situations; jibs, dollies, cranes, sliders, glidecams, various interior/exterior car mounts, and of course, handheld and shoulder mount. The latter has been a little tricky to develop, but with a little ingenuity, a few components, and a drill, I have what I feel is a very capable ENG style rig for the Cinema Camera.
Using this rig I built for shooting our BMW documentary film is incredibly functional. I'm able to combine the powerful image quality the Cinema Camera delivers (12-bit RAW, ProRes HQ, and DNxHD), along with the flexibility an ENG camera provides.
In a nutshell, this is what my "ENG Cinema Camera" is capable of:
More than twice the imager size of a 2/3" ENG sensor
Option to shoot in 12-bit RAW, ProRes HQ, or DNxHD
Ability to use any B4 2X ENG lenses with their inherent advantages:
Extremely powerful zoom ratios, as much as 22X (and even as much as 48x if you have $80k+ laying around)
Electronic rocker zooms with fast/slow responses
Geared focus, zoom, and aperture rings
Aperture is smooth without incremental clicked steps
Parfocal optics allow for locked focus throughout zoom range
Solid handling with both hands on lens
Built in macro function
Ability to back-focus the lens to the camera
Front element is always stationary and will not hit filters in mattebox
XLR I/O audio with 48/24-volt phantom power, EQ, dynamic limiters, long meters, physical gain adjustments, live/playback monitoring, digital output.
Option of either LCD panel or EVF (Electronic View Finder) monitoring.
Adjustable V-mount battery plate with ability to mount two V-mount batteries together, two D-tap outputs, and five regulated LEMO power taps (14, 12, 12, 8.5, and 5 volts).
V-mount battery provides me at least 3 hours of continuous use, and in some cases, up to a full day of use, depending on the amount of gear plugged into it and each of their rated draw.
Quick-release V-lock plate with integrated shoulder brace.
All of these key features are what really make this rig work as a usable ENG camera replacement, but with the advantage of much higher image quality, dynamic range, and longer footage runs (each of my SanDisk Extreme 480 GB SSDs provide about four hours of ProRes HQ and one hour of 12-bit RAW).
Most ENG cameras run at 8-bit, with a small handful having the ability of 10-bit, but working in either format results in extremely compressed footage; temporally, spatially, and within sub-sampled chrominance reduction. Dynamic range is also limited in these cameras. Add to the fact that ENG camera sensors range in size between 1/3" and 2/3" (smaller than even 16mm film) and you quickly realize their image quality limitations.
Shooting with our ENG Cinema Camera vs. a traditional ENG camera
PROS
Higher Quality: Far superior BMCC image quality to that of any true ENG camera. 12-bit RAW and 10-bit ProRes HQ/DNxHD at 13 stops DR versus extremely compressed 8- or 10-bit images through a smaller 2/3" sensor and limited DR.
Lower Cost: Even fully rigged, overall cost is still less than a high quality ENG camera using inferior image quality.
Faster and Easier to Use: ProRes HQ and DNxHD allow for immediate desktop previewing and/or editing without proprietary mystery folders and a bunch of extra files that don't make much sense.
Modularity: Disassembled from its ENG rigging, a Cinema Camera is very compact in tight shooting spaces or when blending in with a crowd.
CONS
Multiple Components: Rather than a unibody ENG camera with integrated components, the Cinema Camera method requires individual external components. One plus though is you can buy the exact components you need within your budget.
Fabrication: With no current ENG mounting hardware on the market specifically for the Cinema Camera, you might need to perform some slight modifications to exiting solutions. For my rig shown, I only needed to drill two extra holes in the shoulder mount plate.
Ergonomics: A true ENG camera may still feel more form fitting than the Cinema Camera solution to some. But take note, my rig shown in this article weighs the same as an ENG camera, shoulder mounts the same as an ENG camera, and is balanced the same as an ENG camera.
Conclusion
So in the end, you have a lot of options when shooting ENG style. My biggest tip is going with an HD ENG lens over an SD one. The low prices of SD ENG lenses are incredibly tempting, but you'll squash all of the inherent beautiful detail the Cinema Camera offers. HD ENG lenses aren't cheap, even in the used market (figure about $5000 for a high quality used HD ENG lens), so it's an investment you'll need to ensure you're ready to embark on. Alternatively, renting HD ENG lenses is typically very cheap, so this may be a very good option for many shooters.
To complete your ENG Cinema Camera rig, you'll want to invest in some type of shoulder mount V-lock plate (Tilta or Shape are good solutions), a battery solution (V-mount or Anton Bauer), an audio input device with phantom power (and preferable metering), a B4 to MFT adapter to mount your ENG lens to (I use MTF Services), and an EVF or LCD panel solution. Acquiring these key elements will get you in the right direction for building your own ENG style rig.
More ENG Cinema Camera Rigging
I'm currently in the middle of a highly extensive eBook that goes beyond the scope of what this blog post covers, and in far greater detail, including various footage examples showing the comparisons between SD, HD, and still photography lenses.  I also dig deep into various rigging options, and the individual components I use (and why I use them compared to others) to accomplish each rigging style that I've amassed over the year I've used the Cinema Camera in real-world productions. Stay tuned and make sure you connect to my social network feeds so you get the first word of when this eBook will be available!
Twitter: @OneRiverMedia
Facebook: facebook.com/onerivermedia
Please sign up for our BMCC newsletter to ensure you get the first word of when this and our other Cinema Camera related materials are available from us:
BMCC Newletter: onerviermedia.com/bmcc
Thanks, and happy ENG shooting!
A very special thanks goes to my friend Dave Dunham of ICV Digital in Pleasanton, CA for their loaning of various ENG lenses for our testing, which not only helped us, but also ultimately helps you. These guys have incredible flypack packages and a host of ENG cameras. They also have a fantastic 3-wall cyc stage if you need to shoot in a spacious studio setup. Check them out!
To help support the time, effort, and cost of this and all our other blog posts we share freely with the public, please purchase the products mentioned or pictured in this article through these links. They cost you no additional money, and help offset our expenses. Thank you!
| | | | | |
| --- | --- | --- | --- | --- |
| Blackmagic Design Cinema Camera MFT 2.5k Video Camera | MTF Services B4 2/3″ to Micro 4/3 Adapter | ikan (Tilta) 15mm Quick-Release Shoulder V-lock Baseplate | ikan (Tilta) 15mm Follow Focus with Hard Stops and three gear pitches | ikan (Tilta) 15mm Shoulder V-lock Baseplate and Follow Focus KIT |
| | | | | |
| --- | --- | --- | --- | --- |
| Letus35 MCS Rotatable Rosette Top Handle | Alphatron Electronic View Finder Bracket | SHAPE Rod Bloc EVF Mount | Movcam Battery Bracket and Converter for V-Mount Batteries | Movcam Battery Bracket and Converter for Gold-Mount Batteries |
| | | | | |
| --- | --- | --- | --- | --- |
| Movcam 4-Pin LEMO to DC Cable. Note: I build my own for much lower cost. | Movcam 3-Pin Lemo 5V to DC Monitor Power Cable. Note: I build my own for much lower cost. | Movcam 3-Pin Lemo 7.2 V to DC Cable. Note: I build my own for much lower cost. | Movcam 3-Pin Lemo 12 V to 4-Pin XLR Cable. Note: I build my own for much cheaper. | 2.1mm 12v DC to 12 Pin Hirose Cable. Fits Canon, Fujinon ENG. |
| | | | | |
| --- | --- | --- | --- | --- |
| Laird Telemedia Cinema Camera Audio Cable 3-foot. Note: I have the 2-foot version. | Sound Devices Hirose 4-pin Power Connector (DIY cable) | Sound Devices MixPre-D Compact Field Mixer | SanDisk Extreme II SSD 480 GB SATA 6.0 | Sony VCT-U14 Quick-Release V-lock Tripod Adapter |
| | | | | |
| --- | --- | --- | --- | --- |
| Alphatron HD-SDI Electronic Viewfinder EVF-035W-3G | Alphatron HD-SDI EVF-035W-3G + mount + eye-cushion KIT | Cineroid HD-SDI EVF4MSS Metal Display | Cineroid HD-SDI EVF4RVW with Retina Display | MTF Services MFT Mount 15mm Support |

Fujinon ZA12x4.5BERD ENG HD Lens
4.5mm-54mm



Fujinon XA17x7.6BERM ENG HD Lens
7.6mm-129mm



Fujinon HA18x7.6BERM ENG HD Lens
7.6mm-137mm



Fujinon HA19x7.4BERM ENG HD Lens
7.4mm-141mm



Fujinon HA23x7.6BERM ENG HD Lens
7.6mm-175mm