Interestingly enough, we almost didn't make it to NAB (National Association of Broadcasters) convention this year, which would have been a rarity. In the last 15 or so years (lost count), I've only missed going to NAB once.  Some years at NAB were huge events, while some were nothing more than a big snore. I'd rate this year's NAB somewhere on the upper-end scale as a hit. It seemed all my old industry friends were there this year. There was definitely a buzz in the air.
Final Cut Pro X
One of the big anticipations for this year's NAB was the update to Final Cut Pro and the rest of Final Cut Studio suite of apps, to be shown at the annual FCPUG Supermeet. As it turned out, Apple decided to buy out all of the stage time for themselves, yet only Final Cut Pro was presented by Apple. Unfortunately there was no word on updates to the other Final Cut Studio apps, which is a shame, as these apps do need their own updates, namely Color and DVD Studio Pro.
I do not want to go too much into my Final Cut Pro assessment in this blog post, as I'll be dedicating that to its own post later.
EEC Binary Rig
One of the most interesting things I saw at NAB this year didn't even have a booth! A small company called EEC has developed an ENG cage-style rig for HDSLR cameras, they call, "The Binary Rig". It's like a Viewfactor cage, but on steroids. The cage itself expands out as a base and handle. The bottom portion houses power taps, audio inputs, audio levels, video spigots (with built-in HDMI to HD-SDI conversion) and more. You can mount ENG style batteries to run everything on board. It's an incredible design and I'm hoping we get one when they're released to the market. Their estimated price is $2500, but since it's still early with only one prototype in existence, that pricing can, and probably will change in either direction. Materials were CNC machined to excellent quality and the rig felt strong and solid. In my opinion, this is the best feeling ENG-style HDSLR rig I've handled to date with a ton of mounting options. Very promising.
Adobe CS 5.5 Upgrade
Saw a lot of interesting updates from Adobe for their suite of apps. I definitely liked the Warp Stabilizer, but it looked and performs almost exactly like the Mercalli plugin we've been using by proDAD. Once our copy of CS5.5 apps arrives, we'll have to compare it and maybe post our results here.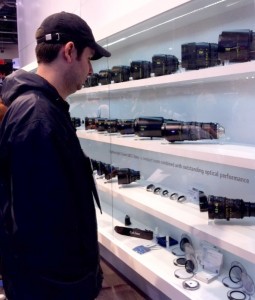 Zeiss CP.2 + LWZ.2
I'm still madly in love with the Zeiss CP.2 prime lenses and LWZ.2 zoom lenses. Nothing too new here, other than the fact they had a couple more of them on display this year. We're still looking into buying a set of these at some point. Just love these lenses.
LED Lights
There really seemed to be a ton of LED light manufacturers this year, and from all parts of the globe: USA, China, Japan, Korea, India, you name it. We needed a basic hot-shoe mountable LED light with some kind of built-in frost and daylight gel feature on it. We ended up with a Camlight PL-1250 for only $120 right there on the show floor. It's nothing like our Litepanels Ringlite Mini, but for what it is, and what we're using it for, it'll work great.
DaVinci
I'm still in love with the DaVinci color grading system by Blackmagic Design, but it still irks me that they still haven't opened up to other hardware output devices, namely the AJA Kona 3 hardware. It may never happen, thanks to marketing tactics, and as such, will never hold a seat in many post-production facilities.  I mean, who do they think they are, AVID? No, not even AVID is doing that anymore. Read on…
AVID
Their Composer software is looking better every year. It amazes me that they're FINALLY opening up their hardware IO to other manufacturers, like Matrox and the AJA IO Express. But until they open up their hardware to work with the AJA Kona 3 hardware, we wont have a seat for it in our facility. With AVID's current trends however, things are pointing to a Kona future. Time will tell.
Be All You Can Be
The U.S. Army also had a booth (no, not for recruitment). The 356th Broadcast Operations Detachment has footage available to the general public, free of charge. We're currently in the process of working with the USO (on a voluntary basis) to produces some videos and some of this stock footage may come in handy.
RED EPIC 4K
We watched RED's 4K movie, in their 4K theater and it looked great. It'll be nice to see where things go with RED now that they have working, physical product and not just 3D renders. Things are looking good for them.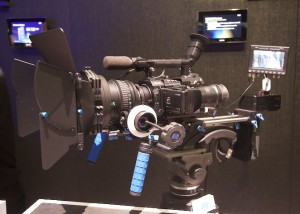 Sony PMW F3
There were actually quite a number of Sony F3 cameras on the show floor, rigged up in different variations. I love the concept, the form-factor and the imagery. Admittedly however, the cost still seems a bit high, coming from someone that wants to sell his EX1 for one. It would also be an easier transition if we could use our large assortment of Canon EF L lenses instead of PL mount lenses, but this would require a powered mechanism to change the aperture. We do have a small collection of older Canon FD L lenses as well as some Nikon F lenses that could be used.
Sony F65
The holy grail of new digital cinema cameras looks to be here and it's the Sony F65. The specs are amazing: Wider gamut than 35mm film, 4:4:4 color space, 16-bit RAW encoding, 8K resolution, 120 FPS, the list goes on and on. It really feels like this is truly the first camera that could replace 35mm film. Can't wait to start watching feature films with this technology.
---
---
FCC Disclaimer - Links from this article might go to affiliate links to B&H and/or Amazon (not much different than the ads you see in YouTube ads, but more focused). Visiting these links (or buying products from the links) cost you nothing additional and may in turn help us pay for the cost of hosting these free articles we write. These articles take an enormous amount of time (in most cases, weeks and months) to research, draft, write, edit, rewrite, and shoot custom photography/video for. In no way do these affiliate links cover the cost of all of that, so any help these links can provide is a huge help to us to continue to offer free content to our readers.
---
RECENT BLOG POSTS