---
Feature Film • Commercial • Corporate • Music Video • Broadcast
What is OneRiver Media's"IT FACTOR"? Our mastery is immersing ourselves in your vision and providing absolute and total focus on that vision. Our clients feel the finished projects we create exceed their original concept. Whether you require us to utilize just one of our services or to span across many of our services, each phase is an intense convergence of technical and creative expertise with laser focus. We live, breathe, and dream this stuff.
OneRiver Media produces high quality cinematic stories that allow your message to emotionally connect to your audience. We combine all aspects of technical and creative services under one roof, conducted by one of the most respected thought leaders in the filmmaking industry, Marco Solorio, owner of OneRiver Media. With 32 years working professionally in the industry, a client base over 200 strong, and a multitude of impressive industry and movie awards, OneRiver Media has the creative and technical expertise to ensure your vision is produced into the masterpiece it deserves.
---
---
Owner of OneRiver Media
Award-winning Feature Filmmaker
Published Author
International Speaker/Presenter
Brand Ambassador
32 YEARS
WORKING PROFESSIONALY
Awards in:
Directing • Cinematography • Editing
Visual Effects • Music Composing/Scoring
---
Since 1991, OneRiver Media has been serving an international client base, from Europe, Asia, North America, South America, and Australia. We would love to add your company to our long list of over 200 gratified clients.

---
---
---
Big or small,
we'll match services
to meet your budget.
FEATURE FILM
TO
NON-PROFITS
---
---
---
From feature film movie awards to commercial industry awards, we've collected countless trophies for decades. Big or small, every project we're involved in is produced with award-winning caliber... even if there's no intention to have them submitted for awards.

View All Awards
---
---
---
At OneRiver Media, we have the unique opportunity to offer our clients all forms of professional services, all within one work environment. This means your projects will be lower cost, operate much more efficiently, implement "zero error tolerance" between services, and faster completion times. In the 32 years we've been working professionally, we've never missed a single deadline.
Click a thumbnail for expanded photo
---
Please take a moment to view some examples of our work. If there's a particular genre or style you don't see, please let us know and chances are we can dig something up and post it for you to watch.
---
One of the many unique aspects of OneRiver Media is the fact we have complete production and post-production resources under one roof... something the majority of other facilities, boutiques, and independents simply cannot offer. We do this within an efficient work environment and streamlined workflows. Our combination of services not only means greater flexibility, creativity, and technical ability, but it also means we can offer these combined services at lower cost. In most cases, other businesses have to outsource certain aspects of their production workflow, which can cause delays, increase the cost, and worse, create miscommunication within the various processes... something our clients never have to worry about. In short, OneRiver Media ensures the entire workflow is accurate, efficient, and cost-effective.
Click a thumbnail for expanded photo
---
OneRiver Media uses professional tools within all aspects of production and post-production. Chances are we've even beta tested hardware and software that has helped shape the industry as a whole.
Technology companies we use and support

Click a thumbnail for expanded photo
With over 32 years working professionally in the industry, Marco Solorio has built a strong and respectable reputation that reflects high quality, creativity, technical proficiency, and problem solving that allow the creation of any project to meet or exceed client expectations. In return, Marco has shared many of his experiences and creative craft back to the filmmaking community, throughout the world. Speaking honors include National Association of Broadcasters (NAB), Broadcast Asia, SXSW, Hollywood Post Alliance, Digital Cinema Society, and countless others. Marco is a published author (with "Rigging Your Cinema Camera" as his most recent book) and has written for print magazines, including Digital Video and Creative COW. Lastly, Marco is privileged for being featured in various publications, including, Post Magazine, DV Magazine, Cinema RAW, Splice, Studio Daily, PostPerspective, and many others.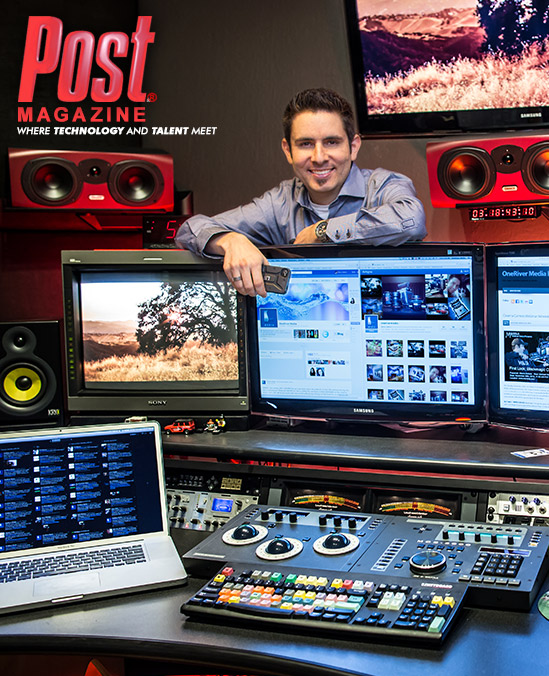 ---
Whether your project is big or small, we'd love to discuss how we can work with your next project. Call, email, or write to us to see how we can help you and bring your project to a success!
NEW ADDRESS AS OF OCTOBER 1, 2017
OneRiver Media
3000-F Danville Blvd. #314
Alamo CA 94507