Marco Solorio of OneRiver Media compares all three series of professional studio monitors by ADAM Audio, including the updated S2V, the A7X, and the brand new T7V. If you're in video post-production, this article is especially useful for you. What Marco finds is both surprising and not surprising, as these monitors are no longer exclusive to audio control rooms.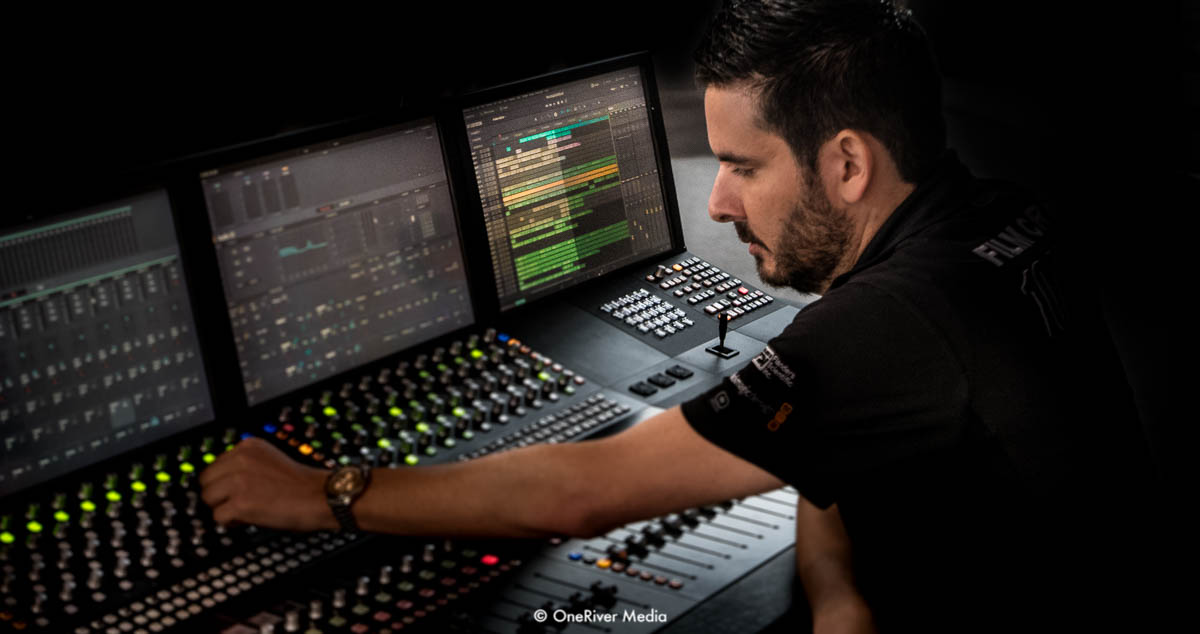 The first time I listened to studio monitors by ADAM (Advanced Dynamic Audio Monitors) was at the 2004 AES convention in San Francisco. In typical fashion, I visited the various booths of high-end studio monitors, but I'll never forget the first time I stopped at the ADAM booth, took a listen, and was amazed at how beefy the low-frequency punch was coming out of the monitors without the separate sub-woofer activated in the audio chain (ADAM intentionally turned the subwoofer on and off to show the comparison). More and more intrigued, I stepped closer into the sweet spot. It was then I was introduced to ADAM's ribbon tweeter presence and dimensionality, something they're well known for, to this day.
The quality of the ADAM sound has impacted me from that moment forward. With a firm foundation in sound engineering (I started studying in the late 1980's and worked professionally as a young budding chief engineer in the 1990's), I knew that these ADAM Audio studio monitors were something I needed to get. There was only one problem… cost.
Fast-forward many, many years later and not only do I have a single set of ADAM Audio monitors, but THREE sets to listen to, side-by-side. I knew this opportunity wasn't available to everyone, so my hope is to share some insight into the differences between these monitors. Obviously nothing can replace listening to studio monitors in person, so in that degree, this article is limited. But if anything, I can share how these monitors continue to excite me every time I listen to them and what I'd like to see further developed (more on that in a bit).
In fact, I'm listening to them right now, as I'm writing this article. But let's step back a bit and list what I'm listening to.
| | | | |
| --- | --- | --- | --- |
| | T7V | A7X | S2V |
| Cost Each (USD) | $249.99 (B&H | Amazon) | $749.99 (B&H | Amazon) | $1749.99 (B&H | Amazon) |
| Speaker Type | 2-way | 2-way | 2-way |
| Ribbon Tweeter | U-ART | X-ART (German handmade) | S-ART (German handmade) |
| RMS Power | 70 watts | 150 watts | 350 watts |
| Amplifier Assignment | Bi-amplified | Bi-amplified | Bi-amplified |
| Amplifier Type | Class D (2X) | Class D (woofer), Class A/B (tweeter) | Class D (woofer), Class A/B (tweeter) |
| Frequency Response | 39 Hz – 25 kHz | 42 Hz – 50 kHz | 35 Hz – 50 kHz |
| Frequency Crossover | 2.6 kHz | 2.5 kHz | 3 kHz |
| Output @ 1m pair | ≥ 110 dB | ≥ 114 dB | ≥ 120 dB |
| Analog Input | XLR, RCA | XLR, RCA | XLR |
| Digital I/O | N/A | N/A | AES/EBU XLR I/O |
| Sonic Control | Volume, Low Shelf, High shelf | Volume, Low Shelf, High shelf, Tweeter Gain | Volume, fully adjustable Low Shelf, High Shelf, 6-point 20/20 parametric EQ, Delay |
| Weight | 15.7 lbs (7.1 kg) | 20.3 lb (9.2 kg) | 24.2 lb (11.0 kg) |
| Warranty | 5 years | 5 years | 5 years |
The source of the audio chain starts with Blackmagic Design's DaVinci Resolve Fairlight as my DAW (I'm a ProTools user of over 20 years but have migrated over to Fairlight since version 14 as my primary DAW). I'm also using a TC Electronic Clarity M for visual monitoring of the sound itself.
The room I'm listening to these studio monitors in is our new "hybrid suite" which incorporates three operational needs in one: video editing, color grading, and audio mixing. The room is fairly balanced and treated, with panels and diffusors for reflection and direction control. We're in the middle of building our new/updated audio control room, dedicated for audio/composing/mixing tasks, but the hybrid suite is easily and equally capable for said audio tasks, since it was designed to do so.
For listening tests, I've been combining sources that we typically work with, from feature film work (dialog, sound effects, music scores), to commercial/corporate work, to a wide variety of music genres (film soundtracks, 70's classic rock, big band, classical/orchestral, ambient, 80's pop, 90's hip hop, EDM, acoustic, and pop rock from the 90's to current). I've also been doing a series of tests with various sine wave sweeps and pink noise.
For the purpose of this comparative testing, I am NOT running our active subwoofer in the audio chain, so that I can assess how these monitors sound on their own merit, side-by-side. With that said, a balanced subwoofer bodes well with these monitors (and any near-field monitor) when working on actual projects to aid (but not accentuate) the low frequencies below 80 Hz.
My near-field monitoring experience (from working in other recording studios and ownership of my own) range from ADAM itself, Genelic, Bowers & Wilkins, Yamaha (I still own an original set of NS10m monitors paired to a Bryston amp as part of reference use), Event (still own), Tannoy (still own), KRK (still own), JBL (still own), Meyer Sound, Fostex, and a slew of others I can't recall from various studios stemming back to the 1990's. I've also done feature film work at a small place called Dolby Laboratories and production work at another small place called Skywalker Sound.
Like movies, music, paintings, cameras, food, and cars, everyone has different tastes and opinions when it also comes to speakers. What may sound incredible to one person, may sound "off" to another. Other factors may include the listening environment, the media source resolution, the person's mood, the person's own head resonance, and a plethora of other influencing factors. Always keep in mind that the best way to judge something for yourself, is to do your own research, testing, and evaluation.
---
Common Denominators
First, let's see what similarities all three of these ADAM monitors pairs have in common.
To start, ADAM Audio monitors are German engineered in Berlin. For those that know me well, know I have a strong attraction to German-engineered things, from cars to microphones. The craftsmanship (both in sonic quality and build quality) in these monitors, including the low-cost T series is definitely apparent.
Obvious is the fact that all ADAM Audio studio monitors, since the inception of their first products when founded in 1999, implement their infamous ribbon tweeter technology. In fact, part of the main reason ADAM Audio was first founded in the first place was because of their ribbon-fold technology (known today as X-ART: eXtended Accelerating Ribbon Technology, to which all the ADAM ribbon tweeters are based off). While there are some subtle differences between the S, AX, and T series monitors in regards to the ribbon tweeters, all of them employ a general likeness to their transparent and accurate sound reproduction (more on that in a bit).
While the audio industry has referred to ADAM's tweeters as "ribbon tweeters" these are technically (as referred to by ADAM Audio) as the HPS (High-frequency Propagation System). For the sake of this article, they will be referred to as the commonly used term, "ribbon tweeter".
The body of the tweeter system itself starts with a solid block of aluminum and machined into shape. The AX and S series folded ribbon tweeters are individually hand made at the ADAM Audio factory in Berlin, Germany. It's fairly common knowledge that ADAM ribbon tweeters produce precise and clear high frequency output, without being harsh or fatiguing.
What's not commonly known is that the "HPS waveguide" (the sonic dispersion of the ribbon tweeters), has a wide spread along the horizontal plane (left to right) but alternatively has an extremely tight spread along the vertical plane (up and down). This is important for a near-field monitor so that it reduces sound reflections from bouncing off the mixing console and off the ceiling. It also helps produce a very wide and accurate stereo image with a more forgiving sweet spot, even at high SPLs (sound pressure levels).
Another interesting thing is that these ribbon tweeters are over-engineered to go way beyond the 20kHz human hearing range. Why so? The basic principle applies to the idea that if you build something far beyond the spec, it'll have no problem delivering at a threshold lower than the spec itself. It's like a Porsche built for 200 MPH speeds and only driving 150 MPH on the autobahn with absolutely no problem. Similarly, these ADAM ribbon tweeters (coupled with their matched internal amplifiers) are built to have a range up to a whopping 300kHz, so that it can deliver at 50kHz, and ultimately easily producing sound at 20kHz without distortion or harshness. Now you see why I love German engineering?
The many advantages of ADAM's ribbon tweeter design is virtually exponential compared to traditional silk dome tweeter counterparts, combining precision, clarity, power, smoothness, detailed imagery, extremely high frequency reproduction (well beyond the audible human spectrum), and flat out performance.
As for physical size, all three monitor pairs are roughly the same physical size (but differ in weight) and each use a 7-inch driver (which includes the basket size), although the drivers themselves are different in materials and shape between all of them.
ADAM Audio has a pretty substantial warranty to back their products on any of the series you get. It's essentially a 5-year warranty; 2 years is standard straight away and if you register the monitors, they'll automatically add another 3 years on top of that. Any company that carries a 5-year warranty on their product tells me right away that the manufacturing quality and components are of high caliber.
Flat and dimensional? Say what?
All three monitors provide a flat response in the sense that they don't exhibit extreme amounts of dips or spikes in the audio spectrum from their respectable starting frequency and easily to 20kHz (and beyond). But they are also dimensional in the sense that instruments and sounds appear as if they are separated in both the X-axis (left/right) and Z-axis (near/far). There's clarity about these monitors that make them so enjoyable to listen to, without the negative effects that other poorly designed traditional monitors exhibit: harsh/fatiguing high frequencies, cross-over points with holes or big spikes, lack of separation, noisy amplifiers, and so many other factors.
---
ADAM Audio S2V Overview
Let's start with the big boy S2V studio monitors, which have been updated with some new tech. The "S" series is ADAM Audio's top-rated series. Their crème-de-la-crème. These monitors aren't low cost, but they're high impact with some pretty advanced features. These monitors are also hand built using quality components (down to the ribbon tweeters being hand built right in Berlin at ADAM Audio). In short, these are THE monitors for the discerning audio engineer.
One of the big differences with the S series among the others can be seen from the back of the monitor. You'll instantly see that the S series has an AES digital input and a pass-through AES digital output. There's also an XLR input for standard balanced analog input.
But here's the kicker with the S series: a USB port and an OLED display with button wheel. WHAT? Yes, the S series has a fully-fledged internal DSP that works with either the digital or analog input selection. To go a step further, the USB port allows the user to change the settings of the monitor via software (Mac and Windows) and also allows for firmware updates. Crazy!
The beauty of the software-based "ADAM Audio S Control" application allows you to have in-depth control over your monitors. It starts with basic functions: input select (Analog/AES L/AES R), variable gain (-60dB to +12dB), delay (0ms to 5ms), and options to load, save and select presets (that can also be selected on the rear OLED display, which is an absolutely gorgeous display). This allows people to save their desired presets tailored exactly to their tastes from one engineer to another or even a general "studio preset" tuned exactly to the room's specs. There are five preset banks; two factory presets (more on that in a bit) and three user presets that can be stored in the monitor itself, but is virtually limitless if stored on your computer via the ADAM Audio S Control app.
Drop down the extended EQ section and you're presented with an absolutely delicious multi-point parametric EQ for detailed tuning of your monitors to your room. It includes a low shelf, high shelf, and six points in between. In reality, you get eight full points of 20Hz to 20kHz sweeps at ±12 dB cut/gain. The only difference with the low/high shelfs is the lack of Q (because they're shelfs) that the other six points give you (.1 to 20 width of Q). This is insane. Never before have I ever had so much control in a studio monitor at the monitor level and it's truly fantastic.
Referring back to those two factory presets, they consist of a "Pure" setting and a "UNR" setting. The "Pure" setting is razor edge flat across the audible spectrum. I know some people love it (for accuracy) and some people think of it as being boring. I personally like it since it gives truth in what should be heard (and in some cases, a smoother sound as well). Alternatively, the "UNR" (Uniform Natural Response) setting has a bit more character (something I also like!) and gives an option if the "Pure" setting is slightly bland in your room. But with the DSP's powerful parametric EQ, you can essentially tune the monitors to your room, exactly as you see fit, if you want to go far beyond the two factory presets. Having options is always a great thing.
The thing to keep in mind too is that because of the USB port, these S series monitors can be updated with future firmware enhancements: everything from individual time-alignment, performance-to-cabinet augmentation, limiter protection control, and even future component integration (RJ-45 connectivity is planned with an available port housing already in the cabinet). If anything, this makes the investment in the S series even stronger.
Okay, so how does the S series sound? Incredible. This is not surprising in the least. Like, full on EARGASM incredible. There's a fullness of sound while still maintaining definition and clarity at all ranges. And the ribbon tweeters provide bright highs without ever sounding harsh, brittle, hyped, or fatiguing. The ribbon tweeters sit deep into the cabinet, so they're closer in Z-axis proximity to their companion 7-inch driver coil, which makes sense to me (although moot since ADAM can exactly time-align the individual speakers using the internal DSP). The combination of the ribbon tweeters and the drivers provide dimensionality that not only separate sounds along the X-axis (left to right), but seemingly accomplishes it along the Z-axis as well for near/far depth. It's almost like psychoacoustics at work. I know I'm not the only person that has experienced this with ADAM monitors, so you definitely need to hear it in person to judge for yourself.
Special thanks to Cutting Edge Audio Group as the VAR (Value Added Reseller) and an ADAM Audio authorized reseller for OneRiver Media and carrying the ADAM Audio S2V and A7X monitors. They personally hand delivered these monitors directly to our facility!
What's not to like? While I absolutely LOVE the ADAM Audio S Control application, I hope it will see a couple of updates. At first I thought controlling the EQ parameters would be in real-time (obviously this is what we're used to when using a DAW/NLE), but instead requires the user to save the setting and upload it to the monitor, which can take several seconds to do. This means you can't A/B or sweep the frequency/gain/Q in real-time to get the setting you want to dial in. My hope is that they can update the software to allow real-time operation. But even without real-time sweepability, the functionality is leagues ahead of pretty much anything out there.
Another thing to note is that the S2V's 7-inch drivers are a little "stiff" when you first pull them out of the box and thus, need to be broken in a bit. A result is that the low end might not be as deep as you'd initially expect. Give it some time, run the monitors for a couple of days at decent levels with music and pink noise (I added +12dB gain at 120 Hz via DSP to help speed up the process), and you'll soon get them broken in. I wouldn't necessarily call this a negative point, but just a head's up when using a set of brand new S2Vs.
---
ADAM Audio A7X Overview
The AX series has been incredibly popular over the years, where it sits in the middle for cost but doesn't lack in audio quality. And how cool looking are those carbon fiber cones? To me the A7X and especially the dual-driver, horizontally positioned A77X are common ADAM Audio signature models within the audio industry, kind of same way the Yamaha NS-10M monitors are easily recognizable icons.
Like the S2Vs, the A7Xs have front-facing ports, so they can be positioned directly against a wall (something I'm actually not a fan of doing, but some people don't have the luxury of long depth rooms or a console that sits away from the wall). Unlike the S2V and the T7V, the A7X has a power switch and gain control (-60dB to +14dB) on the front of the monitor. The ribbon tweeter is precise and smooth, much in the same way the S2V performs. In fact to me, they have some similar sounding characteristics in that regard. The A7X's ribbon tweeter sits closer to the front face of the cabinet, whereas the S2V and T7V sit further back, which as mentioned before, makes more sense to me when the ribbon tweeter and driver coil are closer in Z-xais depth. Regardless, I don't hear any kind of time-delay in the A7X's ribbon tweeters to their 7-inch drivers. Both the A7X and the S2V look to be modular-built, in that the components can easily be individually removed and replaced for servicing if need be. A feature that is typical of any high-end product.
At the rear of the A7X's cabinet, things get a bit simpler in the typical fashion: balanced XLR input, unbalanced RCA input, low shelf gain/cut (±6dB), high shelf gain/cut (±6dB), and tweeter gain/cut (±4dB). These three settings are fairly simple and straightforward in comparison to the S2V, but give some flexibility to adjust settings to you room type.
In some cases (with certain types of music) the A7Xs can sound somewhat similar to the S2Vs in the mid-to-high frequency range, but not exact. Still, the imagery is impressive and it's no wonder these monitors have become so popular over the years.
What's not to like? Honestly, not much I can think of. It may not have the powerful DSP controls of the S series, but the AX series isn't about that. It sits in a great price-point bracket with performance that delivers.
---
ADAM Audio T7V Overview
Put me on record for saying that I foresee the T series studio monitors making a major impact in both the audio and video industries. Prior to the T series making it's debut, ADAM Audio studio monitors have been out of reach for many people, simply due to their cost. The time is finally over for just dreaming and now pretty much anyone can enjoy the accuracy and clarity the ADAM monitors provide.
To be honest, I'm actually quite shocked at how well these monitors actually sound. Then again, I really shouldn't be. I guess I'm surprised because the cost is so easy to reach while still including the ribbon tweeter design (albeit slightly different than the other series but still the same fundamental concept and general smooth clarity) and then I'm not surprised because it's ADAM Audio and their stuff just always sounds so damn good.
Like the AX series, the T series incorporates balanced XLR and unbalanced RCA inputs (a wise move, as some users at this price range might only have unbalanced connections to their monitors). There's also an input gain level potentiometer from -60dB to +18dB like the AX series, but this knob is at the rear of the cabinet instead of the front like the A7X has.
So what's really different between the T7V and the A7X and beyond? First, it looks like the manufacturing of the monitors are more machine built as a single unit, unlike the modularity-build of the A7X and S2V, which I can logically assume saves on manufacturing costs. Honestly, I don't entirely see this as a bad thing, namely because the build quality itself appears to actually be pretty well made along with the fact that it continues to use quality components (and not to forget that impressive 5 year warranty). And the sound… oh that sound. It's just so great. I still can't believe these are only $250 a pop.
To help save on cost (I assume), the rear control for high frequency and low frequency are by 3-point selection switches (-2dB, 0dB, +2dB) as opposed to variable potentiometers. While ±2dB isn't a huge range to play with, I typically tend to keep things flat anyway, unless the room really begs for it. I've kept the switches on my T7Vs at flat 0dB on both HF and LF settings. For me personally, this has hasn't been an issue.
Interestingly, the placement of the ribbon tweeter is set deeper into the cabinet (closer to the Z-axis plane with it's 7-inch driver coil) much to the same design of the high-end S series line. It's nice to see some of these subtle cues in the affordable T series taken from the top-of-the-line S series.
What's not to like? Well, at $250 a pop, there's very little to complain about in the grand scheme of things. If I had a choice, I'd love to see the ports placed on the front of the cabinet like the S and AX series do. If you must put these monitors up against a wall, make sure you give at least a little amount of distance so the ports can breath when that bass kicks in.
I also think some users that will use these in a small setup (video editors, music composers, etc.), would prefer the power switch and volume control on the front of the cabinet instead of the rear. But if you're like me, I dial in the monitor's volume and leave it for good. And as for power, I turn that on/off by an external regulated/conditioned source but your mileage may vary.
This is a very small quibble, but I wish the T series had a power-on LED indicator on the front of the cabinet like the AX and S series have. And if I really had my wish granted, the entire ADAM lineup would have their logo light up with a dim/off switch at the rear (maybe lit up logos are passé but I still think it would be cool).
---
Video editors take heed
Professional studio monitors are no longer the sole domain of audio control rooms. Many of my colleague editors out there (myself included) choose to mix final audio themselves in their edit suite, rather than hire it out to be mixed in another facility's audio suite. If you want to go in this direction, then there are two things I would highly recommend:
Really learn how to mix audio beyond gain, panning, and basic EQ. Know how gain staging works, how various compression types work, how to fit pockets of sound in the mix with EQ, side-chaining, etc. Learn the difference between aux and bus tracks and how to implement them into your final mix for added dimensionality and control with effects and plugins. This is a short list, but the gist is, learn the craft of audio, as you've done for video, if you plan on selling it as part of your craft of video editing services.
If you're using subpar speakers (especially if you're using those el-cheapo PC speakers), then it's probably time for you to upgrade to proper studio monitoring. The ADAM Audio T series is the perfect solution if you don't want to spend a lot on the get-go. Otherwise leveling up to the AX or S series is a great move.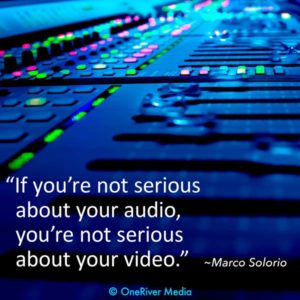 Remember: your final video deliveries are 50% audio. If the audio isn't as good or better than the video, then your viewership is losing out on at least HALF of the experience. I'm quoting myself from previous audio articles I've written: "If you're not serious about your audio, you're not serious about your video". It's been shown time and time again that if your audio doesn't sound good, no matter how good the picture is, the viewers will tune out and not enjoy the film/video, much less be immersed in it. I'd argue that it's infinitely better to have excellent audio over average picture, than to have excellent picture over average audio.
Another word about ADAM Audio's ribbon tweeter technology: many of my video editor colleagues are familiar with how high-quality camera sensors provide exceptional highlight roll-off characteristics. It's where the transition between super white levels carry over to less bright areas in the image and the smoothness within those transitions. ADAM ribbon tweeters are similar in that regard, in that the projected high frequencies are smooth and transparent without long-term fatigue. In video editing and audio mixing scenarios, this can help keep you editing for hours on end without the speakers being harsh on your ears.
For video editors especially, the T5V or T7V are truly the perfect solution for your edit suite if you're on a budget. I honestly can't think of any other monitor that could be better at that price range with its sonic accuracy. You get the dimensional precision and clarity of ADAM's ribbon tweeter technology, coupled with their smooth overall sound. I would not be surprised if the T7V became the de facto reference studio monitor standard among edit suites across the globe. Even though I have the high-end S2Vs in my edit/color/mixing "hybrid suite", I still have the T7Vs in here as secondaries. They're THAT great.
---
In a nutshell
So how do these studio monitors fit together and separately? Starting with the S series, I think this is for the professional that wants the absolute best reference quality in their suite or control room. The build quality is unmatched, with beefy, exotic, commercial-grade materials, all hand-built, down to the gold folded ribbon tweeter. If tuning the monitors to your room's nuances is desired, then the S series with its ADAM Audio S Control application via USB is absolutely the way to achieve total precision. These monitors are so true, transparent, powerful, and dimensional that it's truly a thing of beauty to sit and listen to. They've literally given me goose bumps.
The skinny: The S2V is a little beefier in the mid-range than the others (not at all muddy) with a much more overall fuller sound. Infinitely more controllability thanks to its internal DSP. Definitely the king of the mountain… the best.
The AX series is so incredibly popular for good reason. It's a great fit for a professional that might not have the big bucks for the S series, but still wants truly accurate monitors for their post-production business. They look good and they sound good. Build quality and fabrication is still really good too, being a fully modular design like the S series. It may not have the bells and whistles of the S series, but is no lesser of a high quality studio monitor.
The skinny: The A7X is so simple and straightforward right out of the box. Overall sound is clear and accurate. Almost sounds identical to S2V in some musical instances but generally has slightly less mid range thickness than the S2V (by a truly minimal amount without sounding thin by any means). Can't go wrong with this proven industry winner.
The new T series is almost a how-the-hell-did-they-pull-this-off scenario. I'll never quite wrap my head around how they managed to maintain high quality sounding monitors into such a low-cost product. I know it's due to manufacturing, materials, features, non-modular build design, and other factors, but in the end, these monitors just kick major butt. To me these approach the sound characteristic to the AX series, (with a slightly less fullness in comparison, but not lacking in a general sense). As a side note, I absolutely LOVE how brass sounds through these monitors.
Anyone that has wanted high quality studio monitors in their setup but couldn't afford it, now has no excuse to obtain these firsthand. I would've dreamed to have had these almost 30 years ago when I was first building my home recording studio and going to school for sound engineering. But these aren't just applicable to the budding engineer, amateur, hobbyist, or weekend pro. These can sit right at home in a professional facility environment as well. While the S series stands as my top choice (for reasons stated above), the T7Vs also sit in my facility. I think these can also make the perfect surround setup for many people, as it's affordable for an array of 5 or 7 monitors, while still providing both flat and dimensional accuracy (as explained at the start of this article). In the case of my "hybrid suite", I use the S2Vs as my primary stereo mixing/mastering studio monitors and I use the T7Vs as secondary stereo pairs and for 5.1 surround.
The skinny: The T7V has great presence but a little lighter bodied sound than the other two, but not in the sense where it feels lacking or thin. This could possibly be due to the physical resonant properties of the T7V cabinet itself (weighs much less than the other two monitors). Pros and amateurs alike will surely enjoy these new monitors, regardless of their low cost.
---
Those Mids
One last thing I'd like to mention too about all these monitors is the importance of mid-range frequencies. A lot of monitors on the market have some amount of control of low/high boost and cut (muddiness, harshness, hype, and distortion notwithstanding). But something that is typically "burned" into a monitor is the quality (or lack thereof) of the mid-range frequencies. And this is key. Without accurate mid-range reproduction, you've got squat to balance your mixes with. This is yet another key area where all three of these series shine. The ADAM mid-range frequencies are so clean and accurate that there's nothing left for guessing. Granted, the S series is infinitely tunable through its internal DSP across the entire audible spectrum, but even out of the box, the S series (and the AX and T series) have clean and accurate mid-range. This was one of the first things I noticed when first listening to all three series, is how transparent and defined the mid-range is. When shopping for monitors of any kind, always, always, always listen intently to the mid-range quality.
---
Oh, one other thing...
As stated earlier, I've been listening to music through all three of these ADAM monitors individually while writing/editing this article (aside from actually using them on projects). There were times as I was writing that I had to look up at the speaker selector to see which monitor pair (of the three) I was listening to. THAT is how good all of these series sound. They all really sound fantastic even though they have their subtle differences and characteristics. In some cases, listening to some of my favorite music has been sort of a rediscovery process, enjoying songs all over again with what almost feels like having different ears on. If you're in the market for new studio monitors, I'd implore you visit an ADAM dealer or a studio/facility that has them so you can listen to them in person. With all three series (and various models within them), it's now within everyone's reach to own that killer ADAM Audio sound.
ADAM Audio S2V
Accuracy / Clarity
Fatigue / Smoothness
Controllability
Ease of Use
Price-to-Performance / Features
Total Rating
ADAM Audio A7X
Accuracy / Clarity
Fatigue / Smoothness
Controllability
Ease of Use
Price-to-Performance / Features
Total Rating
ADAM Audio T7V
Accuracy / Clarity
Fatigue / Smoothness
Controllability
Ease of Use
Price-to-Performance / Features
Total Rating
---
---
---
Coming Up Next
Our next article is an in-depth look into our "hybrid suite" briefly mentioned in this article. Topics include building materials used, studio furniture, acoustics, and the equipment to make this all work as an edit suite, a color suite, and an audio mixing suite. Subscribe to this blog to get notified the very second articles are released!
---
---
FCC Disclaimer - Links from this article might go to affiliate links to B&H and/or Amazon (not much different than the ads you see in YouTube ads, but more focused). Visiting these links (or buying products from the links) cost you nothing additional and may in turn help us pay for the cost of hosting these free articles we write. These articles take an enormous amount of time (in most cases, weeks and months) to research, draft, write, edit, rewrite, and shoot custom photography/video for. In no way do these affiliate links cover the cost of all of that, so any help these links can provide is a huge help to us to continue to offer free content to our readers.
---
RECENT BLOG POSTS