Marco Solorio of OneRiver Media gives an introductory overview to the rebirth of the Fairlight digital audio workstation (DAW) that is now part of Blackmagic Design's powerful DaVinci Resolve post-production system. Is this finally the solution to break away from the ProTools stronghold?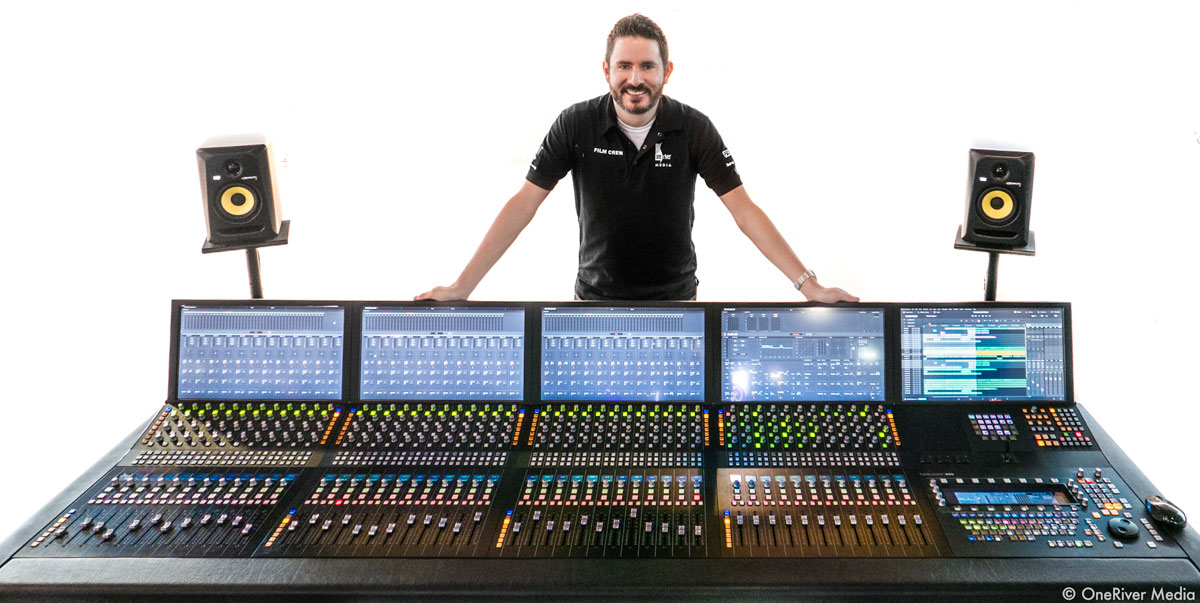 With the National Association of Broadcasters convention in Las Vegas officially over for 2017, there was an abundant of new announcements and products throughout the show's week-long event. But for me, nothing came close in terms of shear "wow factor" than to that of Blackmagic Design's showing of DaVinci Resolve 14 with the inclusion of the complete Fairlight DAW.
In about 4-5 month's time, the Blackmagic/Fairlight engineers and developers integrated the Fairlight DAW right into DaVinci Resolve, complete with hardware interfacing with audio I/O and modular mixing control surface integration. Despite the fact the team is still hard at work to complete all the planned features, this was an amazing feat to undertake. I honestly don't know how these people were able to do this in such a short amount of time (I guess they don't like sleep). The running joke at the show I kept hearing from people was that Blackmagic/Fairlight was able to build this NLE/DAW solution in 6 months than [insert any other NLE/audio platform] has done in the last 6 years.
While at NAB, I had the opportunity to spend an enormous amount of time with the Blackmagic/Fairlight engineers and developers to dig deep with the new advancements as well as play with the Fairlight mixing consoles to really get a feel for how this all works together. In short, it exceeded all my expectations.
---
Once Frustrated Now Elated
The new Fairlight + DaVinci Resolve integration is the most exciting thing I've seen come along in audio as a professional ProTools user for 20 years and as an audio engineer for almost 30.
So what's the big deal? Why the excitement? To answer that, let me briefly explain a little background. I've been a ProTools user for roughly 20 years now. Over that time, I've invested a LOT of money in building and expanding our ProTools equipment in our audio control room and recording studio of the years. Part of that investment includes a 40-channel ProControl mixing console with Edit Pack (surround sound support) that Avid hasn't supported since ProTools 10 (ProTools is up to version 12.7 as of this writing). In other words, Avid refuses to allow their older control surfaces to work with ProTools 11 or 12 (remember, there is no audio processing in these control surfaces at all) in hopes of forcing their longtime legacy users like me into buying into their new hardware, specifically the high-dollar S3 control surface (singular, non-expandable unit) and S6 modular control surface lineup as the top offerings from Avid (other options include the dated and non-expandable C|24 console and the small but limited Artist Series that include the Artist Mix, Artist Control, and the newer ProTools Dock that requires an addition Apple iPad purchase). The S3 and S6 options are ludicrous to me since (A) my old control surface hardware works perfectly for my needs and (B) other companies have long supported their older control surface hardware with modern software (e.g., a 15-year old DaVinci panel can work under today's Resolve under Linux and the original Fairlight control surfaces from decades ago still work with today's Fairlight software). I've been more than willing to upgrade to Avid's newer PCIe hardware and I/O hardware, but the buck stops here with the need to replace my entire surround sound mixing console that is otherwise perfectly functional.
For the last 2 to 3 years I've been at a loss with finding a solution to this problem. My hope was to (A) do away with ProTools altogether, (B) use alternative professional DAW software that was fast and high-end, (C) and was completely modular so that I could grow into a larger control surface mixing console as needed.
And let's be honest… prior to version 14, Resolve's audio integration was decently good but it definitely wasn't "DAW worthy", as noted in my extensive Resolve article last October.
---
The Fairlight Foundation
But the solution is finally here and it's DaVinci Resolve's integration of Fairlight.
At the core, Fairlight is intertwined within DaVinci Resolve. This is a key point. Rather than being a stand-alone application, Fairlight works exactly the same way the NLE portion within Resolve works, in that you can edit, color grade, and mix your audio non-linearly without the need for dealing with cumbersome XML/AAF translation project files between programs and round-tripping. While I'm building an editorial rough cut of a video, I can also start tweaking the dialog mix, while also building the color grade, ALL AT THE SAME TIME. I never have to leave the Resolve ecosphere. This is huge.
Likewise, any audio parameters that are made in either the Edit page or Audio page are completely mirrored in both pages. So for example, lets say I'm in the Edit page working on an audio clip and I adjust the EQ, the compressor, add a VST plugin like RX6 De-noiser, and then adjust the parameters and values for those audio parameters. I can then go into the Audio/Fairlight page and all of those audio plugins I added in the Edit page are now exactly mirrored to their exact values between the Edit and Audio pages. The biggest difference of course is when you're in the Fairlight page, you have much more control, features, and visual feedback of your audio edits.
To go a step further (and this blows my freaking mind), Resolve's new collaboration features with "timeline comparison" is the holy grail of workflow versioning. In a nutshell, it allows multiple AND singular users to see what changes have been made in the project timeline between users/sequences, whether it's audio + video + grading, video only, grading only, audio only, or whatever combination. So between video editing, color grading, and audio mixing, you have a graphically supported breakdown of how the build of the project is coming along. Avid Media Composer + ProTools doesn't do this, Adobe Premiere + Lumetry + Audition doesn't do this, nor does Apple FCPX + Logic do this. Blackmagic has built a new paradigm in modern post-production workflow in Resolve that others can only look up to at this point. Truly revolutionary.
---
Resolve's Massive Improvements
DaVinci Resolve 14 has countless other new features as well, including major performance gains (much smoother UI interaction and responsiveness with greater support for slower/older computers due in part to fully exploiting CPU+GPU resources and smarter base code, with Blackmagic stating a very convincible "10X" gain), facial recognition based enhancements, noise reduction speed improvements, updated motion tracking (catapulting off their already amazing tracker), and countless other features and enhancement that clearly sets Resolve 14 apart.
But to kick off the new version 14 update, the new $299 price tag for the full Resolve Studio software is another shocker (was $995). The USB dongle is no longer needed but can be used in place of the new serial number registration method. I've never been a fan of "renting" software as a monthly fee, so the flat $299 cost is a HUGE welcome to users and ultimately costs way less than other monthly solutions. In fact, Blackmagic Design still has yet to charge users an upgrade fee for any major software release! From version 9 (when Blackmagic Acquired DaVinci) to the new 14, not a penny has been charged for upgrades! Blows my mind. Oh and not to forget… the free version of Resolve completely includes Fairlight. Yes, a high-end professional DAW for FREE.
---
The reDAWn of Fairlight
For me, the biggest addition to Resolve 14 is the inclusion of the complete Fairlight DAW solution itself. With decades of audio know-how, Fairlight is an audio post-production giant, to say the least. Although Fairlight has been a competitor to ProTools forever, I'm quite certain this will be the first time ProTools has serious grounds for concern from a broader market perspective… especially when you consider the fully capable free version of Resolve includes the Fairlight DAW.

As for audio plugins, VST is fully supported (as it has been for Resolve prior to version 14), so my favorite audio plugins from giants like Waves, Izotpoe, Sonnox, Lexicon, Brainworx, and others are compatible (I've been loving Izotope's RX series within Resolve 12 and 12.5). Automation of plugin settings over time is also supported. You can stack six instances of plugins per track or clip. Let me be clear; BOTH track-based plugins AND clip-based plugins are fully supported. Not having this in ProTools has been one of the pinnacle issues for me for many years. Even with ProTools' latest clip-based plugin support (AKA, "clip effects") it's limited to Avid's basic EQ and compression channel strip plugin (which means none of your favorite plugins can be used) and is only available in the much more costly ProTools HD version. This lack of much requested flexibility in ProTools boggles my mind. But alas, we're talking Fairlight and DaVinci Resolve here, so now you're free to use plugins across tracks AND clips.
---
Fairlight Is Hardware Too
It's the Fairlight hardware that really has me excited. To start things off, the
Fairlight PCIe accelerator card
allows for 1000 real-time playback tracks with extremely low latency (sub-millisecond). You can also record 96 tracks while concurrently playing 128 tracks at the same time (bonkers!). At the core is a
Fairlight 1-RU I/O box
with programmable interfacing with the Fairlight DAW (assignable digital patch bay within Fairlight itself) and includes a multitude of digital and analog I/O (more on this in a forthcoming article in this series). Need surround sound support beyond the basic 5.1 or 7.1 matrix? How about Dolby® Atmos™, DTS® MDA, and NHK's 22.2 for some surround sound love? Fully supported in Fairlight.
The Fairlight control surface mixing console is where it's at though. Because the layout is both horizontally AND vertically modular, you can truly build a mixing console to fit your needs from small to truly massive. I've been begging for such modular integration for the last few years now and it's finally a reality for us. If you REALLY want to go big, a total of 96 channel strips can be built together (9 Fairlight bays, including the master section), which would roughly be a 15-foot wide mixing desk! Holy moly!!! These modules are easily connected together by basic Ethernet cables. It really doesn't get much simpler than that.
The existing Fairlight mixing console frames support 19" rack mount devices (with backend vertical depth, aka, "buckets"), so if you save room for empty banks, you could then include additional outboard gear within the console as well, like your favorite mic pres, compressors, EQ, mastering tools, etc. I like the idea of adding 500 Series Neve mic pre modules, specifically for tracking.
---
Independents vs. Facilities
So what does this all mean for boutique studios or "all-in-one" freelancers? Well quite simply, for users that edit, grade, and mix for their clients, Resolve 14 is the most advanced workflow system there has ever been. Not having to bounce between separate applications using interchange files (XML, AAF, etc.) is a dream come true, especially if you tend to (as I do) like to sculpt the audio mix during the video edit, including audio plugins and such. There is absolutely never a chance of losing interchange data for fade, level, plugin, surround panning, or anything else since everything lives under one efficient ecosystem in Resolve.
But what about larger facilities that incorporate a solid foundation in their existing workflows? This scenario becomes a bit more complex and I wager some facilities will be slower to adopt change than others. But the vast majority of full-service post-productions facilities already incorporate DaVinci Resolve as part of their finishing services, so that pipeline is already solid. While bigger facilities have traditionally used Avid or Premiere as their primary NLE, I'm seeing slow changes in this, as Resolve's NLE has become more and more robust with each major update. I think the slowest adoption for larger facilities will be on the Fairlight side of things because many of these larger facilities currently using expensive Avid S6 control surfaces with ProTools (and for the record, I think the S6 is an absolutely amazing control surface, just ridiculously expensive). In many cases, these facilities have invested, literally, hundreds of thousands of dollars in hardware, software, integration, and support. But as technology changes, workflow demands increase, and service plans end, there will come a point (maybe months, maybe years from now), when even these large facilities will have to look at what makes most sense for their creative, technical, and deadline needs in their audio post-production workflow. There will always be die-hard ProTools users (I was one of them for about 20 years, up until about a year or so ago), but Fairlight just got a major technology boost that is extremely hard to ignore. And let's not forget… there's already a large base of existing die-hard Fairlight users as well (I personally know several of them!) that go decades back, which brings me to my next point:
On the flip side, there will be large post facilities that will integrate the Fairlight/Resolve solution immediately, placing it squarely in their "A" Audio Control Room. The speed gains, the efficiency gains, and the error-free-interchange between editing + grading + mixing is just too paramount to not incorporate, especially when you can literally SEE the changes between users and their timeline updates. This is a major paradigm shift in the industry that no other post-production "suite" of software has ever been able to pull off, even from the "Three A's": Avid, Apple, and Adobe.
This is all great, so how much does the Fairlight hardware cost? Unfortunately I don't have an answer for all of that just yet since Blackmagic is till ironing out some of those details, but expect an answer in the next couple of months on finalization of hardware pricing (but like all Blackmagic acquisitions, it's highly likely prices will be much lower than previous costs). Until then, I've come up with a basic matrix of comparative costs and don't forget you can download the public beta of Resolve/Fairlight to play with the new features in the Free or Studio versions. But keep in mind, as of this writing, Resolve 14 is still in public beta, so keep that in mind when testing. The Resolve/Fairlight development teams are pushing through to add all of the remaining Fairlight technologies into Resolve and like anything software related, that does take time. But at least the public beta gives you insight into how the cohabitation between Resolve and Fairlight works together.
---
Comparative Pricing At A Glance
(Prices as of this writing in U.S. Dollars)
Blackmagic Design DaVinci Resolve / Fairlight Options
FREE
Resolve
$299
Resolve Studio
$995*
Fairlight PCIe Accelerator card
$2295*
Fairlight 1RU Digital/Analog Audio Interface box
FREE
Resolve/Fairlight Support
AVID ProTools Options
$24.92
ProTools (Monthly Subscription, upgrades included, no hardware)
$299
ProTools (Annual License, upgrades included, no hardware)
$599
ProTools (Perpetual License, upgrades NOT included, no hardware)
$2499
ProTools HD (Perpetual License, no hardware)
$2999
ProTools HD (Perpetual license w/ PCIe Native card, no audio I/O hardware)
$4999
ProTools HD (Perpetual license w/ PCIe HDX core card, no audio I/O hardware)
$1899
ProTools HD Software Upgrade (From previous version)
$999
ProTools HD (Reinstatement Plan up to 1 year)
$399
ProTools HD (Annual Support Renewal Plan)
$1999
AVID HD I/O PRE
$1999
AVID HD I/O 16×16 Digital
$2995
AVID HD I/O OMNI
$3499
AVID HD I/O 8x8x8 Digital/Analog
$4499
AVID HD I/O 16×16 Analog
$4495
AVID HD MADI
*Note: Fairlight hardware prices subject to change upon official release (likely to be same or lower).
Overpriced and confusing on the ProTools software end? Yeah, I think so too. I'm tired of this old model of pricing and I know many audio people that share the same frustration. And I haven't even got into the numbers of control surface costs (that'll come in a forthcoming article in this series).
On the Resolve/Fairlight end of things, it's extremely straight forward with no annual plans to deal with. And as I've mentioned in previous articles on Resolve, there hasn't been an upgrade charge since Blackmagic acquired it. So from Resolve Studio version 9 to 14, upgrades and updates have all been 100% FREE. There's no promise this trend will continue with Blackmagic Design, but as it stands, for those of us that have been Resolve Studio users for the last 5 years have had to pay zero dollars on updates. I definitely can't say the same for ProTools! And the crazy part is that Resolve Free is still a very viable and capable solution for using Fairlight strictly as a DAW solution.
---
Conclusion
In a nutshell, I'm joyfully ecstatic about Resolve's integration of Fairlight and its modular-based hardware integration. It's going to save so much time in our post-production workflow process, especially when clients ask for that "small" change that affects the edit/grade/mix of the project. Dealing with "picture-lock" will be a thing of the past in regards to not having the ability to change an edit when we're at the 5.1 surround mix phase. There's countless time I want to "fix" a clip in the early edit phase (whether color-based or audio-based) and now I don't have to wait until the finishing stage to do so… it can all be done while I'm cutting the edit so the client doesn't have to see/hear some of the blatant "rough stuff" on the first go-around of an edit review.
DaVinci Resolve has been our color grading tool for about seven years now (shortly after Blackmagic acquired it in 2009). Likewise, Resolve has been our primary NLE system for about 1.5 years now (since version 12 beta). And after 20 years of professional ProTools use, Fairlight in Resolve will now be our primary DAW system. And while the Fairlight integration is still in its infancy during this beta stage, I'm highly optimistic with the promise of a matured system… just look at what has evolved from Resolve 9 to 14 since Blackmagic Design has developed it!
As we continue with the Fairlight integration process in the coming weeks/months (as Blackmagic completes the entirety of Fairlight features and hardware manufacturing), I'll be posting updates to this process, as well as how we're using the Fairlight system in our projects. To say I'm excited about this is a huge understatement! Congratulations to Blackmagic and Fairlight for all the hard work. To me, it definitely looks to be a winner!
---
Top Fairlight Highlights:
Fully functional professional DAW for FREE or $299 for Studio version. Available NOW.
Modern singular eco-system containing video editing, color grading, audio recording/mixing in one application; no more round-tripping.
Extremely low latency across 1000 tracks at 192kHz @ 24-bit (with PCIe card).
Horizontal and vertical modular control surface via Ethernet connectivity.
Mono to 22.2 surround sound support with optional 64-channel B-chain support (with PCIe card).
Collaboration feature with "timeline comparison" for revolutionary workflow advancements.
Built-in Fairlight-engine EQ, compressor, expander, gate, and limiter on every channel.
VST plugin instances on both track and clip levels.
Only a single Fairlight PCIe accelerator card needed for 1000 track support.
Full tracking session support with assignable punch-ins, inserting, aux out, re-routing, etc.
Extensive automation support across any function, feature, or plugin.
Projects can be still be moved between Resolve, Premiere, Media Composer, FCPX, and ProTools.
Optimized CPU + GPU performance for smoother playback, scrubbing, JKL, etc.
DaVinci Resolve grading + Fairlight DAW + world class NLE in one host.
Runs on Mac, Windows, and Linux.
---
PRODUCTS MENTIONED IN THIS ARTICLE
Blackmagic Design DaVinci Resolve 15 Studio (Dongle)
B&H
Amazon
Blackmagic Design DaVinci Resolve 15 Studio (Activation Card)
B&H
Amazon
Blackmagic Design Fairlight PCIE Audio Accelerator
B&H
Amazon
Blackmagic Design Fairlight Audio Interface
B&H
---
---
Coming Up Next
In a future article in this Fairlight series, I'll discuss Fairlight hardware integration and feature sets that take advantage of the Fairlight accelerator engine and how workflows compare with current/older techniques. Subscribe to this blog to get notified the very second articles are released!
---
---
FCC Disclaimer - Links from this article might go to affiliate links to B&H and/or Amazon (not much different than the ads you see in YouTube ads, but more focused). Visiting these links (or buying products from the links) cost you nothing additional and may in turn help us pay for the cost of hosting these free articles we write. These articles take an enormous amount of time (in most cases, weeks and months) to research, draft, write, edit, rewrite, and shoot custom photography/video for. In no way do these affiliate links cover the cost of all of that, so any help these links can provide is a huge help to us to continue to offer free content to our readers.
---
RECENT BLOG POSTS