With a year into using DaVinci Resolve as a non-linear editor, Marco Solorio of OneRiver Media shares his thoughts and experiences along that journey. Is DaVinci Resolve truly a viable solution to use as an NLE? Read on.
The public beta version of Blackmagic Design's DaVinci Resolve as version 12 was released around August of last year. It was at that I point I decided to really see if the software was matured enough to really work as a stand-alone NLE (non-linear editor). For some quick background, I edited video linearly in the 80's and 90's and ultimately went the NLE route in the mid-90's, starting with Premiere, then owning a Media100 system for many years, then FCP 1-7 (where I was a beta tester for part of FCP's growth), AVID Symphony, and ultimately back to Premiere as our primary NLE. I even dabbled with the //FAST Video Machine VM Studio system for a bit (a hybrid linear/non-linear editor… anyone remember that?). I was even able to hack FCP 1 to work with my Media100 hardware. But I digress (oh the memories). In other words, I've been around the NLE block a few times and back.
With Adobe Premiere as our #1 primary NLE (and AVID Symphony as #2), I wanted to really see how DaVinci Resolve would stack up. Part of the interest was to (A) see if Resolve could run smooth, stable, and fast enough to actually be used as a primary NLE and (B) to see if the process of proxies and round-tripping could truly be a thing of the past using Resolve as an NLE.
"I already had roughly 40 to 50 videos edited in Resolve under my belt since Resolve 12 beta"
In my personal experience over the years, the best way to really see the strengths and pitfalls of any software or hardware is to throw real-world, client-paying projects at it. I know this sounds crazy, BUT, if you have a strong backup plan ahead of time, then it's truly the only way to see if what you're testing is viable in a professional workflow environment under looming deadlines and client demands.
With all this in mind, the first project I threw at it was a series we shot and edited for the tech company Sumo Logic, under the production agency of Miner Productions (whom we've worked with now for roughly 20 years now). We shot the assets down at Big Door Studios in Los Angeles and had a cyc stage painted black for our needs, lit with multiple 10K lights, and shot on the Blackmagic URSA at 80FPS HFR 4K RAW. Oh and did I mention sumo wrestlers?
Because we shot this project in 4K HFR RAW, I would either have to make proxies to edit in Premiere and bounce back into Resolve for final grading OR, I could just simply edit the whole thing in Resolve without the need of creating proxies. Obviously I chose the latter.
Keep in mind that once we brought the 4K HFR RAW footage we shot from L.A. back to the OneRiver Media facility in the San Francisco bay area, my client (Tracey Miner of Miner Productions) was to sit in with me on the initial edits to help sculpt and carve out the videos (a practice he and I commonly do on the vast majority of projects we work on together, as we work very well off each others' ideas and flow). The point being is that I was using BETA software as a new NLE, with a paying client, literally sitting behind me in the edit suite. If this ship were going to sink, I'd be taking Tracey along for the ride… something I absolutely did not want to happen. But my faith in Resolve as an NLE was strong, so I pulled the trigger.
When it was all said and done, the video series was a hit with both Sumo Logic and Miner Productions. Everyone was happy and Resolve ran like a champ the entire time. Not a single crash during the entire process of the project and this under a beta build.
This project was enough to convince me to continue using Resolve as an NLE. When Resolve 12.5 was released as a public beta earlier this year, I already had roughly 40 to 50 videos edited in Resolve under my belt since Resolve 12 beta from the the first Sumo Logic project. Today, we're producing an undisclosed nature-based series that is 100% shot in RAW (using Blackmagic cameras), is HFR (high frame rate), is HDR (high dynamic range) and will be delivered in UHD with EVERYTHING being done in DaVinci Resolve Studio from beginning to end (except for the music score). This will dramatically maximize speed, quality, and accuracy.
With Resolve 12.5 being released, the ante was raised exponentially. At this point today, not only is DaVinci Resolve a viable NLE, but it's actually a VERY competitive NLE in the post-production market. I'm not alone in this thinking, as I know other people that have personally edited (and graded) their feature films entirely in DaVinci Resolve Studio. The recently released Hollywood feature by Universal Pictures, "Jason Bourne," was online edited and graded in DaVinci Resolve, among the fact that "one of the reels had more than 1,000 cuts". In short, Resolve is becoming more and more used as a dedicated NLE, something I'm gathering from the industry on a very frequent basis.
Interesting Point
I'd like to point out one other serious factor to validate Resolve as a viable NLE. As a working facility that has a solid NLE workflow in place, the very last thing I'd ever want to intentionally do is disrupt that workflow by introducing a new NLE into the mix. In order for me to make that disruption viable, the NLE in question had better be damn professional and up to the task, even so much as to exceed the current abilities of the existing workflow tools. But here's the kicker… not only is Resolve not a disruption to the current workflow, Resolve literally eliminates complexities in the existing workflow. Here's why…
---
No More Proxies
Working with RAW footage natively (compressed or lossless) in the NLE timeline means time, processing, and complexity is eliminated for generating proxies AND conforming them again later on in the post-production pipeline. Granted, you'll need a fast enough RAID to pull this off, but with RAID prices becoming so incredibly affordable more and more everyday (and faster and faster as well), the excuse for slow disk speeds is becoming a thing of the past.
To me, working in RAW today is like working with ProRes of the past. In other words, the process is seamless, fast, and easy. At no point do you feel like you're working with thousands of Cinema DNG image sequences with adjacent audio files in their respective folders, but rather, you see these as singular files (that include video and audio as one file) within Resolve, just like you're used to with ProRes files. The only time you would ever see your files as native image sequences would be in the directory structure of your computer itself (the Finder in OSX for example), but within Resolve, they are clean and tidy singular files as one element, the way it should be.
---
Media Management
One of the topics I've covered through various presentations and workshops I've given over the years (even prior to Resolve being a viable NLE) is Resolve's strength as a media management tool, from the management process itself, media transfers (including check-sum copying of data), media importing, metadata functions, and even internal transcoding (should you require that). At the core, Resolve has excellent media management tools and is especially useful when round-tripping with other software. The process of building dailies, window dubs, or even a quick string-out edit is quick to do with Resolve (with the added benefit of applying preview LUTs or even a quick global preview grade). As these media management tools continue to grow within Resolve, it makes the process of initially building and organizing an edit project better and better.
---
Advanced Edit and Trimming Tools
While version 12 of Resolve came in with a bang for editing and trimming tools, it's in version 12.5 where we see even more powerful tools for this. The heart of any NLE should be a core set of basic
and
powerful tools for editing, trimming, slipping, sliding, rippling, replacing, and so on. Resolve delivers with tools that some established NLEs don't even have. And because you can create custom keyboard shortcuts sets, you can apply quick keys from other NLEs so your muscle memory keeps flowing. Call me a "technomasochist", but I personally prefer to learn the native keyboard shortcuts of each application I use than applying shortcuts from other applications to it (mostly so I'm not *losing* unique shortcut key operations by importing other ones), but I digress.
---
Audio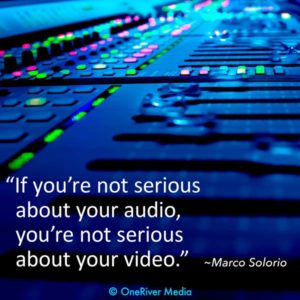 As some of you know, my background in audio production/post stems longer than even video editing itself (since the late 1980's). With that in mind, it is of empirical importance to me that the salt of an NLE's worth is also weighed in its ability to properly and cohesively handle audio tasks. While we do have a
dedicated audio control room with a fully fitted hardware-based ProTools HD system
to use for audio projects, I typically prefer to stay
within
an NLE to handle the audio work for a video project for speed when possible (typically on smaller to mid-sized projects with quick turn-around times).
With Resolve, you have the ability to handle any channel format (mono to multi-channel surround sound). Likewise, you can apply plugin effects on either a per-clip basis or on a per-track basis, which is extremely important (something that ProTools HD itself hasn't been able to do until the very recent 12.6 upgrade last month, but still only limited to EQ and dynamics—no filters—and only the HD version, and only as a generic plugin based on the ProTools channel strip). Thirdly, you have the ability to quickly create audio stems (aka, "stem mixing"), aside from the standard master mix. And because Resolve supports AU/VST audio plugin formats, you can use all your favorite audio plugins and effects (various Izotope plugins ranks at among the top of many for me). Unfortunately there currently isn't support for auxiliary tracks or bussing (more about that in a bit). But at a base level for an NLE, the audio platform in Resolve is very capable to save time by not going to a dedicated DAW (digital audio workstation) like ProTools.
If you haven't heard, Blackmagic Design announced its acquisition of Fairlight (and Ultimatte, yay!) in September during IBC. This is huge news. Fairlight has been in the audio world for decades and has always been one of the top ProTools competitors. With the acquisition, it's plausible that Blackmagic might add even more audio features into Resolve, like the auxiliary and bussing controls I mentioned. Time will tell, but the future is bright for even more audio power on the horizon from Blackmagic.
---
Editing & Grading
Obviously the power of DaVinci Resolve's color timing and grading tools are incredibly powerful or Hollywood blockbusters wouldn't have been using it, literally, for decades now. But having the ability to edit
and
grade within the same timeline, without having to bounce and render between applications is HUGE.
Absolutely H-U-G-E.
This to me is the biggest factor for me using Resolve as an NLE, because I literally have the DaVinci Resolve color grading system inside my NLE. To add, I can literally grade footage
during
the edit if I feel inclined, which can sometimes help get into the
emotion
of the edit.
And it's not just about grading, it's also about Resolve's advanced tracking system, it's updated noise reduction system, it's 2D and 3D keying system, it's new lineup of visual plugins (like lens defocus, lens flare, etc.), and so many other powerful features. Blackmagic Design lists Resolve 12.5 as having over 250 new features (and over 1000 enhancements), when in reality, the total amount is actually higher than that number of features and updates that have been included in this major update. Insanity… in a good way.
---
Advanced Professional Features
The nature-based series I mentioned earlier is being entirely shot in 4.6K resolution (with the
URSA Mini 4.6K
) in RAW format (4:1 to be exact) with HFR RAW included. This series will be delivered in 4K UHD HDR (High Dynamic Range). Obviously we'll be doing the entire project within Resolve from start to finish to take advantage of the singular editing and grading ecosystem (except for the music composition itself being created in
MOTU Digital Performer
). But because we're delivering this in HDR, we're working in ACES at 32-bit float, not only for the HDR aspect of it for its primary delivery (including HDR10, Dolby Digital, etc.), but so that we can
also
export to whichever format we may also need without losing quality in the color-space and DR conversions (Blu-ray SDR, web streaming SDR, etc.). Resolve handles this without skipping a beat and by working in HDR on the get-go (literally from the initial media management phase), we can quickly export final episodes (and their respective promo pieces) to these other formats with speed and ease.
Although we're not working in stereoscopic for this series, full support of that with extended tools is also in Resolve Studio. Multi-cam is another powerful feature within Resolve that shouldn't be overlooked. All in all, Resolve has a full toolset that easily competes with the other NLEs on the market.
---
Expanded Performance
Awesome tools are nothing without power and speed as a foundation to support those tools. Resolve can be used under CPU power or GPU power (but does require minimum CPU/GPU requirements). By using the latter, Resolve can grow
as you grow
.
I recently wrote an article on the new Nvidia GTX-1080 GPU card
, which is making big waves in the GPU market (along with the new Titan X Gen 2 card). By upgrading GPU cards, you increase Resolve's processing power without having to upgrade an entire system. And with Resolve Studio, you can stack GPU cards for even more real-time power and speed. I'm currently running a single Nvidia Titan X card (gen 1) and even with that I'm getting real-time performance with 4.6K RAW files under basic nodes (with a fast RAID to help). Throw in noise reduction and I start rendering. But by stacking cards, many of these intensive tasks can easily churn through in real-time. With Nvidia now releasing the new second gen Titan X GPU cards (the most powerful it's ever delivered), you will see performance stats skyrocket yet again, especially with stacked Titan X cards. But don't fret; if you're not in the market for a huge workstation with stacked GPU cards, Resolve still works amazingly well under smaller systems (like Apple iMac desktops). Obviously the more power the better, so if you stick with a smaller computer, using the best GPU in its class is always the wisest decision.
---
Freebird
Get your cigarette lighter out (or glowing mobile phone) because the encore of this showpiece is the fact that Resolve is highly operational software at
no cost
. While the Resolve "Studio" version adds stereoscopic support, noise reduction, motion blur, multiple-GPU support, multiple user integration (project and timeline), remote grading, extended HDR controls, a few added ResolveFX plugins (grain, flare, lens blur), and a few other bits, the fact is, the free version of Resolve is incredibly powerful (shockingly so). The motion tracker alone (one of the industry's best) is worth its weight in gold. There is no limitation on nodes, no time expiration, and no limitation on project resolution or length. You can check out the complete list of features for both Resolve Studio and Resolve on the Blackmagic website. For any student, amateur, low budget operation, or even just the curious, there is no reason to not give Resolve a shot (unless you have a computer that does not meet the minimum requirements).
To add, Resolve makes for a fantastic satellite-editing scenario where you have one or two Resolve Studio seats and as many satellite editing stations running the free Resolve version, where the power of the Studio version may not be entirely needed (especially for offline editing scenarios).
And if you buy any Blackmagic Design production or cinema based camera (URSA, URSA Mini, Cinema Camera, Production Camera 4K), the $1000 Studio version of Resolve is included for free. I've literally never had to pay for the Studio version, thanks to it being included with the cameras I own, and multiple seats at that! I literally keep a spare Resolve Studio dongle in my daily bag in case I need to use Resolve Studio on the go on my MacBook Pro!
Personal confession: When Resolve 12 beta was released last year, I inadvertently downloaded the free version (even though I have full Resolve dongles), I installed it, and used it thick and thin for about A MONTH AND DIDN'T REALIZE IT WAS THE FREE VERSION. One day I realized, "hey why aren't the noise reduction buttons clickable?" And then it dawned on me that I had installed the free version. That's how powerful the free version is in comparison to the Studio version, to the point I didn't even realize I was running the free version for an entire month. I cannot express any more tumultuously how capable, powerful, and professional the free version of DaVinci Resolve truly is.
---
Fused With Fusion
With the Resolve 12.5 update, there is much greater integration between Resolve and
Fusion (a very powerful node-based compositing and effects software package)
. In short, you can bounce a clip out of Resolve and into Fusion, where you can then work the compositing/effects magic on said clip, then dynamically bounce it back to Resolve without skipping a beat. And like Resolve, Fusion is based on the "Studio" version with the free version still offering a huge punch of features and capabilities. Again, download it and try it out to see how you can expand your visual effects options.
---
Upgrades
I don't want to jinx anything here, but ever since Blackmagic Design acquired DaVinci Resolve at version 9, Blackmagic has NOT charged users of the full dongled version with an upgrade fee to major releases (9 to 10, 10 to 11, 11 to 12, and 12 to 12.5). Where just about every software developer on the market charges a minimum to have their users update to a major upgrade release, Blackmagic has not implemented this. Again, I hope I'm not jinxing anything here, but this is pretty amazing.
I also know firsthand that Blackmagic Design absolutely does not believe in the monthly payment scheme that so many software companies are adopting these days and that so many of us loathe. I for one applaud Blackmagic on this stance, because as end-user with operational overhead, I can't stand seeing monthly charges on software I'm required to "rent". I'm more than happy to buy software, even pay for major upgrades, but monthly "rentals" of software drives me nuts. Again, I cheer Blackmagic not implementing this payment scheme.
---
Is It Perfect?
There is literally no major software application on the planet that is 100% perfect with no need for improvement or bug fixes. While I've been highly enjoying Resolve as my primary NLE for the last year (and surprisingly stable, even under beta), there's always a short list of feature requests I'd like to see.
I like to keep the cache rendering always activated after about 1 second of user inactivity, so basically, it auto-renders continually when I'm not interacting with the interface. But if I make a change to the timeline or make an undo/redo operation, the cache needs to re-render for that section. In short, I'd love to see greater intelligence on cache rendering so fewer things need to re-render. Adobe Premiere and After Effects have excelled greatly in this feature (with what appears to be threaded caching, so even small changes don't require an entire re-render of a clip and its effects). I'd love to see Resolve do the same. But of course, if you have powerful GPU stacking, the need for rendering in Resolve becomes a bit moot.
While Resolve supports 5.1 surround sound (including plugin support), it could use a little more features in regard to panning and control. As mentioned, maybe we'll see some Fairlight ingenuity here from its acquisition.
My hope is that a future update to Resolve will include support for auxiliary tracks and buss tracks to further aid in audio control. By implementing these two types of audio tracks, it could truly dismiss the need of working in a dedicated DAW for post-production audio mixing (this coming from a very long-time ProTools user). Auxiliary tracks are great when you want to send one or multiple tracks to the aux track to be used for effects, like reverb, delay, etc., and to even add more filtration specifically to that effect on the aux track (like EQ or compression) without affecting the original tracks that are sending the signals. This adds to a very finite ability of control in the mix while also reducing CPU overhead since a single aux track of plugins are being used, rather than multiple plugins across multiple source tracks.
With audio bussing, you have the ability to add complete effect control to a group of sound sources before going to the master mix output. It's common to add vocals to a vocal buss (or percussion to a percussion buss, guitars to a guitar buss, etc.) where they can then have a single buss compression filter applied to it to further smooth things out. Like aux tracks, buss tracks can save on CPU resources by using fewer plugins and offer up much more controllability (the big difference is that aux tracks mix with the source tracks, where buss tracks do not mix with the source tracks). Likewise, bussing introduces much more control of stem mixes, even though by nature, Resolve can already do stem output, just currently without level control of those stem outputs. To go even one step further, aux/buss channeling can be used to send monitor mixes back to the musicians when tracking (with supported hardware), but I don't see Resolve needing this level of audio flexibility as an NLE since that particular task is really suited for audio production, not post-production. But adding aux and buss tracks can really bring the audio side of Resolve to an even higher level of controllability when finishing an edit and its audio mix.
I admit it… I'm an Ultimatte snob. And since the demise of Ultimatte's software packages (AdvantEdge being the last), it's always left a hole in my heart for superior chromakey functionality. While there are some OpenFX chromakey plugins out there, none of them have appealed to my needs (a few of them are truly awful). Resolve's own 2D and 3D keyers are really good, but their core operations are to create clean secondary keys for isolating areas of the image that will then get effected with RGB modifiers. With chromakeying however, the key needs to go a step further in allowing things like hair, fur, smoke, and reflections, to pass through, which Ultimatte excelled in.
But as I very briefly noted, Blackmagic Design has acquired Ultimatte (something I adamantly expressed/wished to the lead DaVinci Resolve team while I was in Singapore a few months ago). When this was announced last month at IBC, I was beyond thrilled. It will be truly amazing to use my favorite chromakeyer of all time again. Chances are we'll see Ultimatte integrated directly into Resolve (only an assumption on my part at this point) and this will complete my need of staying in Resolve for all NLE tasks 100% of the time.
---
Conclusion
While I'd love to see a few functionality updates to Resolve, as mentioned above, the fact remains that Resolve continues to be my primary NLE of choice after over a year of rolling the dice on it as an NLE. The ability to edit
and
grade within the same timeline is absolutely huge. And not just grade, but
"DaVinci Resolve"
grade. Combining that with its vast plugin support (video and audio) is another bonus. And with RAW support literally feeling like I'm working with ProRes files, is absolutely killer. There's a ton of other features I love in Resolve that I didn't include in this write up (among the 250+ feature additions to the 12.5 update) and it's safe to say that I've been enjoying the ride so far. And having actually visited the super secret unmarked facility in Singapore where DaVinci Resolve is developed, literally by scholars, PhD'ers, and in my mind, magical software engineering wizards, I can safely say that these guys aren't resting on their laurels, with even more innovation and updates coming to Resolve (and if history repeats itself, continually at no cost to existing end-users). All in all, Resolve has positively been a pivotal shift in both my workflow and within the industry itself… all for good measure. If you haven't given Resolve a go-around as an NLE, I'd implore you to give it shot. The attributes are truly beneficial or I wouldn't have edited dozens and dozens of client videos on it thus far! In short, DaVinci Resolve is truly a powerhouse.
---
What's Next?
Let us know if there a specific topic of something you'd like us to cover, whether it be workflow, production, shooting techniques, or whatever! And if you subscribe to our blog, you will be notified the second a new blog post is released… BEFORE it's posted anywhere else online, including our own social media platforms. Cheers!
---
---
FCC Disclaimer - Links from this article might go to affiliate links to B&H and/or Amazon (not much different than the ads you see in YouTube ads, but more focused). Visiting these links (or buying products from the links) cost you nothing additional and may in turn help us pay for the cost of hosting these free articles we write. These articles take an enormous amount of time (in most cases, weeks and months) to research, draft, write, edit, rewrite, and shoot custom photography/video for. In no way do these affiliate links cover the cost of all of that, so any help these links can provide is a huge help to us to continue to offer free content to our readers.
---
RECENT BLOG POSTS