I'm excited to announce a new workshop that Suzette Mariel and I (Marco Solorio) are launching during this year's 2015 NAB (National Association of Broadcasters) conference. It's called, "Capture & Conquer" and is absolutely perfect for people in the production and post-production industry. If you're seeking to build and diversify your revenue potential, then this workshop is for you!
Many of us in this industry are incredibly focused in advancing our creative and technical skills on a day-to-day basis, which is great! But many times we forget to maintain a strong business foundation. Without this important key element, a healthy cash flow to support and sustain a business in this industry can be nothing short of rolling the dice.
With Capture & Conquer, we'll teach you several key components:
[list type="icon" lined="yes" animation="" animation_delay="" class=""] [list_item icon="icon-arrow-right" color=""]Establishing your niche by targeting your market audience.[/list_item] [list_item icon="icon-arrow-right" color=""]Building your brand to stand out in the market place.[/list_item] [list_item icon="icon-arrow-right" color=""]Monetizing your skills and knowledge to grow your business.[/list_item] [/list]
Did you know that millionaires typically have at least 7 revenue streams to sustain their business and lifestyle? Why should it be any different for you or me? For those of us in the production and post-production industry, we have an edge up on people in other industries since we inherently have the ability to create digital content. At current count with the various revenue streams I have, it adds up in the double digits. In short, I'm bringing in revenue while I'm sleeping at night.
With Capture & Conquer, you'll learn 5 techniques for conquering your niche market that will help your business thrive year after year. We'll also show you the top 8 things to do each day to increase your business growth so you can create a sales cycle for consistent work and cash flow. But this is just the tip of the iceberg… there's many more valuable things we'll be sharing with you at this exclusive event.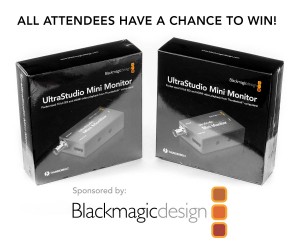 At the time and date of this post, there are only a few discounted early-bird tickets left (53% off) for this workshop, which has been graciously sponsored by Blackmagic Design. We'll be giving away a Blackmagic UltraStudio Mini Monitor for each day (both days are the same workshop). The event is being held at the Cosmopolitan of Las Vegas. Coffee, tea, and snacks will be provided to help start your day.
We're very happy to see such a large interest in this event with peoples' tweets and Facebook shares, and are grateful for those that have already registered.
We're intentionally limiting the amount of people for only 12 seats per day for those that are truly serious about attending and making this a more personal event. Be one of the financially smart ones by registering at the discount before they're gone forever!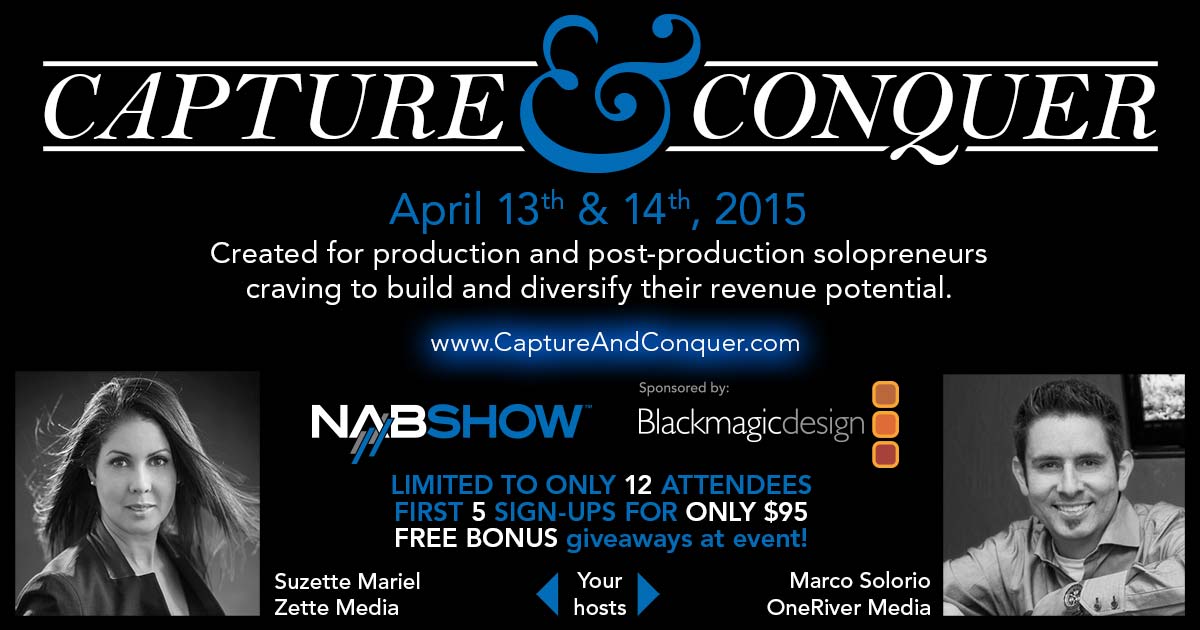 ---
---
FCC Disclaimer - Links from this article might go to affiliate links to B&H and/or Amazon (not much different than the ads you see in YouTube ads, but more focused). Visiting these links (or buying products from the links) cost you nothing additional and may in turn help us pay for the cost of hosting these free articles we write. These articles take an enormous amount of time (in most cases, weeks and months) to research, draft, write, edit, rewrite, and shoot custom photography/video for. In no way do these affiliate links cover the cost of all of that, so any help these links can provide is a huge help to us to continue to offer free content to our readers.
---
RECENT BLOG POSTS