Last Saturday I uploaded my latest Cinema Camera video, "Comparing the Cinema Camera: Part 2, The Impact of 12-bit RAW" which is a follow-up to my first video, "Comparing the Cinema Camera and the 5D Mk III". In the new video, I go into more depth about how 12-bit RAW can aid in pulling shadow and highlight detail, and in relation to what is "perceived dynamic range" and "available dynamic range".
I also go into examples of day-for-night, how working with higher dynamic range can be an advantage, even when deployed to web formats, detail versus sharpness, and much more.
Hopefully this garnishes more insight into the advantages of high dynamic range, as well as higher bit-depth flexibility, and how both aspects work hand-in-hand to achieve results that surpass some of the boundaries that 8-bit camera formats provide.
But like all comparison or tech videos that are posted online, there are always questions as to certain aspects of why (or why not) some portions of it where done the way they were (or were not).
For example, I've seen a few questions as to why a LOG curve wasn't applied to the 8-bit file from the 12-bit RAW source footage. I also received some comments that these test are invalid since many 8-bit cameras have the dynamic range to shoot in the same manner as the 12-bit counterpart. To help clear this up, I've created some comparison images.
Let's start with the 12-bit RAW source. Here's how it looks debayered by default in Adobe RAW Reader.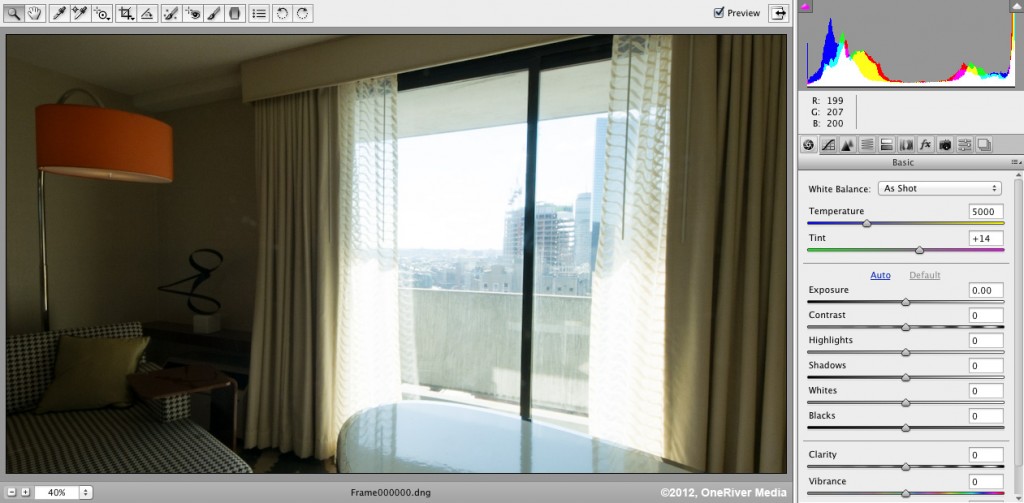 By comparison, here is the same 12-bit image, with many of the levels setting applied to bring out the highlights and shadow detail.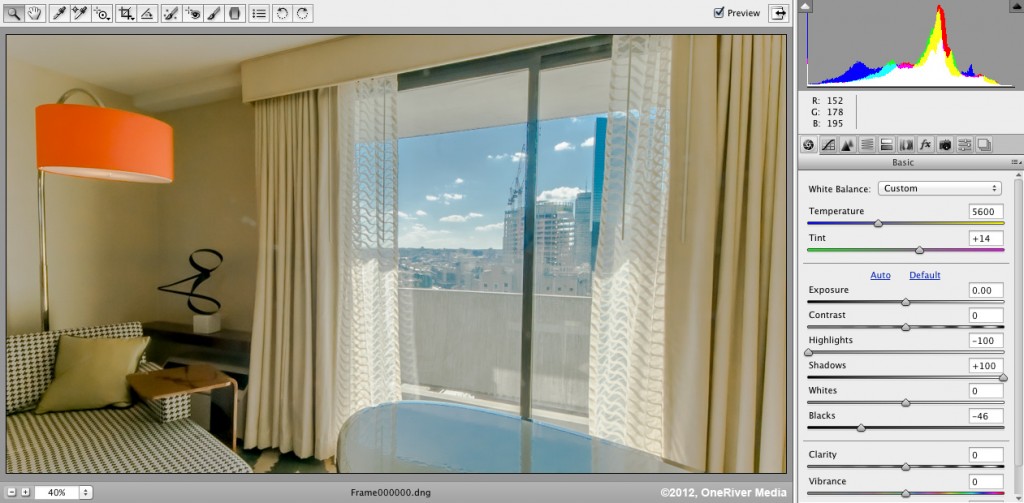 Now personally, I don't know a single 8-bit camera in the world that can retain this kind of dynamic range into its burned-in video file. Remember, this is a darkly lit room interior with only practical lighting, as well as extremely bright external city with a high exposure sky and clouds. If anyone has shot inside a room (with any kind of 8-bit camera) and pointed the camera outside, it's always immediate that the window portions always blow out. You either expose for the interior, or the exterior, that is, if you don't have means of properly reducing the exterior output by using ND gels on the windows, or bringing up the lighting in the interior and such. But lighting and filters aside, and just speaking at the camera level for this test, any 8-bit camera is going to have limits at its 256-level container. Typically, we let the majority of the window area become blow out, so we can retain some latitude in the shadow and mid areas. But this limitation is what this test is all about; to show how well the Cinema Camera (or any 12-bit camera with high dynamic range) can work under such extreme situations.
And like the video, here's the 12-bit source with a -4 reduction in exposure: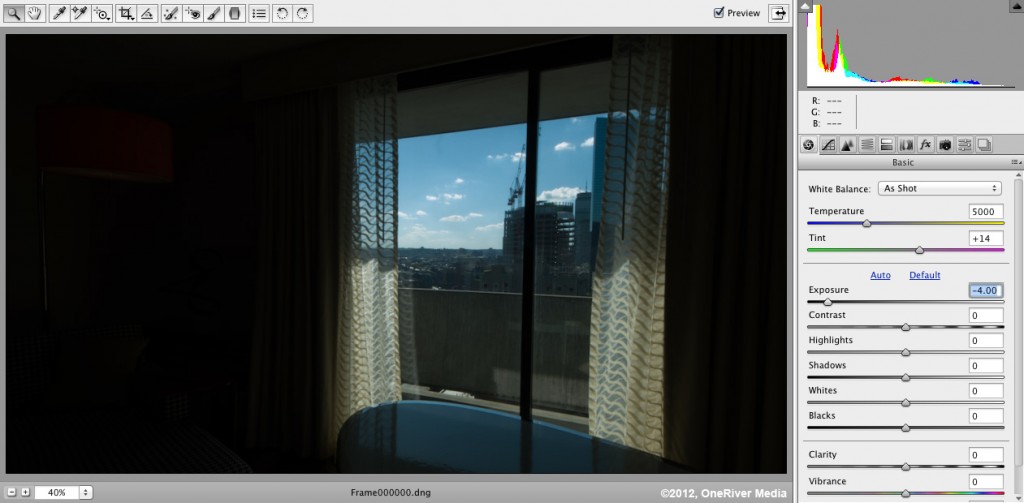 As you can see, the sky (and curtains for that matter) retain a huge amount of image data. The sky is blue, the clouds have definition, and the histogram shows only a tiny amount (maybe 5%) of image data loss at the very high end.
Okay, let's see it in 8-bit. Add 50-Mbps compression, 4:2:0 color space, and everything else done to keep these files small, and you lose huge amounts of image detail. Here's the 8-bit H.264 file at 50Mbps rate: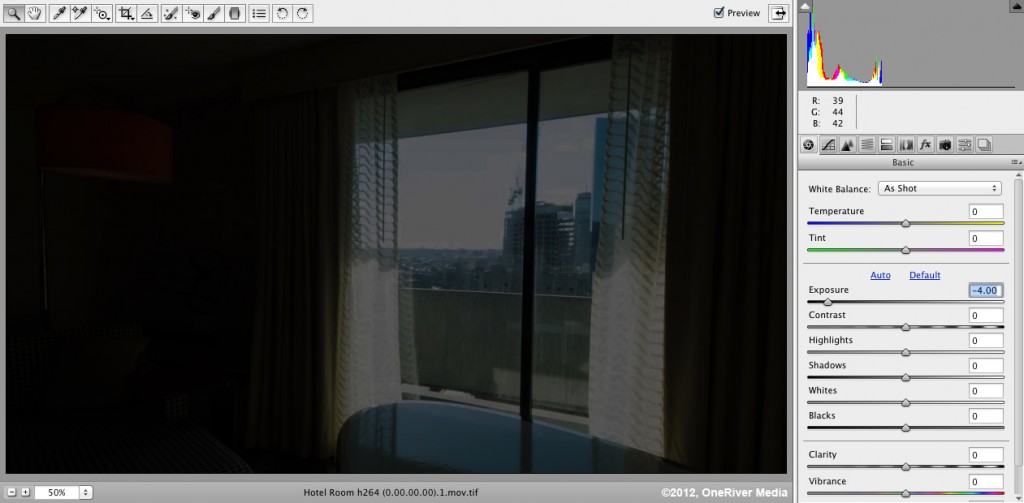 But to prove this point further, lets look and see what would happen if made the 8-bit file with a more aggressive curve to more closely mimic that of a high-end 8-bit camera that allows for LOG shooting. Again, the remainder of this is all being done in 8-bit uncompressed, so keep that in mind.
Here's curve "A", which brings in highlight and shadow detail for the 8-bit conversion.
It's not a huge departure from the original, but let's see what happens when we apply -4 exposure to this file.
As you can clearly see, the portions in the sky turn to gray, much like they do in the original linear file in the video. There's really not much of a difference, and the histogram stills shows a huge empty space, which means there's not image data there.
Lets apply an even more aggressive curve to what will now be curve "B" for this 8-bit source file.
A curve would never be this dramatic, but there it is. And as we can see, this doesn't do a ton for the area in the sky… those clouds are still pretty hidden in there. Let's see what it looks like with -4 exposure now from a burned 8-bit source.
As extreme as curve "B" is, the result is almost identical to that of the curve "A" version. Just a lot of gray sky, and the histogram shows a lot of empty (no data) space.
Okay, let's get really wacky. Rather than pull a curve from the 12-bit source, I'm going to manipulate the Highlight and Shadow levels of the 12-bit image to give us an image that gives us an 8-bit image with greater retention in the sky and shadow areas. Keep in mind though, this is NOT realistic of what any 8-bit camera would provide. This is partially due to the fact that the highlight and shadow zones of the histogram I'm pulling are extremely small and tight. Cameras that record to 8-bit formats do NOT create curves anywhere near this tight and acute. It would produce negatively adverse results with any image that does NOT have this kind of dynamic range extreme in it, i.e., the dark interior room AND the bright exterior sky in one shot. Okay, so here it is: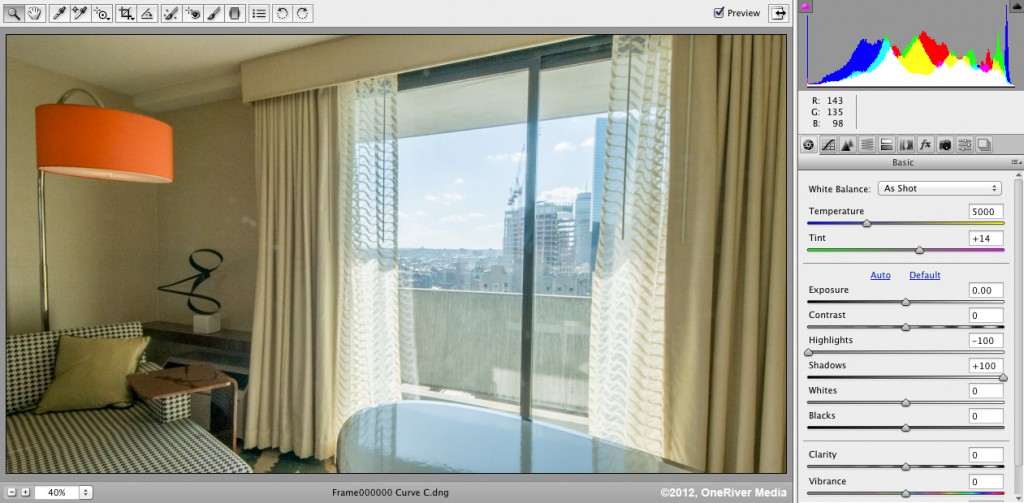 Now again, this isn't a curve in the same sense, but we'll call this curve "C". As you can see, the Highlights and Shadows levels are completely moved to maximum opposite values (-100 and +100). There's no camera in the world that would shoot like this because any other type of shot without these two extremes (interior shadows and exterior sky) would look very dull and synthetic. But for the sake of argument, we'll use this curve "C".
So with this pseudo curve that wouldn't be captured this way on an 8-bit camera, we can still see that at -4 exposure, the sky turns dark, even if we do see some retention in the sky area with the clouds. And again, that's a lot of image data on the histogram that has disappeared.
Now for some serious craziness, I'm going to pull the graded 12-bit image, and use THAT as the 8-bit source, and then pull negative exposure on that. It's asinine, but it'll help dispel any remaining questions about this.
So here's the 12-bit graded shot, now acting as an 8-bit source. Mind you (and repeatedly), I do not know of any 8-bit camera in the world that can capture this kind of extreme exposure zones of interior shadows and exterior skylight energy in the same single shot. If there is, point me to it. Anyway, here's the graded 12-bit shot again that we'll now use as the 8-bit burned source, and call this example "D".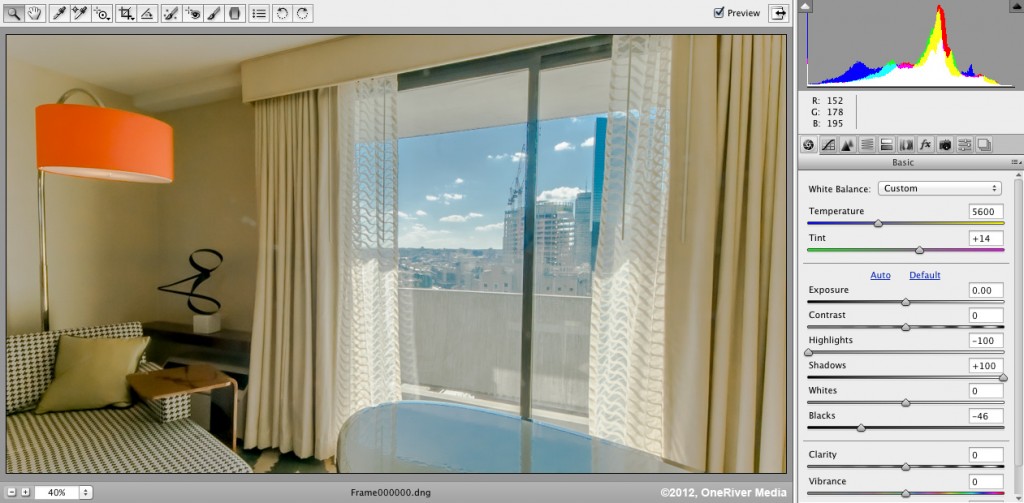 And with this exported file to 8-bit, here we now set exposure to -4 and this is the result: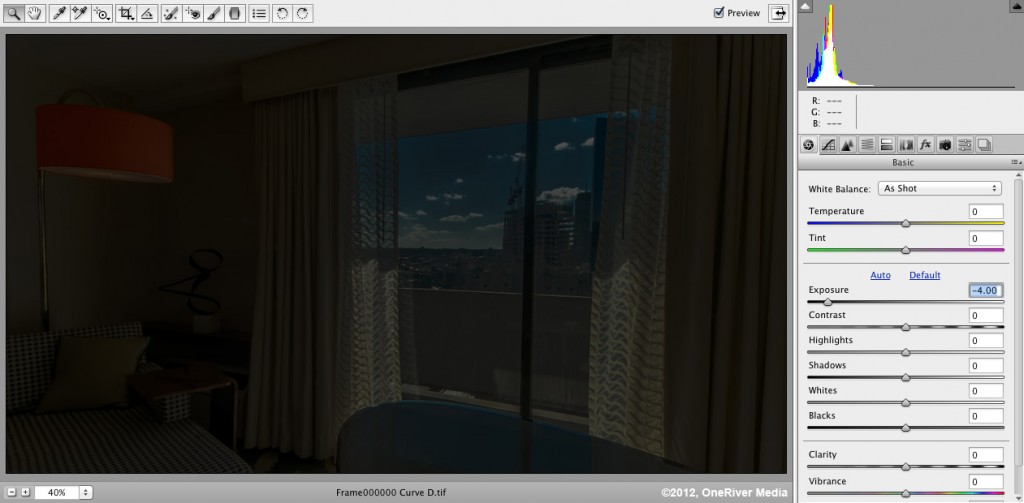 As you can see, everything becomes dark and again, roughly 75% of the image data is gone. This of course, starting with an unrealistic 8-bit source (that is impossible to achieve in the first place), so it's a rather moot point. But regardless, this is what you get when working with 8-bit files when you push them hard.
And again, here's the 12-bit source image with the same exposure reduction: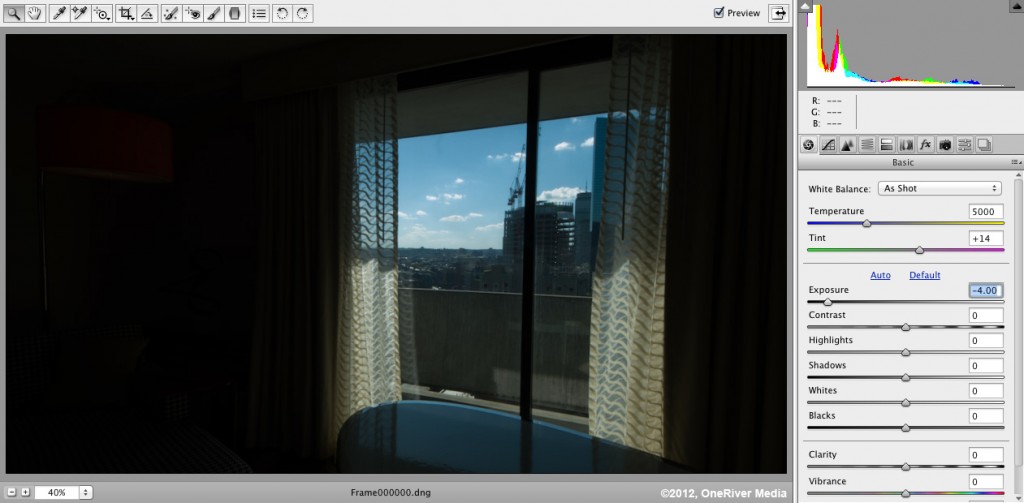 And really, this is the whole point of the video (in the dynamic range section), that with 12-bit information, you can sweep these levels high and low, while still retaining a TON of image data in the process. This is something that 8-bit formats just can't provide. Likewise, there isn't an 8-bit camera out there that can capture this extreme level of exposure zones from imager to 8-bit truncation. Again, if to the contrary, please point me to one with footage to back it up, as I'd be interested to see this miracle happen.
Dynamic range and bit-depth are two different entities, but together can work hand-in-hand to bring results that trump any form of 8-bit limitations. Again, no matter what kind of picture profile voodoo or LOG implementation is manifested in the 8-bit data, shooting this same kind of shot (interior room shadows and exterior sky together) is a feat no 8-bit camera is happy to undertake, even with high dynamic range at the sensor level.
Honestly, my feeling is that anyone that tries to argue this further is merely trying to protect the cost of their camera investment (or the cameras they rent and bill to their clients). And don't get me wrong, there are many other aspects as to why more expensive high-bit-rate cameras are indeed better than the Cinema Camera, I don't argue that one bit. Frankly, I'd love to own an Arri Alexa or Sony F65/F55. But don't let the small cost of this $3000 camera cloud the logic behind its image capabilities against 8-bit counterparts.
And to anyone that still begs to differ, I leave you with me and my shirt: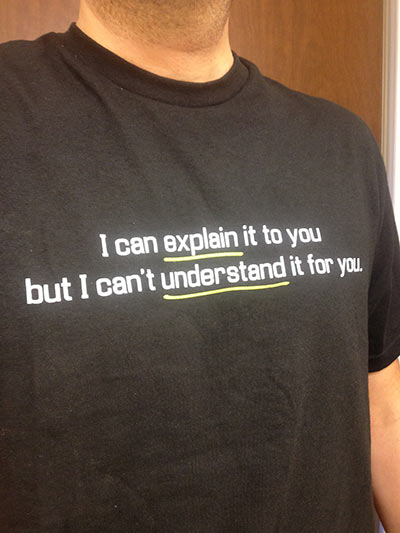 Cheers!
---
---
FCC Disclaimer - Links from this article might go to affiliate links to B&H and/or Amazon (not much different than the ads you see in YouTube ads, but more focused). Visiting these links (or buying products from the links) cost you nothing additional and may in turn help us pay for the cost of hosting these free articles we write. These articles take an enormous amount of time (in most cases, weeks and months) to research, draft, write, edit, rewrite, and shoot custom photography/video for. In no way do these affiliate links cover the cost of all of that, so any help these links can provide is a huge help to us to continue to offer free content to our readers.
---
RECENT BLOG POSTS