It's not very often a product comes to market that seems like it's nothing short of magic. At first glance, the VAF-5D2 Optical Anti-Aliasing Filter by Mosaic Engineering is such a product. I was skeptical at first with this $385 product, but after reading some positive feedback from Philip Bloom at its initial prototype stage, I knew this product was for real.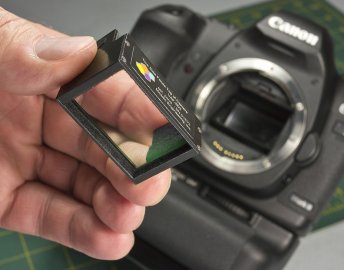 It took longer than expected to arrive here at out facility (ordered back in August, and arrived here mid-November), but the wait was worth it. After some initial A/B testing with and without the filter, I'm thrilled with the results. The science behind this device is amazing, and it works, and it works extremely well.
Looking around the facility, I tried to find something I could shoot right away to really put this filter to the test. After going through all the rooms in the facility, I stumbled on something that was perfect: an Ampeg bass amp cabinet. The interwoven silver mesh covering of the cabinet creates all the aliasing, moiré and rainbow effects you could ever hate. The aliasing is so bad in fact that it causes the Canon encoder to pulsate on the aliasing portions. Without the VAF-5D2 filter, such footage would be completely useless. With the filter, it's as clean as a whistle. I'm still shocked at how well this filter works, especially since looking at the filter with the naked eye doesn't reveal any optical characteristics that make the filter work (it just looks like a clean, clear piece of glass).
I shot the footage handheld to further amplify the aliasing problems with the native 5D Mk II. I also pushed the camera in and out so that the focal plane (where aliasing is most present) would also be more noticeable. The first comparison was shot at an angle so that the focal plane was most obvious (causing DOF blur behind and in front of the focal plane). The second comparison is flat against the amp cabinet so that the focal plane covers the entire face, causing an aliasing nightmare, again pushing in and out to see how the aliasing reacts.
I used our Canon 50mm f/1.2L at f/2 to keep the lens sharp. I also shot at 160 ISO for least sensor noise, and 1/50th shutter speed to replicate what we normally shoot at.
Viewing at full 1080 HD resolution (the is important to really see the comparisons), you can easily see the difference in quality. With the VAF-5D2 installed, the image is completely clean of any aliasing or moiré effects. It's like having a new camera by Canon! Converting this test footage to ProRes and outputting to our HD monitors (CRT and LED) REALLY shows off the hideousness of the aliasing without the filter installed, and the clarity of the footage with the filter installed. Just amazing.
Installation and removal of the VAF-5D2 is quick and easy. They give you a little puller tool to remove it from the sensor housing area.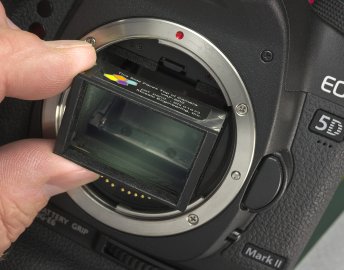 The VAF-5D2 does have some drawbacks (crazy, I know). For one, your focus distance changes slightly, which wont be a big deal for many, including myself. Some wider lenses, 24mm and below may causing some vignetting or softness at the corners. I found that I did get some slight vignetting at the corners with my 24mm f/1.4L II, and my 16-35mm f/2.8L II between 16-24mm. Our 35mm f/1.4L seemed fine, as well as anything at higher lengths. Personally, the vignetting is minimal and I'd rather fix that in post (very easy) with no aliasing and moiré than the other way around. Also, if you take still photos with your 5D Mk II, you need to remove the VAF-5D2 for optimal still photo quality (only takes a few seconds to remove it).
Okay, well, so much for a short "first look" review. I love this new filter so much that I guess I went into full review mode. At any rate, the sooner you order your VAF-5D2, the better as it took mine almost three months to get here. But again, well worth the wait. For a three-year-old camera, I feel like I have a new camera again. I can't recommend the VAF-5D2 enough.
Check out the comparison video we shot here on Vimeo:
All product still photos on this blog post from Mosaic Engineering's website:
http://www.mosaicengineering.com/products/vaf-5d2.html
---
---
FCC Disclaimer - Links from this article might go to affiliate links to B&H and/or Amazon (not much different than the ads you see in YouTube ads, but more focused). Visiting these links (or buying products from the links) cost you nothing additional and may in turn help us pay for the cost of hosting these free articles we write. These articles take an enormous amount of time (in most cases, weeks and months) to research, draft, write, edit, rewrite, and shoot custom photography/video for. In no way do these affiliate links cover the cost of all of that, so any help these links can provide is a huge help to us to continue to offer free content to our readers.
---
RECENT BLOG POSTS