Marco Solorio of OneRiver Media reviews the new CAM3 camera case by FSI Solutions (of Flanders Scientific, Inc.). FSI is well known in the industry for their high quality production monitors but should their cases share equal praise?
As you may know, I've been a longtime FSI fan for a number of years now, thanks to their incredible lineup of high quality monitors, from their compact units to their larger facility-based monitors. Although it's good to note that their panels and software are top-notch stuff, it's almost odd in a way that they'd delve into the camera case market. Or is it really that odd? They've always offered cases for their monitors and those cases have always been of high quality as well. So why not delve into other aspects of case manufacturing? I say bring it on.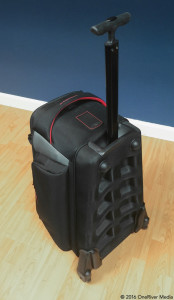 At first glance, the CAM3 Camera Case (referred to at this point as merely, the "CAM3") is big. Really big. My immediate thought was, "well, at least I can fit a fully rigged camera in this thing!"
But in short, that's the exact point of this case… to hold an entirely rigged up camera.
Typically, I setup up my entire production gear the day prior; light packages, camera packages, G&E, sound, etc. In the case of the camera package(s), I set up the rig, do a quick power up to ensure everything is good to go, and I keep it in that rigged state for the shoot. In some circumstances, this meant the camera rig would either (A) be placed in an unsuitable bag/case for the transport, (B) would not have a case at all (strapped to the front seat of the car… how many of us have done that?), or (C) take the rig apart, placing every single piece of rigging (and camera) in one bag.
None of the above scenarios is a good one, especially "C" since it takes time on set to build the rig back up again… just not an ideal solution.
The CAM3 solves all of these problems. I can now rig the camera the day/night prior and simply place the entire camera rig in the bag, complete with matte box, Panavision-sized filters, rails, follow focus, battery, top handle, and even my 9-inch FSI BM090 monitor to boot. Plus there are added pockets for other items you want to ensure that stay with the camera rig (light meter, media cards/SSDs, etc.). For the record (and except for ENG setups), I never transport my rig with my lens attached (I keep the lenses in their own lens package case) but if you're so inclined, the rig can easily fit with lenses mounted in the CAM3 as well. I sometimes don't include batteries with my camera rig as well (another dedicated DC bag contains all my batts, chargers, and extra backup connectors), but again, if you're inclined, a mounted battery can easily fit with the rig in the CAM3 as well. For quick shoots, I will however mount one battery to the camera (as shown) and a second in the case itself.
Bottom line, there is a LOT of space in this case. But most importantly, it's a hard shell case that protects the contents extremely well. There are moveable "soft blocks" (doubling as accessory containers) that can make the fitment of your camera rig nice and snug. Velcro straps are also there to help keep the rig tied down. The interior fabric is really soft, so there is absolutely no way your camera rig will get scratched or scuffed up in the CAM3. In fact, if anything, it'll buff out the scratches you already have! I also really like the red fabric, not only for its looks, but to also help make finding any loose parts (think 1/4-20 screws) much easier to find in a rush.
What really makes the CAM3 truly usable are the built-in rollerblade-like wheels and telescopic handle to transport the combined weight. Both the wheels and the handle are built very strong and can handle the rigors of daily travel and its contents. The wheels glide very smoothly and quietly.
---
Product photos by Flanders Scientific, Inc.:
---
The CAM3 also has an integrated tripod holder system for small to mid-sized tripods. A nice touch, although admittedly, I usually keep my sticks in their own cases, but the option is nice to have and I'm glad to see it there. You just never know when you may need to truly keep EVERYTHING in one case.
If you're really daring, the CAM3 has a pair of backpack straps! As heavy as large camera rigs can get, I don't know that I'd want to backpack the rig up a hiking trail, but for those that are more adventurous than me, I say go for it! Once again, I'm glad to see the option there in case it's needed in a pinch.
The CAM3 also comes with a standard shoulder strap, which is a nice touch. All in all, I've felt the built-in handles of the CAM3 are enough when pulling it in and out of shelves and into trucks and such. But the strap may give you added support in an awkward maneuvering situation when transporting the case. Just glad it's there.
I love the color combination and styling of the CAM3. The rear "exoskeleton" of the case really adds to its overall strength. And with the sheer amount of space it provides (and in combination with its various pockets), there's definitely plenty of room to put an entire camera rig in one protected enclosure on wheels.
I definitely give the CAM3 high ratings in build quality, space, functionality, ease of use, and overall design. I recommend the CAM3 to anyone that prefers having a pre-rigged camera package the moment they arrive on set like me.
---
Product video by Flanders Scientific, Inc.:
---
Dimensions: 29.15″ x 17.7″ x 15.35″ (74cm x 45cm x 39cm)
Cost: $495 USD
Warranty: 2 years.
Product:
http://www.shopfsi.com/FSI-Solutions-CAM3-Camera-Case-p/cam3.htm
---
What's Next?
Let us know if there a specific topic of something you'd like us to cover, whether it be workflow, production, shooting techniques, or whatever! And if you subscribe to our blog, you will be notified the second a new blog post is released… BEFORE it's posted anywhere else online, including our own social media platforms. Cheers!
---
---
FCC Disclaimer - Links from this article might go to affiliate links to B&H and/or Amazon (not much different than the ads you see in YouTube ads, but more focused). Visiting these links (or buying products from the links) cost you nothing additional and may in turn help us pay for the cost of hosting these free articles we write. These articles take an enormous amount of time (in most cases, weeks and months) to research, draft, write, edit, rewrite, and shoot custom photography/video for. In no way do these affiliate links cover the cost of all of that, so any help these links can provide is a huge help to us to continue to offer free content to our readers.
---
RECENT BLOG POSTS