In this quick URSA Mini tips post, Marco Solorio of OneRiver Media shows how to mount devices to your Blackmagic Design URSA Mini using a quick-release mechanism. In this example, the Sound Devices Mix Pre-D is mounted to the URSA Mini. Best part is that the parts are relatively inexpensive to buy and very easy to assemble. This method also allows for both horizontal and vertical mounting of the device.
A while back I posted an image on Instagram showing my Sound Devices MixPre-D attached to my Blackmagic Design URSA Mini 4.6K. I finally got around to putting together this how-to article that include using low-cost parts so you can apply this to your URSA Mini rigging as well.
The first key to this is getting a blank SmallRig ARRI style Rosette plate. Although this could be done without the plate, I highly recommend getting the $14 plate to ensure the Rosette teeth on your URSA Mini don't get gnarled. To add, if you don't get this exact rosette plate, you need to make sure that you get one that does NOT have a center thread or any square knobs on the back. It must be completely flush like this SmallRig rosette.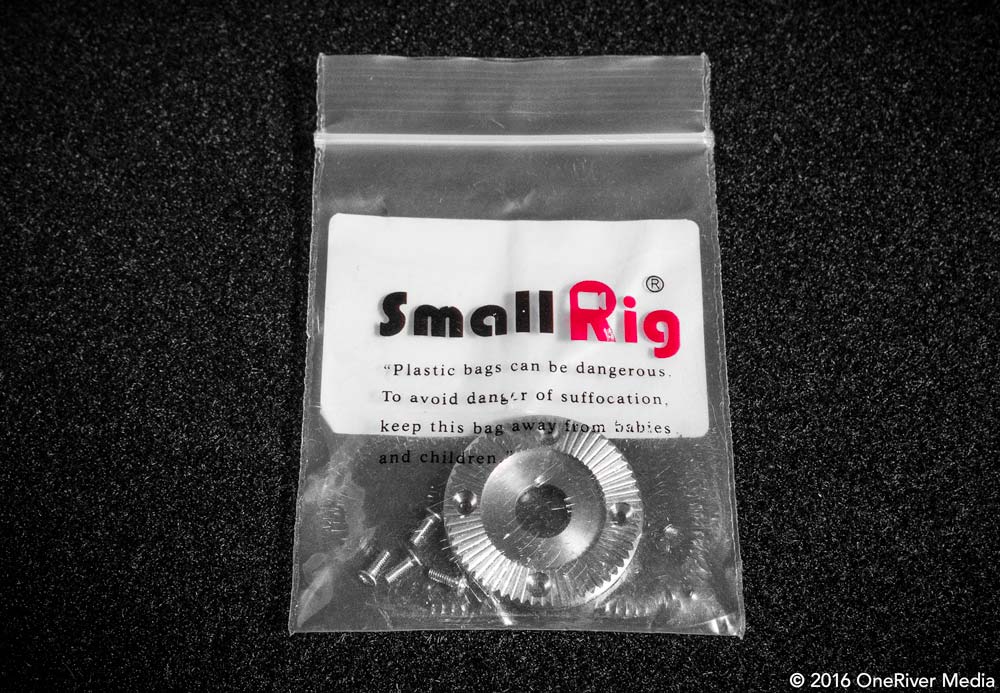 The next step is buying a M6x20 countersunk screw to mount the Rosette plate to the URSA Mini (preferably with an allen/hex key hole rather than flathead or phillips). Unfortunately the female thread in the URSA Mini is not a standard 1/4″-20 thread we typically use in camera gear and is instead the metric M6 style. Not a big deal, as these M6 screws literally only costs a few cents at the local hardware store or a few bucks on Amazon.
Next on the list is a quick release plate. There are TONS of quick-release plates on the market and you may already have one. For this setup, I used a Giottos MH 652 quick-release system because the QR release knob extends out, making it easier and quicker to release the device from the URSA Mini when needed. Of course, if you already have a QR system you prefer, then try that first to see if it works out.
By simply rotating the mounting plate on the Mix Pre-D by 90°, the Mix Pre-D can be operated in a vertical position. This can be good if the camera is mounted very high on the tripod (like shooting a news event where everyone raises their camera to its highest level) and you need to look UP at the camera and Mix Pre-D.
This method allows any device to be mounted to the URSA Mini so long as the device you want to mount has a female 1/4″-20 thread in its body (most camera devices do).
Is mounting the Zoom F8 to the URSA Mini overkill? Who cares… I like having the option if I ever needed to do this. Especially since the Zoom F8 isn't too terribly large and offers a TON of audio features. Plus the F8 has timecode out so both devices can share the same timecode (by connecting the F8's timecode output to the URSA Mini's timecode input). Works like a charm and there's nothing to set up (once the URSA Mini detects incoming timecode, it uses that when recording).
Tip: Tap the timecode display on the touchscreen to toggle between clip length and slaved timecode readout.
You can also use a Hirose 4-pin to D-Tap/P-Tap cable to power the Mix Pre-D or the Zoom F8 from your URSA Mini's battery plate.
That's all there is to it! Hopefully this will help you mount whatever you need to your URSA Mini. Happy shooting!
---
PRODUCTS MENTIONED IN THIS ARTICLE
Blackmagic Design URSA Mini 4.6K
B&H
Amazon
Sound Devices MixPre-D
B&H
SmallRig ARRI style Rosette plate
Amazon
M6x20 countersunk screw
Amazon
Giottos MH 652 quick-release system
Amazon
Zoom F8
B&H
Amazon
Hirose 4-pin to D-Tap/P-Tap cable
B&H
Amazon
---
---
What's Next?
Let us know if there a specific topic of something you'd like us to cover, whether it be workflow, production, shooting techniques, or whatever! And if you subscribe to our blog, you will be notified the second a new blog post is released… BEFORE it's posted anywhere else online, including our own social media platforms. Cheers!
---
---
FCC Disclaimer - Links from this article might go to affiliate links to B&H and/or Amazon (not much different than the ads you see in YouTube ads, but more focused). Visiting these links (or buying products from the links) cost you nothing additional and may in turn help us pay for the cost of hosting these free articles we write. These articles take an enormous amount of time (in most cases, weeks and months) to research, draft, write, edit, rewrite, and shoot custom photography/video for. In no way do these affiliate links cover the cost of all of that, so any help these links can provide is a huge help to us to continue to offer free content to our readers.
---
RECENT BLOG POSTS