Marco Solorio of OneRiver Media takes the Switronix HyperCore 98 Pro-X batteries through the paces, running them on high-draw, real-world productions to see how well these batteries can perform.
I've been using the lithium ion Switronix HyperCore 98 Pro-X gold mount 98-watt-hour batteries (also available in standard V-mount and RED V-mount) for a couple of months now, which gives me enough time to really build an opinion about these batteries. At first glance, these ~$340-ish batteries seem to have a nice build quality about them and useful information readout on its built-in LCD display. But do these batteries deliver?
---
Build Quality
I've had no issues with the batteries at all from a physical perspective. The outer casing is solid and hard, but with a sight rubbery feeling (which is good for grip). And because I'm a fan of Gold Mount connectors (also known as three-stud), these batteries are super solid locking (something I've always preferred over V-mount batteries). All the optional connectors (USB and P-tap) are solid as well. Bottom line, the physicality of the HyperCore battery is great.
---
Features & Functions
The LCD readout really stands out among other batteries. There's basically a micro computer in the battery case (which seems to be incredibly low draw) that manages everything about the battery and its performance. This management is then displayed on the LCD screen. The readout tells you at anytime (it's always on) how much remaining battery life you have (measured in hours and minutes, as well as a meter bar with percentage). This is calculated based on the draw from the device the battery is power and I've found it to be very accurate. So rather than using the battery life meter on your camera, you can get an even more accurate reading on the HyperCore battery display itself.
To go a step further, when charging the HyperCore battery, the same LCD meter automatically switches modes to show you how much longer it will take to complete a full charge of the battery. Like remaining battery life, I've found the remaining charge time display to be accurate and extremely helpful.
Another interesting automatic function is the standby readout. The battery's internal computer basically uses a 30-watt draw calculation to estimate how much battery life is left when not plugged into a device to give you an idea how full the battery is without it being connected to anything.
The LCD screen is easy to read and a good size to see all the readout information. If you're in the dark, pressing the "LED" button below the screen will illuminate the LCD screen while pushing the button. Nice touch.
If all that read-out wasn't enough, there's a secondary LED display on the left side of the body that displays battery life in 4-bar increments at the press of a button. There's basically no way to NOT know how much battery life you have left!
Another fantastic feature to these batteries are the regulated 5-volt USB port and the full-voltage P-tap (AKA, D-tap) port on the right side. These two ports have become hugely useful for me. So much so that I can't think of ever owning a battery again that doesn't have these two ports built into them.
From an obvious perspective, the USB port can charge your mobile phone or tablet, but for me, I like to use it to either charge or continuously power my Sennheiser AVX wireless receiver (and transmitter when needed). I literally do not have to think or worry about the AVX receiver ever losing power (check out my full review of the Sennheiser AVX MKE2 system).
I've used the P-tap connector to directly power my Flanders Scientific BM-090 monitor when other DC output ports are being used on the camera rig. It's these "little things" that go a long way when simplifying a camera rig, especially a rig that has a fair amount of complexity going on.
And how's this for extreme battery geekness… these HyperCores have an internal accelerometer. How crazy is that? In a nutshell, if the battery isn't pulling a draw AND the battery isn't moving for 48 hours, it turns off the LCD and goes into hibernation mode to preserve battery life. Once the battery is handled with mtion, it switches back to full operating capacity. Way cool.
---
Performance
A battery can have all the bells and whistles in the world, but if it can't perform, then all of the built-in tech means absolutely nothing. Luckily, these HyperCore batteries also get high marks in the performance category.
The first (and most used) device to use these batteries with is my Blackmagic Design URSA Mini 4.6K camera using the integrated Switronix URSA Gold Mount battery plate. With a liquid-cooled CPU, a 5-inch LCD touchscreen display, two channels of phantom power, and an external OLED electronic viewfinder, this camera has a fair amount of draw to it. Using these HyperCore 98 batteries with the fitted URSA Mini 4.6K, I'm able to easily get 2.5 hours of run time with everything on while recording the entire time (and at ProRes Proxy for the most CPU-intensive processing to make the liquid-cooled CPU draw as much power as possible). I've gotten up to 3 hours in some instances, but 2.5 seems to be the practical norm in my fitted rigging configurations.
Running the original big URSA (with a larger draw than the URSA Mini) with it's liquid-cooled CPU, 10-inch display, two 5-inch touchscreen displays, and two channels of phantom power, I get about 1.5 hours of battery life.
On the flip side of things running my Micro Cinema Camera and Pocket Cinema Camera, I'm getting insane run times, due to their inherent low draw. With the Micro Cinema Camera, I'm getting an insane (are you ready for this?) 14 hours and about 15 freaking hours on the Pocket Cinema Camera! Crazy! And yes, that's with the Pocket's LCD screen left on. You could seriously plug these cameras into these batteries for the day, leave them on the entire time, and never even think about needing to change batteries. Nuts.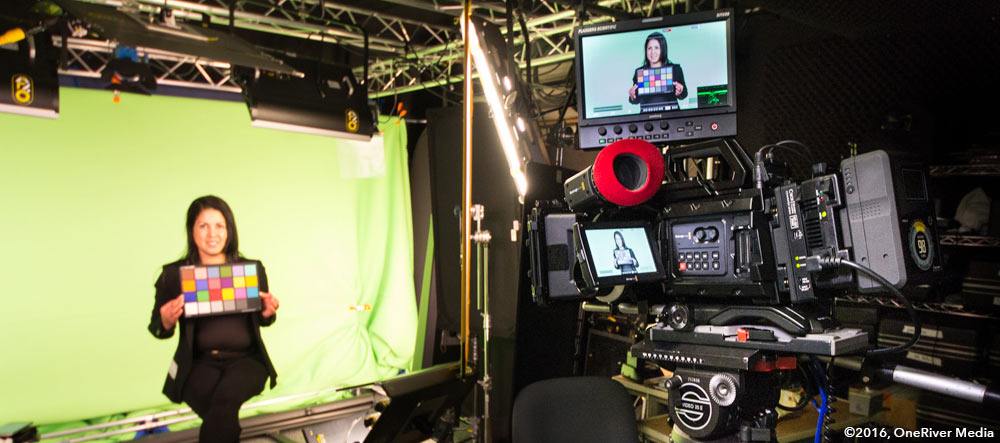 The HyperCore battery can withstand quite a draw as well. I've routinely plugged a hefty load that includes, and as pictured above: the Blackmagic URSA Mini 4.6K, Blackmagic OLED EVF, Wooden Camera C-Box converter, Flanders Scientific BM-090 display, and Sennheiser AVX wireless receiver into the battery without any issues.
I'm running an Anton Bauer Tandem-70 on-camera AC Power/Charger on many of my camera rigs (it can power the rig and charge the battery) and it takes between 3 to 4 hours to charge a single HyperCore battery. This is cool because you don't need to use Switronix chargers if you're already invested in other chargers like me. But if you want to stick with both Switronix batteries and chargers, they have single, dual, and quad position chargers, all the way up to their drool-fest HypercineBase chargers.
---
Conclusion
Lets face it, batteries aren't generally the sexiest thing to talk about when it comes to camera rigging, but in this case, I think my mind has been changed by that notion. Not only are these batteries feature-packed and nice looking, their performance is also great. To me, that's sexy. I've owned countless batteries by various manufactures over the years and these new
Switronix HyperCore 98 Pro-X Gold Mount batteries
are easily my favorite.
I definitely recommend these batteries to anyone using anything from a small single camera to a large digital cinema camera rig. I'm really seeing a lot of pictures pop up on the Internet with people using these batteries on their camera rigs and for good reason.
Switronix also makes these in a larger 150 Watt-hour and 190 Watt-hour versions (giving you even MORE battery life than I've outlined above) as well as a smaller, "Slim" line for smaller rigs and gimbal rigs at a respectable 82 Watt-hours.
Build Quality
Functions / Features
Battery Life
Ease of Use
Price-to-Performance / Features
Total Rating
---
If you want features AND performance (who doesn't?), then I cannot recommend these HyperCore batteries enough. A 5-star rating in my book.
---
---
What's Next?
Let us know if there a specific topic of something you'd like us to cover, whether it be workflow, production, shooting techniques, or whatever! And if you subscribe to our blog, you will be notified the second a new blog post is released… BEFORE it's posted anywhere else online, including our own social media platforms. Cheers!
---
---
FCC Disclaimer - Links from this article might go to affiliate links to B&H and/or Amazon (not much different than the ads you see in YouTube ads, but more focused). Visiting these links (or buying products from the links) cost you nothing additional and may in turn help us pay for the cost of hosting these free articles we write. These articles take an enormous amount of time (in most cases, weeks and months) to research, draft, write, edit, rewrite, and shoot custom photography/video for. In no way do these affiliate links cover the cost of all of that, so any help these links can provide is a huge help to us to continue to offer free content to our readers.
---
RECENT BLOG POSTS