In this new multi-part blog series, Marco Solorio of OneRiver Media, explores some new findings during his experiences with new technologies from Blackmagic Design. What he finds is exciting and may change the industry (again).
WARNING! This blog post contains absolutely NO PREVIEW FOOTAGE due to the fact this body/sensor is a prototype beta unit which precludes me from sharing any footage publicly. If you are open to learning from the experience gained while working with this sensor, please continue reading! Otherwise you are free to stop reading now.
I've been very fortunate over the decades, living and working here in the San Francisco Bay Area, with the heart of the Silicon Valley only a very short drive away. Blackmagic Design (who's main headquarters are in Melbourne, Australia) has their U.S. headquarters in Fremont, California—only 30 minutes from our OneRiver Media facility in Walnut Creek. Convenient!
This has allowed me, on many occasions, to meet with my friends at Blackmagic, and explore some new technology as it's being rolled out.
Now, I know everyone's first question is, "is the URSA Mini shipping yet? What about the Micros, are they shipping yet too?"
Unfortunately I don't have those kinds of answers. But what I do have is firsthand experience with the URSA Mini 4.6K EF and URSA Mini 4.6K PL but more importantly, the new 4.6K sensor itself, which is the basis of the first installment of this blog series.
The first thing to keep in mind is that the testing I've done with the new 4.6K sensor (in the URSA Mini) is that the sensor I'm using is literally the same exact sensor that was on the NAB show floor back in April. This is both a good and a bad thing. It's "bad" because this is the first prototype of the 4.6K sensor and no further optimization has been done to the sensor in this early beta camera. But it's also "good" because the findings I'm going to reveal show that even with this non-optimized prototype sensor, the ability of what this sensor can produce is mind-blowing, even if no further optimization were ever developed.
But before we go there, I'd like to give a quick briefing on the new 4.6K sensor itself. Prior to the 4.6K sensor, Blackmagic has used 3rd party sensors in their cameras, which many camera companies do. It helps save cost in many aspects, which in turn saves us (you and me, the end buyer) cost when buying these cameras. But the 4.6K sensor is the first sensor that Blackmagic designed themselves from the ground up. This is an important factor, as only the top guns have been able to build their own camera sensors exactly to the specifications they want, matched to the internal camera technology they wish to marry it to. And this is where things get very interesting.
Because the sensor I've been testing is a prototype, I cannot release any footage or still frames generated from this physical beta sensor. Nonetheless, there's a great amount of detail I can share that I think will still resonate with DPs, cinematographers, and everyday shooters alike. I know there will be people saying this blog post is pointless without footage to see (and believe me, I share the pain), but knowing that, I felt it was still important to at least share my firsthand experience than sharing nothing at all.
Although the sensor is still being optimized at this very moment, it appears the sensor sits at base 800 ISO for the sweet spot. This is familiar territory with the likes of the ARRI Alexa and the original Blackmagic Cinema Camera, also at base 800 ISO.
From 800 ISO, you can currently go up to 1600 and down to 400 and 200 ISO. Here's the cool part; at 1600 ISO, there's very little noise amplification, to the point that 1600 is definitely usable in real world production. Unless Blackmagic changes anything with the finalized shipping sensor, you can be rest assured that 1600 ISO can confidently be used when your shot is lacking exposure. It's so clean in fact that I'm hoping Blackmagic will add 3200 ISO to the menu option, but only time will tell.
A first with the new 4.6K sensor is the option to manually turn on and turn off global shutter mode. This is pretty cool as it allows the operator to decide if they need the mode activated or not. By turning it off, you gain full dynamic range from the sensor. In recent tests by BMD, it appears that turning the global shutter on or off does not change dynamic range performance. In other words, you'll gain full dynamic range between both modes. If your shot is more critical to fast movements, simply turning on Global Shutter mode will ensure perfectly vertical images with no trace of skew or jello effect. But basically speaking, the only reason to turn off global shutter modes is to go into higher frame rates, which the camera will do automatically for you when going into said frame rates. The dilemma of trying to decide whether to buy a rolling or global shutter ends with this sensor.
A new welcomed sight with the 4.6K are its various framing modes, from full raster 4608×2592 down to 1920×1080 HD (scaled or cropped), and many flavors in-between, including anamorphic options. Nice!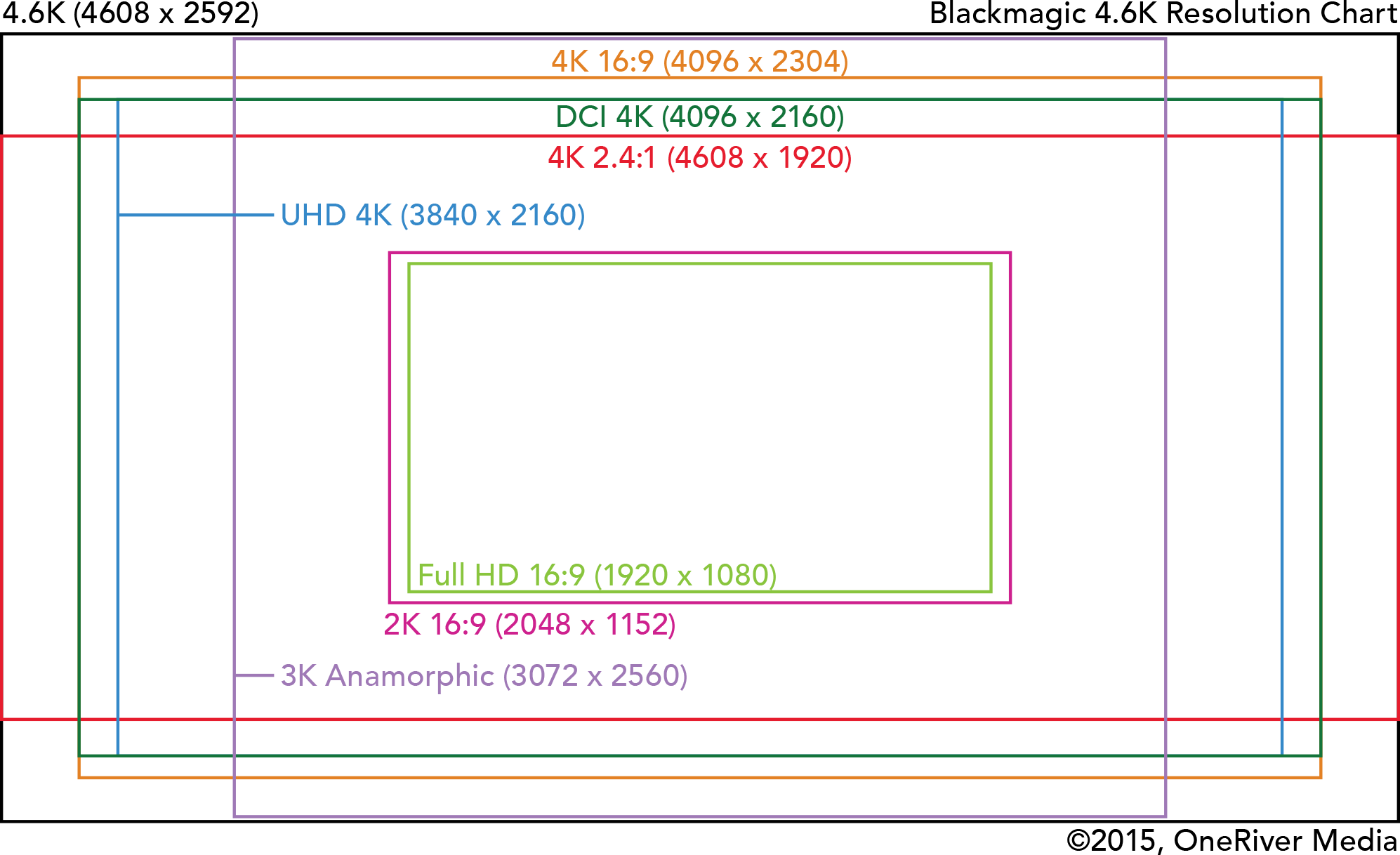 As for HFR (High Frame Rate), the 4.6K sensor bodes well at up to 120 FPS on the URSA Major and up to 60 FPS on the URSA Mini. This includes both internal RAW and ProRes flavors at full sensor raster of 4.6K in RAW and UHD in ProRes (it's not clear at this time if DCI 4K will be the official highest ProRes raster size). And because these cameras are non-burst HFR, you can record for as long as you have storage space for.
The 4.6K sensor is among the largest in its Super35 sized 16×9 class. At a physical dimension of 25.34mm x 14.25mm, it's larger than the ARRI Alexa 16×9 sensor (23.76 x 13.37), the Sony F65/F55 sensor (24 x 12.7), and the Canon C500/C300 Mk II sensor (24.6 x 13.8). In essence, the sensor fits right within the image circle of Super35. The main point however is that, not only is the 4.6K sensor a true Super35 spec sensor, it's a fair share larger than the original Blackmagic 4K sensor, which was a little shy of the Super35 spec.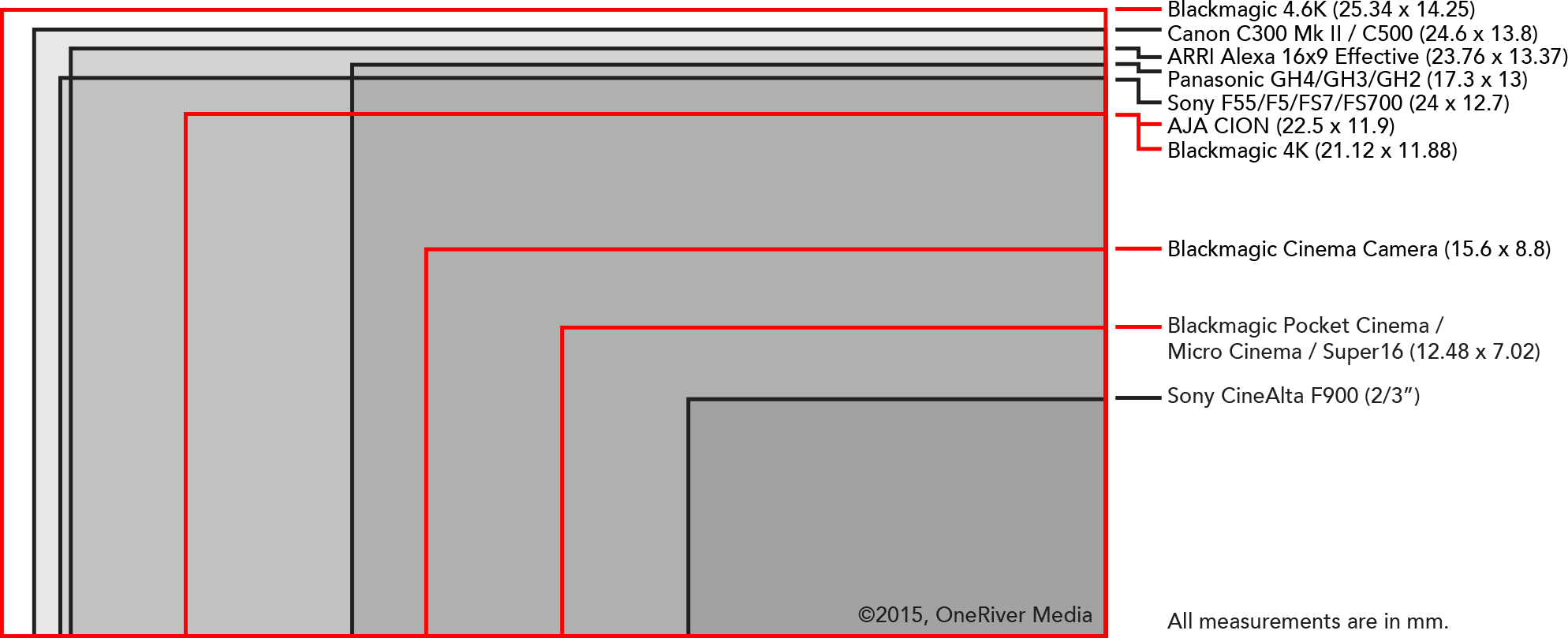 Next up and possibly most notably, is the introduction of 15 stops of dynamic range with this sensor. This is huge, as not many cameras in the world can claim this wide dynamic range. Although I haven't had a chance to run the camera through a lighted dynamic range test chart, I did perform various other real world tests that did in fact show off the power of this new sensor's dynamic range. My testing was happily eye-opening, to say the least. And this is where we get to the meat of this post.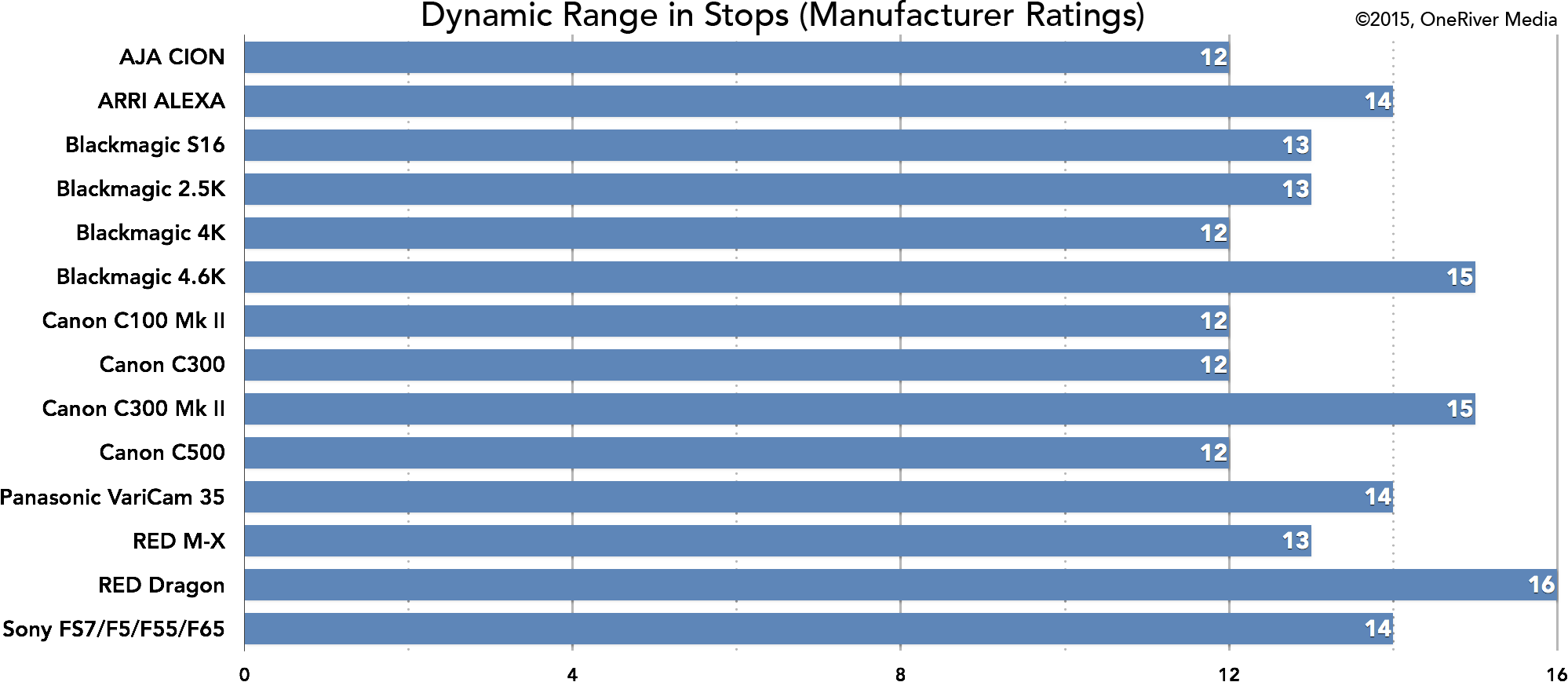 ---
The highlight retention is stunningly gorgeous with subtle, silky smooth roll-off that any cinematographer would appreciate.
Clean shadow retention? Gorgeous.
Skin tone rendition? Beautiful.
Overall color fidelity? Immersive and accurate.
Detail? Crisp and clean.
I could go on and on and on. Everything I pointed the lens to with this sensor resulted in images that were nothing short of impressive—at any price point of any camera, let alone a camera starting at a paltry $4995 (or only $1995 for existing URSA owners that will swap out the sensor in either EF mount or PL mount for $2495). If anything stood out the most to me, it was the huge dynamic range, the silky smooth highlight rolloff, and the skin tones. Seriously, this is a f***ing beautiful sensor. I literally pointed the lens into extremely high-output LED light panels next to my subject and not only was there absolutely no sensor overload (where the original 4K sensor suffered), but the transition from the light intensity to the subject matter was unimaginably smooth.
I performed many of these dynamic range tests in tandem with our original URSA 4K to really see how much of a difference the 4.6K compares to the original 4K sensor. In short, there is no comparison. The 4.6K compares so much farther ahead of the 4K that it's almost an unfair match. It's kind of like racing a BMW E46 M3 (a mighty powerhouse in its own right) against a McLaren F1 with the BMW V12 engine (sorry, I'm a BMW racing nut).
I've shot high fidelity footage with the original Blackmagic 4K sensor (as displayed at the Blackmagic Design booth and Flanders Scientific booth at NAB for the last couple of years), but even as good as the 4K sensor delivers for me personally (and it's been truly fantastic), the 4.6K sensor steps it up, not just one notch, but many notches in one fell swoop.
So here's the thing—and I'm really putting my neck on the line for saying this—but the new 4.6K is so powerfully advanced that I would pit it up against the likes of the ARRI Alexa and RED Dragon sensors. A very bold statement indeed, but keep in mind that each sensor manufacturer has its own unique character, which can be objective from person to person, just like music or art in a museum. What may seem incredible to me may not be the same for another. With that said, and in the short time I've used the new sensor, I do believe the new 4.6K sensor can hold its own against these well established sensors from ARRI and RED. Will it mean I would ever stop using ARRI or RED cameras? No, not at all. As I always say, "different tools for different rules". What I do want to try and point out however is that the ARRI and RED sensors of the industry are vastly closing in gap as compared to the Blackmagic cameras sporting this new 4.6K sensor. And at a literal fraction of the cost, this 4.6K sensor cannot be ignored.
Now obviously ARRI and RED cameras have various features on each of them that Blackmagic cameras just do not have. But from the standpoint of purely looking at the final results these ARRI/RED sensors can provide compared to what the 4.6K sensor can also provide will be virtually impermeable in the majority of cases. This is especially true when you take into account what happened during the Revenge of the Great Camera Shootout 2012 by Zacuto, when various cameras were pitted against each other and many people veteran industry professionals could not distinguish certain cameras from one another, including myself. The new 4.6K sensor will take that discrepancy (or lack there of) to the Nth degree.

I know many people ask, "how good is the sensor in low light?" To me, this is always an ambiguous question since the "low light" term itself doesn't specify an exact rating or measurement of how little light is in each unique shot. Is it a closed room with a single candlelight? Is it a street corner with a single street lamp and a car with its headlights on? Is it a sunset on a beach? Is it no light at all?!! (I joke, but I think some people expect miracles). I've shot all of these scenarios (except the no-light scene) with various Blackmagic cameras to great success. With the 4.6K it only gets better. I wouldn't say the 4.6K sensor is a low light sensor, but its very much sensitive in its own right (better than the original 4K and 2.5K), it's extremely clean, has wide dynamic range, and shows off fantastic detail. All of these amounts to a sensor I want to shoot with (for the majority of productions I shoot), at least more so than a sensor who's greatest asset is its low light abilities (for that'll I'll use a different tool).
In conclusion, the new 4.6K sensor is unquestionably the real deal. It's no longer a case of, "the image looks good for a camera that only costs several grand" but rather, "the image looks damn good, period."
So now what? Well, we patiently wait for the new 4.6K to be delivered. The original plan is that existing URSA owners that pre-ordered the 4.6K Turret in either EF mount or PL mount will get orders fulfilled first (according to Blackmagic Design). However, if there's enough of a manufacturing push to get these 4.6K sensors built, we may see them coming to the URSA Mini EF/PL and URSA Major EF/PL pre-orders sooner than later, during or shortly after the initial Turret orders. But only time will tell, so until then, shooting what'chya got is better than shooting nothin' at all!
If you're in New York City on July 22nd, register for the
FREE Blackmagic Day
where I'll be presenting, "Blackmagic Camera Experiences & Insights" where I'll discuss my findings with the new Blackmagic 4.6K sensor and the impact it will bring to the filmmaking community as a whole. I'll also share my experiences using various Blackmagic cameras for my work on feature film production and how that can translate to all forms of production.
---
---
---
---
FCC Disclaimer - Links from this article might go to affiliate links to B&H and/or Amazon (not much different than the ads you see in YouTube ads, but more focused). Visiting these links (or buying products from the links) cost you nothing additional and may in turn help us pay for the cost of hosting these free articles we write. These articles take an enormous amount of time (in most cases, weeks and months) to research, draft, write, edit, rewrite, and shoot custom photography/video for. In no way do these affiliate links cover the cost of all of that, so any help these links can provide is a huge help to us to continue to offer free content to our readers.
---
RECENT BLOG POSTS