Marco Solorio of OneRiver Media takes a close look into (literally) Blackmagic Design's new 1080 HD OLED Electronic Viewfinder. Could this product be another disrupter in the video production industry?
As mentioned in Part 1 of this series, the OneRiver Media facility is located about 30 minutes away from Blackmagic Design, allowing me to meet with my friends there and play with new gear. Having used a prototype of Blackmagic's new OLED EVF on the URSA Mini, I can say this is absolutely not your average EVF. In fact, Blackmagic took the concept of what an EVF is and took it to a whole new level.
There's something really great about using an EVF (Electronic Viewfinder) when shooting video with a camera. The only thing better in some cases is a true optical viewfinder, as used in traditional celluloid-based filmmaking.
But with today's growing technology in the digital cinema industry, a big bonus when using an EVF are various modes in which one can view their image. This can include focus peaking, image zoom, false color, camera data overlays, black-and-white mode, and so much more; something optical viewfinders of old could not do.
The holy grail is merging the two forms of "viewfinding" where digital overlays can assist in the decision making on what would look and feel like an optical viewfinder. This is where Blackmagic Design's new 1080 HD OLED EVF comes into play.
---
OLED Element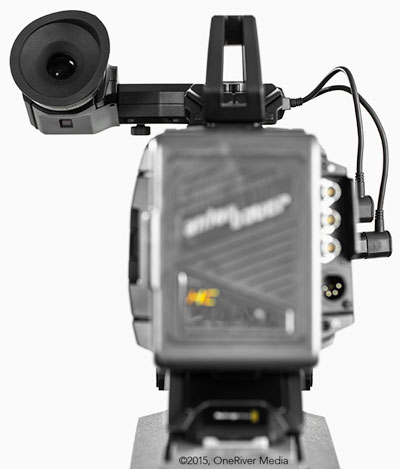 At the heart of this EVF is a full 1920×1080 raster OLED element. If you're not familiar with OLED technology, it's currently the best way to really view images on a screen since each pixel is assigned a light value, rather than the entire panel itself having a global backlight. This translates to black levels being true black, rather than black with light behind it. The end result is an image with astounding contrast ratios. An added bonus is that the OLED element itself automatically turns off when the eyepiece itself is not cupped to the eye, thus preserving and prolonging the life of the OLED element.
But OLED technology is only part of the picture (sorry for the pun). In the case with Blackmagic's full 1080 raster in their OLED element, the pixels are so small that you can't actually individually see each of those pixels. The result is an image that looks and feels much like an actual optical viewfinder. By all accounts, this OLED pixel density a pretty big deal.
---
Glass Optics
The third part of the puzzle to making this EVF an exceptional piece of gear is the glass. The optical element is a solid piece of high quality glass that is permanently set in place. One of the drawbacks of other EVFs that incorporate a flip-out loupe is that the precision and optical quality of that method is typically inferior in comparison. With the Blackmagic's EVF constructed as one solid piece, the optical path and resolving quality is of very high quality.
---
Scanning Size
The forth biggest point to cover is the size of the OLED element itself. If an EVF has too large of a screen inside of it, the eye tends to overscan the image, sometimes resulting in fatigue on long shoot days and even the potential for bad composition and framing of the shot. By not having an overly large OLED element in the Blackmagic EVF, your eyeball can stay put without having to wander through the EVF for proper framing of the shot.
There's a large diopter ring at the eyecup that allows you to change the focus of the glass element. Although the focus range could arguably be a bit longer, I found it to not be a problem in consideration of the fact I have excellent vision (thanks mom and dad) and don't wear glasses or contacts. For people that do wear glasses, they might feel the focus to be a bit on the short end.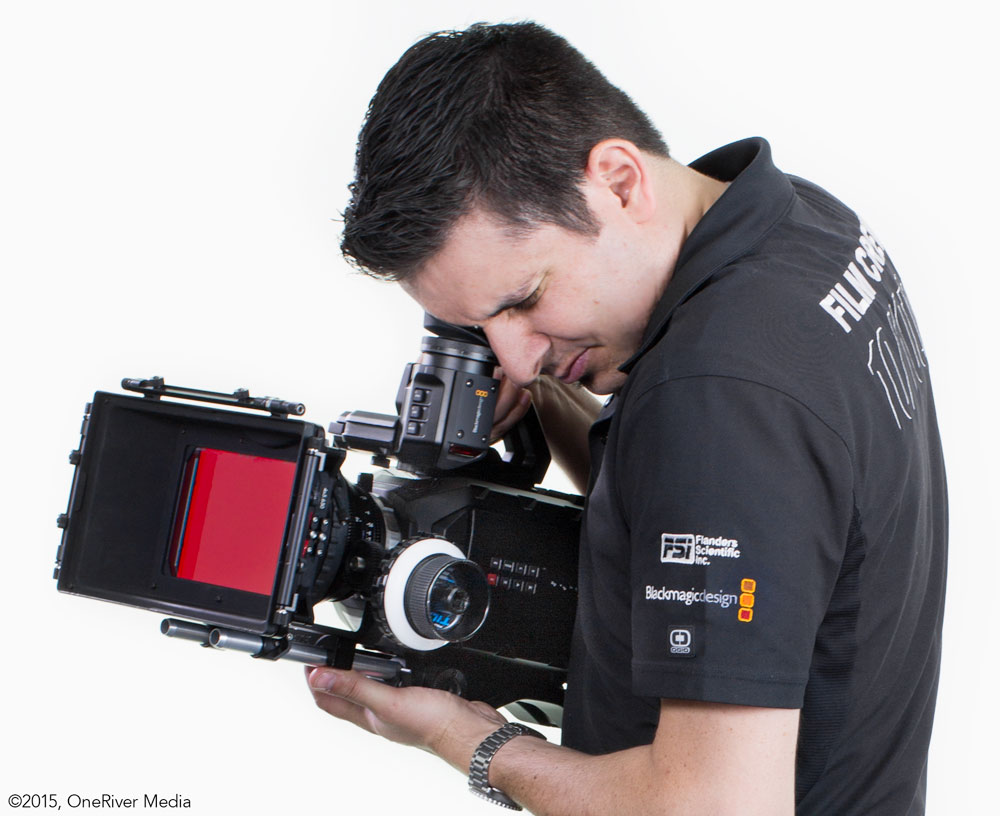 ---
Functionality
Even if Blackmagic had stopped here and released the OLED EVF without any other features, I'd be sold. But not stopping there, they added a multitude of functional and overlay features that really take this EVF to the next step.
At the top of the EVF are three buttons. These act as customizable function keys as well as controlling the menu within the EVF as well. For example, the F1 button could be assigned to toggle between focus peaking, F2 could toggle between false color, and F3 could toggle between color and black-and-white mode. I often use focus peaking and 2X zoom mode, so I'll probably assigned those as F1 and F2 respectively. Whatever you find yourself using the most can easily be assigned to these three function keys.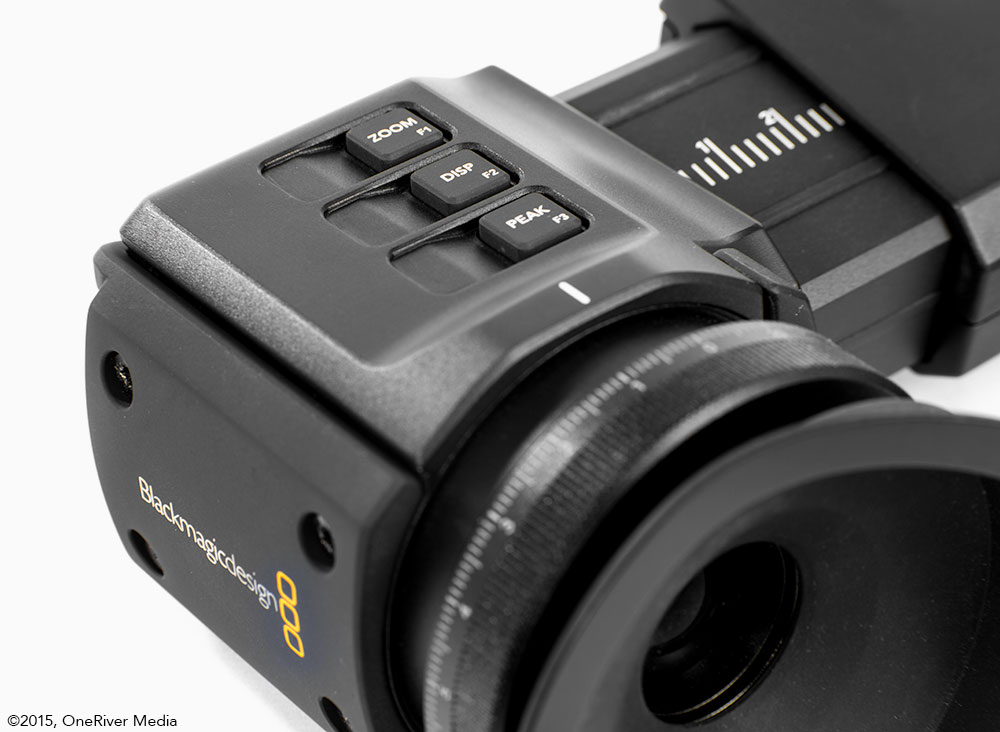 These three function buttons also act as the means to navigating through the EVF's own internal menu system. It's a little awkward at first to navigate through these button, but I found myself quickly adapting through the menu system after some practice.
With the addition of a USB port, the firmware inside this EVF is easy to upgrade with whatever forthcoming features Blackmagic decides to incorporate into this unit. Whatever function you don't see now has the potential to come later.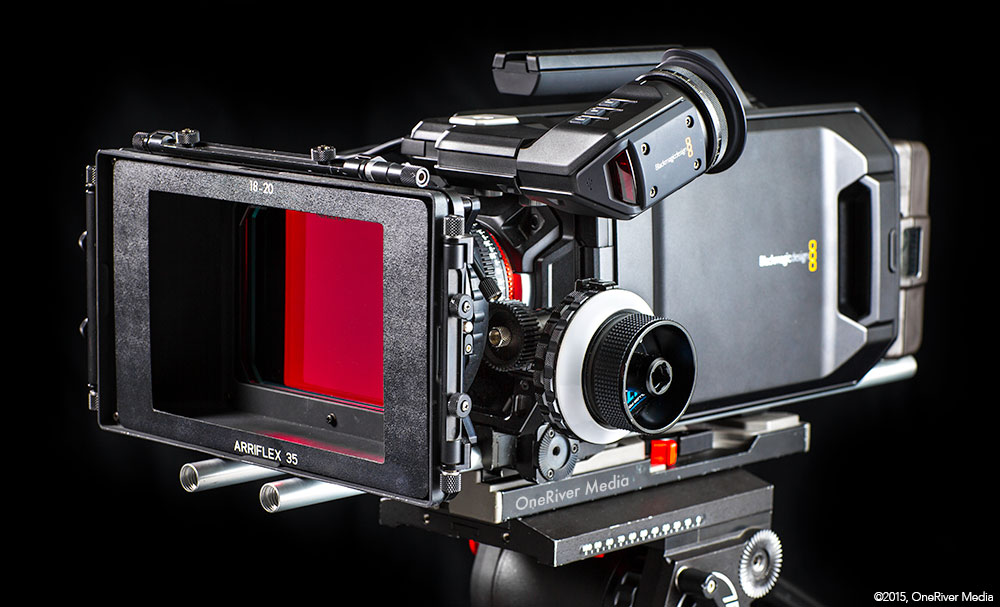 ---
Build Quality
Overall construction is solid and well built. It complements the build quality of the both the URSA and URSA Major with aluminum components and the mentioned high quality glass optics.
Adjustability of the unit is very easy. The EVF can adjust forward and backward. Likewise, the eyepiece section can move left and right and tilt up and down. The eye cup can be rotated 360° to suite the shape of your head as well as for right and left eye viewing. I added my Blue Star Oval Extra Large Ultrasuede Microfiber Eyecushion (in red) to the Blackmagic EVF, and although it fit on it, the eye cushion itself is a bit large for it and doesn't fit as firmly as I'd like. Doable, but not perfect. A smaller eye cushion would be ideal.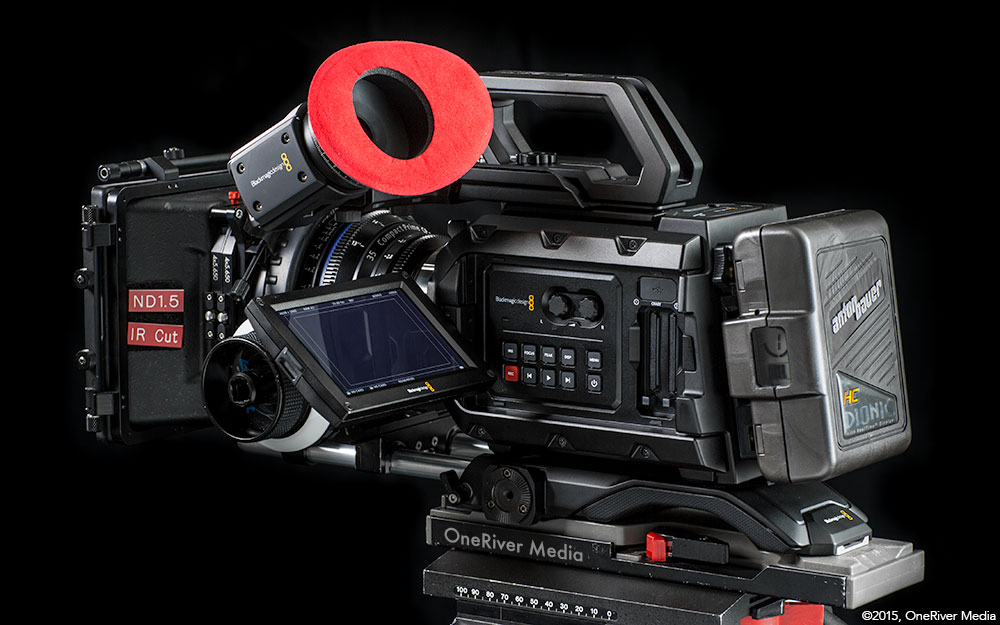 The EVF receives it's power, video, and data feed from the URSA/Mini's 4-pin XLR DC port (power) and the SDI port (video/data). The integrated connection cables perfectly fit the length needed for both the URSA and URSA Mini. I've mounted the EVF to both cameras and I can confirm the integration with both cameras is truly excellent.
The SDI ports integrates several functions: video, audio (for metering), and data. With regards to data, the URSA/Mini sends a collection of proprietary information to the EVF. For example, the EVF has a red tally light on the front, which is controlled by the camera itself as to when it should be turned on or off.
---
Features
Like the URSA Mini, the Blackmagic 1080 HD OLED EVF unit I've been testing is a prototype beta unit, so anything could change in terms of fabrication, parts, functions, and features. Again, even if this was the shipping version, I'd be more than pleased with the quality as it stands. But with that said, the software inside the EVF could change for the shipping version.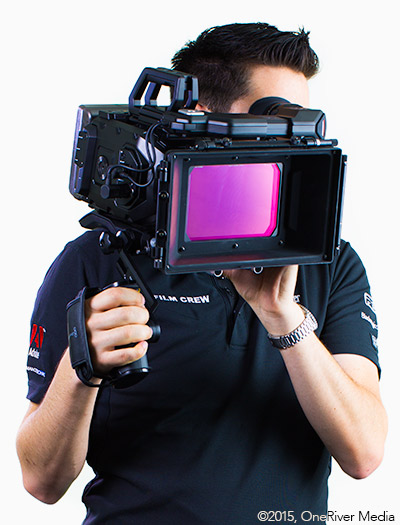 As a prototype beta unit, the EVF currently has the following features:
Full 1920×1080 raster color OLED
Adjustable diopter
Focus peaking
False color
Zebras
Histogram (fast readout)
Black & white mode
1:1 zoom
Audio meters
REC709 LUT toggle (when shooting LOG mode)
Aspect ratio masks, guides, and overlays
Tally light
Camera data: ISO, shutter speed, white balance, aperture (on electronic aperture lenses), frame rate, resolution, recording format, clip run time, record/ready mode, power level.
---
Wish List
What's currently NOT in the prototype feature set (and I do NOT know if these will be added later) are waveform, vectorscope, and the option to change timecode type (current clip length versus TOD TC, versus remaining record time, etc.). I could live without a vectorscope since we typically use our various
Flanders Scientific monitors
with integrated vectorscopes in them, namely for chromakey shooting and the like. But having a waveform overlay on the OLED EVF would be a very nice option to have. There is a realtime histogram, which is great, but sometimes a waveform can give a different/better idea of zone exposure and the like, where a histogram cannot. And if a waveform is added down the road, I'd like to be greedy and ask for both a standard waveform and parade waveforms (RGB, Y'CrCb, etc.).
It would be great to have an SDI loop-out connector and HDMI in/out, but frankly, I personally don't really need these since (A) our production shoots are primarily all SDI-based anyway, (B) it would have added considerable size to the EVF, and (C) it would have added more cost to the EVF. Honestly, I think having no additional SDI and HDMI ports is fine, especially since this is designed specifically for the URSA and URSA Mini.
Theoretically speaking, the Blackmagic EVF should work fine with any camera that has an SDI output (and means to connect power to its 4-pin XLR port). But as a prototype unit, I can only speculate on supported features and mounting adapters. I'm assuming it's in Blackmagic's interest to sell this EVF to anyone that wants to buy it, whether they're Blackmagic owners or not, so time will tell if 3rd party rigging manufacturers (like Wooden Camera) will create such adapters. I'm going to lean towards the idea that such adapters will be created; hardware mounting and power adapters… maybe even an HDMI-to-SDI converter box that incorporates the 4-pin XLR connection in a single unit (to also help power the HDMI-to-SDI conversion). It's anyone's guess at this point, but for now, URSA and URSA Mini owners have a sleek system that requires no additional adapters nor added bulk.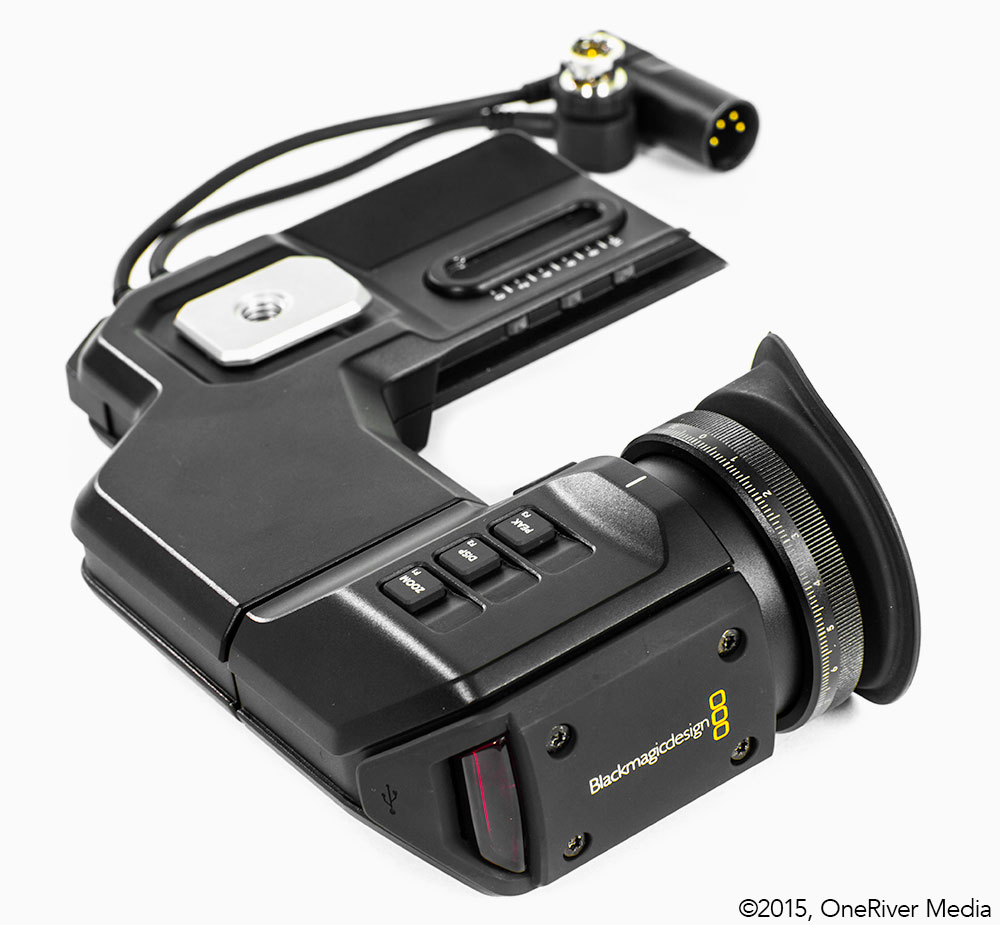 ---
Conclusion
In the end, Blackmagic hit another product home run with this
1080 HD OLED EVF
. It's high quality in every aspect: fabrication, OLED display, optical transmission, features, size, weight, and simplicity. I've owned and used many EFVs over the years and they've all pretty much been too big and bulky. To add, the screen and optical quality of other EVFs have been typically "just okay" (with some low-cost EVFs just looking downright ugly).
There's absolutely no question that this EVF is the very best solution you could use for the URSA and URSA mini at any dollar amount, let alone the staggering low cost of $1495 that Blackmagic is pricing this unit for; it's the real deal at any price. At only $1495, it's truly a no-brainer for any URSA or URSA Mini owner. I'm still a bit shocked this EVF is top-of-the-line quality at such low cost. I really look forward to the shipping version and using it full-time on our production shoots!
If you're looking to buy the Blackmagic EVF, I'd highly recommend pre-ordering your unit if you haven't already done so.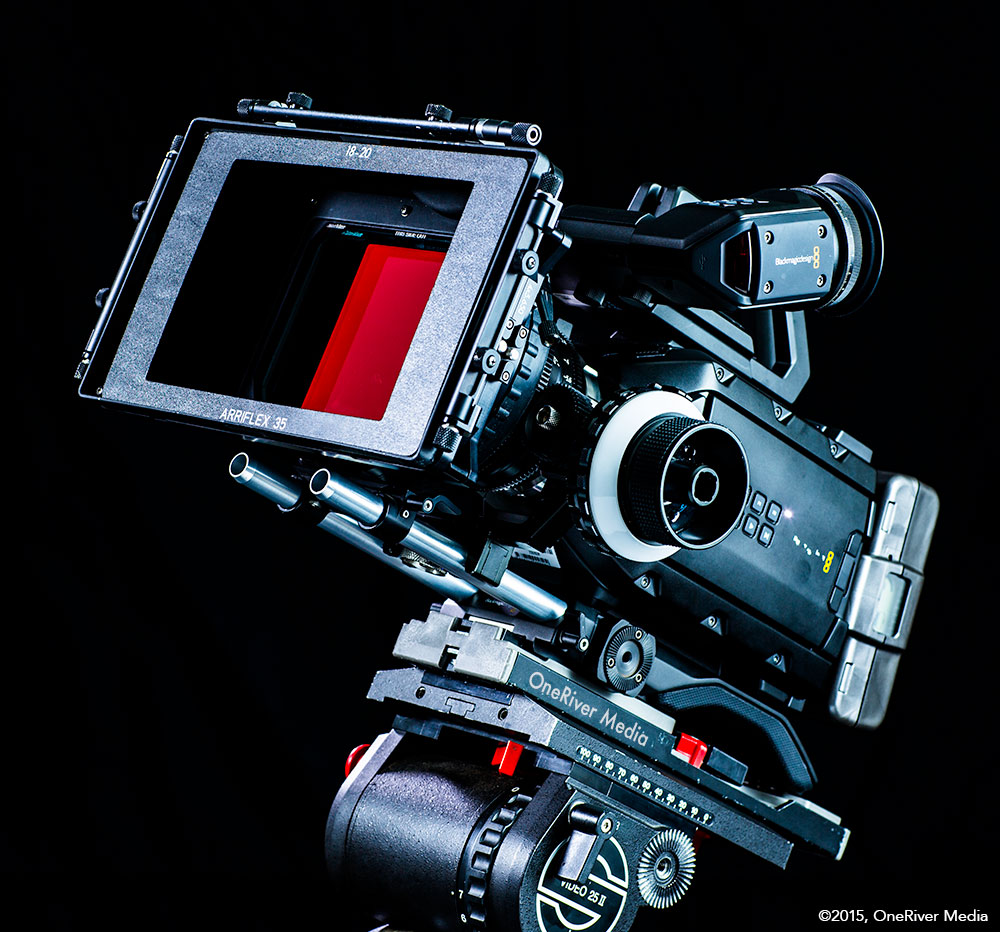 If you're in Los Angeles on August 26th, register for the FREE Blackmagic Day where I'll be presenting, "Blackmagic Camera Experiences & Insights" where I'll discuss my findings with the new Blackmagic 4.6K sensor and the impact it will bring to the filmmaking community as a whole. I'll also share my experiences using various Blackmagic cameras for my work on feature film production and how that can translate to all forms of production.
---
What's Next?
Let us know if there a specific topic of something you'd like us to cover, whether it be workflow, production, shooting techniques, or whatever! And if you subscribe to our blog, you will be notified the second a new blog post is released… BEFORE it's posted anywhere else online, including our own social media platforms. Cheers!
---
---
FCC Disclaimer - Links from this article might go to affiliate links to B&H and/or Amazon (not much different than the ads you see in YouTube ads, but more focused). Visiting these links (or buying products from the links) cost you nothing additional and may in turn help us pay for the cost of hosting these free articles we write. These articles take an enormous amount of time (in most cases, weeks and months) to research, draft, write, edit, rewrite, and shoot custom photography/video for. In no way do these affiliate links cover the cost of all of that, so any help these links can provide is a huge help to us to continue to offer free content to our readers.
---
RECENT BLOG POSTS