Marco Solorio of OneRiver Media takes you through his experiences with the Blackmagic Design URSA, having started shooting with the camera in 2014. Although this is not necessarily a review in the traditional sense, there are some interesting findings with the camera, as well as dispelling some perpetuated misconceptions.
When Blackmagic Design's URSA was announced at NAB (National Associations of Broadcasters) in 2014, I was excited about the company's new product. For only $6,000, the camera packs a lot of punch and with a year since the first announcement, Blackmagic has added some incredibly robust features to this camera.
As a breakdown, here are some of my favorite features of the camera to date:
[list type="unordered" lined="no" animation="" animation_delay="" class=""] [list_item icon="" color=""]4K (4000×2160) 80 FPS RAW 3:1[/list_item] [list_item icon="" color=""]4K (3840×2160 UHD) 80 FPS ProRes HQ (or lower)[/list_item] [list_item icon="" color=""]12-bit RGB ProRes 4444 (up to 60 FPS in UHD and 80 FPS in 1080 HD)[/list_item] [list_item icon="" color=""]Global shutter in the Super 35-ish sensor (slightly smaller)[/list_item] [list_item icon="" color=""]Dual internal CFast 2.0 cards (way lower cost than initially launch)[/list_item] [list_item icon="" color=""]10-inch flip-out LCD screen at full 1080 raster[/list_item] [list_item icon="" color=""]Timecode input and output BNC ports[/list_item] [list_item icon="" color=""]Mountable battery plates[/list_item] [list_item icon="" color=""]Upgradable "turret" (lens mount and sensor)[/list_item] [list_item icon="" color=""]Audio bars and running waveform[/list_item] [list_item icon="" color=""]Informative displaying of recorded video blocks[/list_item] [list_item icon="" color=""]Affordability[/list_item] [/list]
I've used the URSA in various amounts of production work at this point, which include feature film work (for our upcoming BMW documentary feature film, "10/10ths"), commercial/industrial/corporate productions, run-and-gun production, and the A-camera for an up-coming series (that we cannot reveal at this time) that is assigned to be delivered in 4K (which required a camera that could record 4K RAW in at least 60 FPS—the URSA does 4K RAW 80 FPS internally).
While using the URSA professionally for some time now, I've concurrently been seeing a lot of comments on the interwebs about the URSA itself; everything from it being an awesome camera to shoot with, to people never wanting to shoot with it again because it's too big, or too heavy, or lacking in some type of feature they're used to using that the URSA doesn't employ. At any rate, I do respect anyone's opinion on how they feel about using a particular camera. It's a personal choice. Sometimes opinions can be somewhat marred by bias, or loyalty, or in some cases, protecting a higher investment that has already been made. I understand all these reactions, as we're all guilty of it at some point in time, including myself. In the end, everyone has their opinions, including mine, so use your own logic and judgement based on what fits your shooting needs and budget. Nobody, including myself, can tell you otherwise!
One of the things I really wanted to clear up is the notion that the URSA is unusable due to its weight of 16 pounds. Having shot with the camera for many months now, I can say this couldn't be further from the truth. To really put it into perspective, you have to compare the URSA to other cameras that are already in this weight category and not comparing the URSA's physical nature to something like a DSLR.
As an example, the original ARRI Alexa (now discontinued) comes in at a weight of 16.9 pounds, which slightly heavier than the URSA. The Alexa XT is 1 pound heavier than the URSA. The Alexa XT Plus weighs in at 19 pounds and the Alexa Studio and 65 weigh in at a hefty 23 pounds. Keep in mind I'm merely comparing weight and NOT feature sets. With that in mind, one should consider the URSA to be in the same physical weight and balance methodology as the Alexa. What has worked for the Alexa for many years now (in terms of weight and balance) can also work for the URSA. To dismiss the URSA as a bonafide production tool due to its weight is not only incorrect, but simply ignoring how other cameras in this weight category have worked for years and even decades.
---
I recently shot in the Carmel and Monterey area on the California Pacific coast. Knowing I'd be trekking the beaches and rock formations of the Monterey shorelines, I made sure I only brought what I needed and rigged the URSA accordingly. In all, the weight of the URSA and the Sachtler Video 14 tripod I used worked like a charm (I usually use our Sachtler Video 25 Mk II with our URSA, which can sustain a payload between 15-75 pounds, but is much too large and heavy for this beach trekking shoot). I would recommend using a Sachtler Video 18 system (4-40 pound payload, or comparably similar tripod/head system from your tripod company of choice) as a minimum for production use with the URSA, but the Video 14 was able to (barely) take the load while keeping the overall payload to a minimum. This is just one of many examples where the URSA broke the stereotype of an unmanageable single-operator camera due to its weight.
---
And just to be clear, I'm not saying the URSA is lightweight. I'm merely trying to put the camera's weight into proper perspective, relative to the sheer amount of powerful features the camera offers.
| | | | | |
| --- | --- | --- | --- | --- |
| BMD URSA | Alexa (discontinued) | Alexa XT | Alexa XT Plus | Alexa XT Studio |
| | | | | |
| 16.5 lbs | 16.9 lbs | 17.6 lbs | 19.2 lbs | 23.1 lbs |
Another myth is that the URSA (or Production Camera 4K, which uses the same sensor) cannot shoot in low light. Now, you wont see me professing in any way that the URSA is a low light camera. It truly is not and performs best with light. Part of this is due to the global shutter, which consumes some of the light transmission. With that said however, I've shot plenty of footage in both low light and low-key environments with the URSA (and Production Camera 4K using the same sensor) with quite pleasing results. Likewise, I've see other shooters with footage using the sensor in low-light/low-key environments with pleasing results as well. By using a proper production and post-production workflow, from camera setup to grading in Resolve, you can get results that can definitely work. Again, in no way am I saying the URSA can shoot like a Sony A7s in low light, but realistic results can be obtained with some of the inherent limitations the URSA's sensor employs (with incredible benefits when you DO shoot with light-filled scenes).
Let's talk CFast 2.0. First off, these cards are EXTREMELY fast. I recently offloaded Panasonic P2 footage via USB 2. A single 64GB card took over an hour. A single 128GB CFast 2.0 card can take around 12 minutes. Since I typically don't fill my cards to the max, I'm usually transferring files from the CFast 2.0 cards within a matter of a few minutes, for huge amounts of gigabytes. That's awesome! And these crazy-fast CFast 2.0 readers (USB3 and Thunderbolt) are very low cost, with an average price of only about $40 for the Lexar CR1 Reader to $50 for the SanDisk Extreme Pro Reader. Cheap.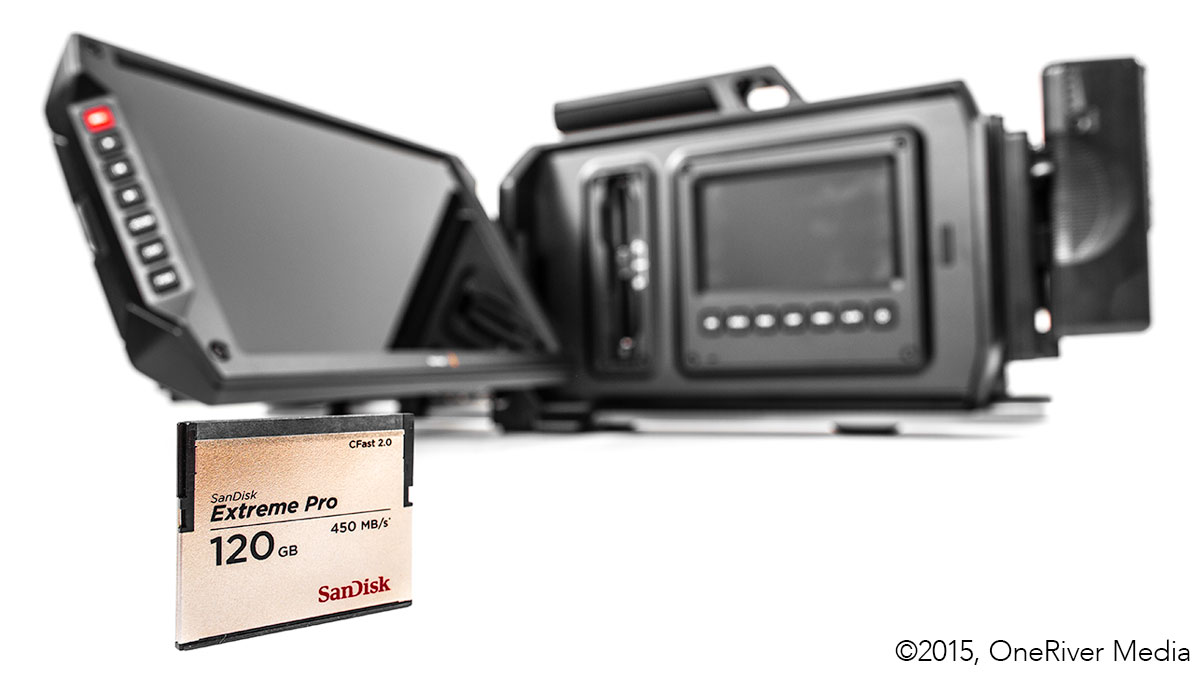 Originally, these CFast 2.0 cards were quite expensive and hard to get. Because the ARRI Amira also uses CFast 2.0 cards, it made it extra difficult to acquire these cards. But that was back in mid to late 2014. Today, CFast 2.0 cards are much lower in cost, in some cases, by at least half. Likewise, storage sizes have increased as well (I would highly recommend sticking with 128GB cards or higher). I kept telling people this would happen! With current manufacturers ranging from SanDisk, Lexar, and Wise, people can now shop around for the card that best suites their needs and budgets. The cost of these CFast 2.0 cards are so good now, that they're WAY cheaper than Sony's SxS Pro+ cards (for the Sony F5/F55 cameras) and RED's media options.
Here's a breakdown of how these media formats compare in terms of cost.
Company
Media Size
MB/s Read
MB/s Write
Price*
Price/GB
CFast 2.0 (Blackmagic URSA, ARRI Amira)
Wise
128GB
520 MB/s
330 MB/s
$599
$4.68/GB
Lexar
128GB
510 MB/s
450 MB/s
$640.79
$5.00/GB
Lexar
256GB
510 MB/s
450 MB/s
$964.90
$3.76/GB
SanDisk
128GB
515 MB/s
440 MB/s
$499.95
$3.90/GB
Sony Media (Sony F5, F55, FS7)
Sony SxS Pro+
128GB
200 MB/s
187.5 MB/s
$1,069.99
$8.36/GB
Sony SxS Pro+ C
128GB
437.5 MB/s
350 MB/s
$1,149.99
$8.98/GB
Sony QXD G Series V2
128GB
400 MB/s
350 MB/s
$799.95
$6.25/GB
RED Media
REDMAG 1.8″ SSD
64GB
?
?
$725.00
$11.33/GB
REDMAG 1.8″ SSD
240GB
?
?
$1,450.00
$6.04/GB
RED Mini-Mag
512GB
?
?
$2,450.00
$4.79/GB
*As of current pricing in April of 2015. These prices WILL continue drop, as they have done in the month of April alone!
It's clear that CFast 2.0 has definitely made some ground in terms of cost and storage size since last year (the SanDisk in 120GB capacity was $1200 or $10/GB). I've even seen some used SanDisk 120GB CFast 2.0 cards sell for as little as $550 (about $4.30/GB) on Amazon (I highly recommend going the Lexar route though). If you've got the budget, definitely go with the Lexar 256GB CFast 2.0 cards. Not only do they currently have the best price-per-GB ratio of any CFast 2.0 card, but they're also currently the most reliable between the manufacturers (namely when you start recording high bandwidth footage like 80 FPS 4K RAW). In essence, your best bet is to go with Lexar at this time. The CFast 2.0 cards by Wise are also certified with the URSA, but I have not tried them myself as of this writing.
One last idea that I'd like to dispel is the idea that the URSA can't be used in a shoulder mounted rigging configuration. Again, if you can do this with the ARRI Alexa, then the URSA is equally capable of performing such a task. Blackmagic actually sells a shoulder mount kit, which I own, but in truth, I only use part of the kit, namely the rosette mount block (with integrated 15mm rod mount). Although the URSA comes with a 15mm rod mount block, the optional one has the mentioned rosette mounts integrated into it. This means an ARRI style rosette style grip handles can be used directly on the URSA (again, just like an ARRI Alexa can). Adding a shoulder pad and an EVF (Electronic Viewfinder) results in a very capable shoulder mount system. Is it as lightweight as a shoulder-rig-configured Sony FS7 or even an ARRI Amira? No, definitely not, and both the FS7 and Amira (as just two examples) each share their respective advantages in their own right. But then again, neither of those cameras are a shoulder-rigged ARRI Alexa. Again, the mindset with the URSA has to be put into perspective with existing cameras that share the same weight and balance.
[title type="special-h4-left" color="" animation="left-to-right" animation_delay="" class=""]Striking Benefits[/title]
The fact that I can shoot internal 4K RAW at 80 FPS is incredibly huge for some of our productions (including a new series we are not allowed to speak details about just yet). There are not many cameras in the world than can hold this title (internal 4K RAW 80+ FPS), much less at the price point the URSA offers. Coupling this high frame rate with the URSA's global shutter in its Super35-ish sized sensor is icing on the cake. Again, not many cameras in the world can hold these stats and is one of the reasons we've loved shooting with the URSA.
At the 2014 NAB convention (when the URSA was announced), Blackmagic Design publicly stated the camera itself, which has a water-cooled system (a first for any camera on the market), is capable of 120 FPS. The fact that the URSA has this water cooled system coupled with a powerful CPU design tells me that we could probably see frame rates way beyond 120 FPS that Blackmagic conservatively speaks of. I will assume this is probably through a new sensor design (which again, can be replaced by its removable lens mount/sensor "turret" design). Will we see such a new upgraded sensor at this year's 2015 NAB? It's anyone's guess, including mine (Blackmagic is incredibly tight lipped about their upcoming products before officially announcing them publicly). But my hunch, and this is purely speculation that they'll probably come out with something that improves upon the current sensor, which they themselves publicly alluded to at the 2014 NAB conference.
The inclusion of 12-bit RGB ProRes 444 (Blackmagic opted to leave out the extra "4" in the naming convention since the URSA isn't obviously using an alpha channel) to the URSA has also been especially helpful in our production needs. We recently shot on a 3-wall green cyc stage in L.A. where speed was of the essence while maintaining the highest degree of quality as possible. We chose to then shoot in 4K UHD ProRes 444 instead of RAW since it meant we could start editing the footage right away without the need to creating proxies from RAW. With ProRes 444, we shot the footage, transferred it to the edit system, edited it in Adobe Premiere CC 2014, acquired our plate shots, keyed all the ProRes 444 footage (mostly within Premiere and some in After Effects), color corrected all the footage internally within Premiere using Red Giant's Colorista III, performed all audio sweetening and mixing within Premiere, exported a finished ProRes master, and the project was done in a flash. The turn-around time was truly fast and I'm still in awe that we worked entirely in 12-bit ProRes 444 for the entire process, including the edit timeline.
For the record, it's worth noting that shooting ProRes 422 or ProRes HQ for chromakey production can also yield incredibly good results. If you need to save on file size space and want to still have some amount of quality, then either of these 10-bit ProRes formats will in fact yield excellent results with beautifully pulled keys.
For us, shooting at the highest quality format isn't always a rule. There are times when its in our best interest to shoot in ProRes 422 or LT for some stuff that will not be widely shown or doesn't require super high quality because the type of project truly doesn't call for it. While still 10-bit, we can save enormous storage space by using these two formats, especially if we only shoot in 1080 HD (which is rare since we shoot at least 90% of the time in 4K for the last couple of years). And for the record, we never shoot in ProRes Proxy as it's quite visually compressed, but having the option is truly great. In fact, it's truly great that we have the option to shoot in so many formats in general, from the highly compressed proxy formats to full-on 12-bit RAW 1:1 (again, not many cameras in the world can shoot RAW and especially 1:1 RAW lossless with no compression).
With regard to 12-bit RAW, we primarily only shoot in 3:1 RAW (instead of 1:1 RAW) since the time it was originally added as a firmware update for the URSA by Blackmagic Design in early 2015. The file sizes in 3:1 RAW ultimately consumes about half the file size space as its 1:1 RAW counterpart. We're not seeing any visual artifacts or visual loss in image quality, so 3:1 RAW has been a huge asset for our productions. Remember too that RED cameras have topped out at 3:1 R3D RAW as the highest quality option (resulting in the least amount of compression) for many years. If 3:1 has worked so well for all these years for RED, then I can certainly come to the conclusion that 3:1 RAW can work just as well for the URSA. But if you want to really go gangbusters, simply switch to 1:1 RAW in the URSA and you're good to go with the ultimate in RAW file encoding.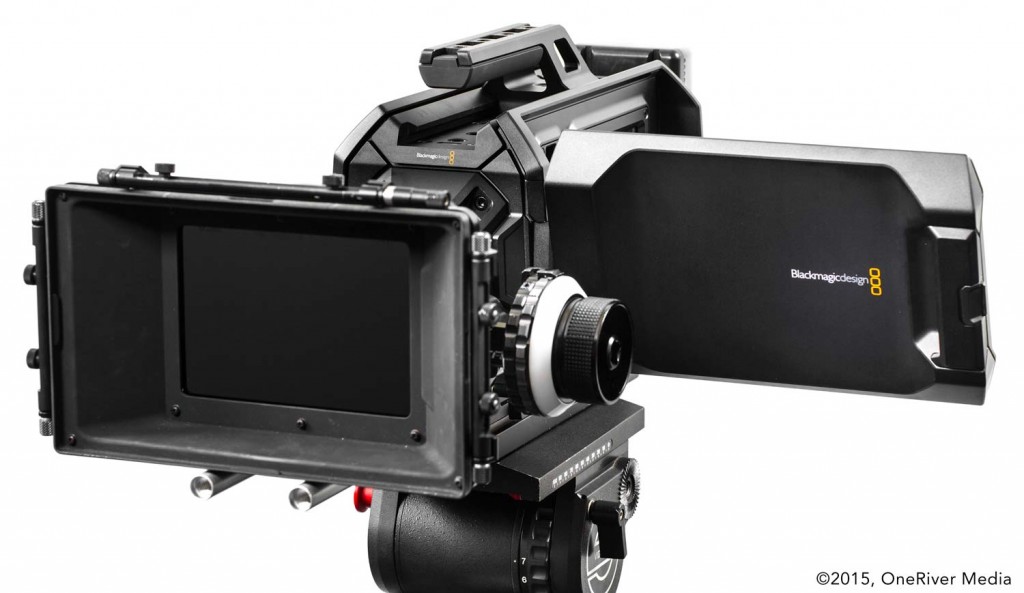 So how about the 55-inch big screen on the camera? Okay, I joke, it's "only" 10 inches. Like many people, the very first time I looked at the URSA with it's humongous screen, I laughed, thought it was comical, and was at a little loss for words on what I thought of it all. But after many months of shooting with the URSA now, I can honestly say that the built-in 10-inch screen is an absolutely JOY to shoot with, indoors and out. And because it's not a touch screen, it is less reflective and brighter than the rest of Blackmagic's camera line up. With a full 1080 raster, the screen is pixel-to-pixel perfect when shooting in 1080 HD and a perfect 2X reduction when shooting in 4K. Images are bright and clean; excellent off-axis rendition, contrast is high, blacks and whites are solid, and there is no ghosting at any time whatsoever. In short, Blackmagic picked one hell of an LCD panel for the URSA and it's very obvious to anyone that views the panel that it's high quality stuff.
How Blackmagic managed to keep the overall $6,000 price tag of the URSA with this quality 10-inch screen, its two other 5-inch touch-screens, the liquid-cooled CPU, the 4K Super35 global shutter, the all-aluminum body, and everything else included in the camera is completely beyond me. Seriously, I don't know how in the world they can manufacture this high quality, feature-packed camera at such low cost, but I guess that's part of the secret black magic they do so well. Oh, and a fully licensed (USB dongle) version of DaVinci Resolve (worth $1,000) comes free with the camera too.
[title type="special-h4-left" color="" animation="left-to-right" animation_delay="" class=""]Always room for improvement[/title]
I could go on and on about some of all the other features, like the running audio waveforms with 0db red peaking (another first for any video camera), the internal time-lapse feature, audio bracketing, multi-cam tricks with regard to the URSA's 12G SDI input, and so much more.
But instead, I do have some wish list items I'd love to see in the URSA. The old adage states that there is no such thing as a perfect camera. I firmly believe this, as it's impossible to create the perfect camera (big vs. small, lightweight vs. meaty, modular block design vs. shoulder mount design, simplicity vs. advanced features, affordable vs. exclusive, and on and on).
With all that said, I'd love to see higher frame rates and lower formats/resolutions. For example (and theoretically speaking), I'd love to see the option for 240 FPS, even if it was only capable in 1080 HD using something like ProRes 422. I know everyone I've talked to echoes the same request.
I do wish Blackmagic had designed physical "function" buttons on the camera to quickly recall my most-used camera setting combinations. Just 3 of these buttons would have sufficed. For example, one button could be assigned to set the camera for 4K, 23.98 FPS, ProRes 422, 180° shutter, 3200K WB. By hitting another function button, the entire camera could switch to 4K, 3:1 RAW, 80 FPS, 180° shutter, 5600K WB.
But there is a solution that I believe could be implemented in firmware: Using a button combination could allow for at least 7 physical function buttons. For example, holding down the "Iris" button (or Iris + Focus buttons together, both of which I never use anyway) could be the "modifier" key while concurrently pressing any of the side buttons on the 10-inch screen to bring up your saved setting. And how could these settings be saved in the first place? A simple addition to the menu could include an option to "Save current camera state to function/recall button". When you click this in the menu, all your current camera settings will be saved when you press your desired physical button on the 10-panel. The menu can then show a confirmation screen ("Yes" or "Cancel") to save the settings to that new function button. This may sound complicated to do, but trust me; it would be very simple after it was performed the first time. Anyway, this is something I've relayed to the Blackmagic development team, so hopefully we'll see something like this in a future firmware upgrade.
There are no internal ND filters with the URSA unfortunately, so you'll have to go post-lens as either a screw-on lens filter or a matte box filter. We do both, depending on the type of shoot. I've been very happy with the Singh-Ray Vari-N-Duo 77mm filter over the years for screw-on filters. For our matte box, I'm a bit of a Schneider Optics snob and as such, I use their various ND filters (ND, not IRND) in combination with the IR-CUT 680 filter.
I'd love to see the ability to expand the three AV displays (histogram, focus peaking, audio waveform) into the 5-inch screen by simply double-tapping either of them. Then tap the screen to escape out of expanded view. This would especially make the histogram even more powerful.
A really nice option would be to see an array of waveform/vectorscope/audio overlays on the 10-inch screen at different sizes, positions, and opacity levels. Just "add" the Ultrascope code in the URSA as an overlay option! With that fat CPU, it's possible, right?!! Okay, only Blackmagic knows how much processing they can eek out of the URSA, but I have to imagine there's a ton of unused cycles that could be used for such a task, even if just simplified.
One wish-list item I've always wanted to see implemented would be an option to use the audio inputs as digital audio inputs. The camera's menu already gives the option for what type of audio input you want to use (including the built-in microphone), so adding "AES/EBU Digital" could be added to that menu. I do not know how the internal ADC (Analog to Digital Converter) signal path works in the URSA, so it may not be even technically possible, but an educated guess tells me it's something that could be developed in software. It would allow users like myself to use extremely high quality mic pre-amps with extremely clean ADC output conversion (like our Sound Devices MixPre-D) so that the URSA then becomes an audio "bit-bucket", resulting in the best audio quality possible without having to do a lick of ADC legwork. In fact, since the URSA has two XLR inputs, this could theoretically equate to 4 channels of digital audio inputs (a single XLR connection for AES/EBU digital delivers 2 channels of audio). Again, this is all just hopeful wishing, as I have no idea if the URSA's hardware can even support any of this.
One last wish list item would be to add single clip deletion. This request was honestly not a big deal to me prior to the URSA. But when we're shooting 4K 80 FPS RAW, we only have a few clips to hold on a single 128GB CFast 2 card. If the 4th shot on the card is crap, I'd rather delete the clip than fill up the card sooner than needed. I understand that Blackmagic doesn't want to fragment the media to maintain the highest bandwidth rate possible in the media. But I'd love to at least have the option to delete the very last clip, which I assume wouldn't fragment the card. I could be completely wrong, as I don't know the engineering details to how the files are being written/optimized onto the CFast 2 cards by the URSA. But hey, it doesn't hurt to ask!
[title type="special-h4-left" color="" animation="left-to-right" animation_delay="" class=""]Accessories[/title]
I get asked on an almost daily basis how I like using the URSA (hens, the purpose of this article) and what type of accessories I'm using with it. One of the things I love about the URSA is the fact that it's a fairly self contained unit; I don't need a lot of "parts" to make it work. With that said, there are some bits and pieces that I've found to be very useful as part of "the package".
One little item I really like is the Wooden Camera Wireless Side Plate Adapter (shown above-left) and the optional Universal Wireless Side Plate. We use this combo to easily mount our wireless receivers and timecode transmitters (shown above-center). Works like a charm.
Off the bat, you need some type of battery plate to use with the URSA (shown above-right) so you can use the camera outside of AC power. Blackmagic offers an OEM V-mount solution, which I think will suit most users just fine and is about half the cost of comparable V-mount plate solutions. I personally prefer Gold Mount however. Although we have both V-mount and Gold Mount batteries (and mounts), I personally prefer Gold Mount plates and batteries whenever possible, simply because the interlocking mechanism is superior on Gold Mount systems than it is on V-mount systems (I use the Switronix GP-S-URSA V-Mount Plate, which I like. There's also a Wooden Camera Gold Mount plate as well). I will say though that there are much more affordable V-mount batteries and chargers on the market than there are Gold-mount solutions (although that is drastically changing as well).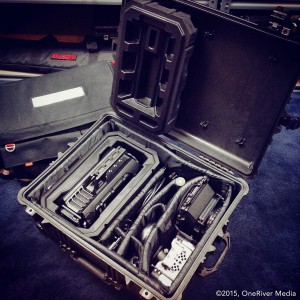 Oh and here's something pretty cool. Our old Sony EX1 used to be housed in a Pelican 1650 hard case. We found our URSA fits perfectly in this hard case using the black rubber casing that originally came with our URSA (I also added the Pelican 1655 Padded Divider Set to better situate added gear in the case. There's also a combo kit. Add the Pelican 1659 Lid Organizer for even more storage in the 1650 case). The bad news is that this hard black rubber casing from Blackmagic no longer ships with the URSA (instead, it is standard white Styrofoam). If you're an early user of the URSA like us, then dig out your old black rubber casing and stick it in a Pelican 1650 case. It's an absolutely perfect fit.
[title type="special-h4-left" color="" animation="left-to-right" animation_delay="" class=""]Conclusion[/title]
I've personally been a big fan of Blackmagic Design's cameras since the original Cinema Camera came out in 2012. It changed so many things in the industry. The URSA has been just as impacting for us, if not more, since it truly fits more in line with the type of productions we do. One of my producer/director clients, absolutely LOVES the URSA and he doesn't even shoot with it! He loves the fact that he can look over my shoulder when I'm shooting (which I invite my directors/producers to do, as it doesn't distract me in any way) and easily watches the 10-inch screen to see how the shot is looking. Likewise, he loves (and I love) the 4K ProRes workflow for its high quality, simple file structure, and extremely fast workflow.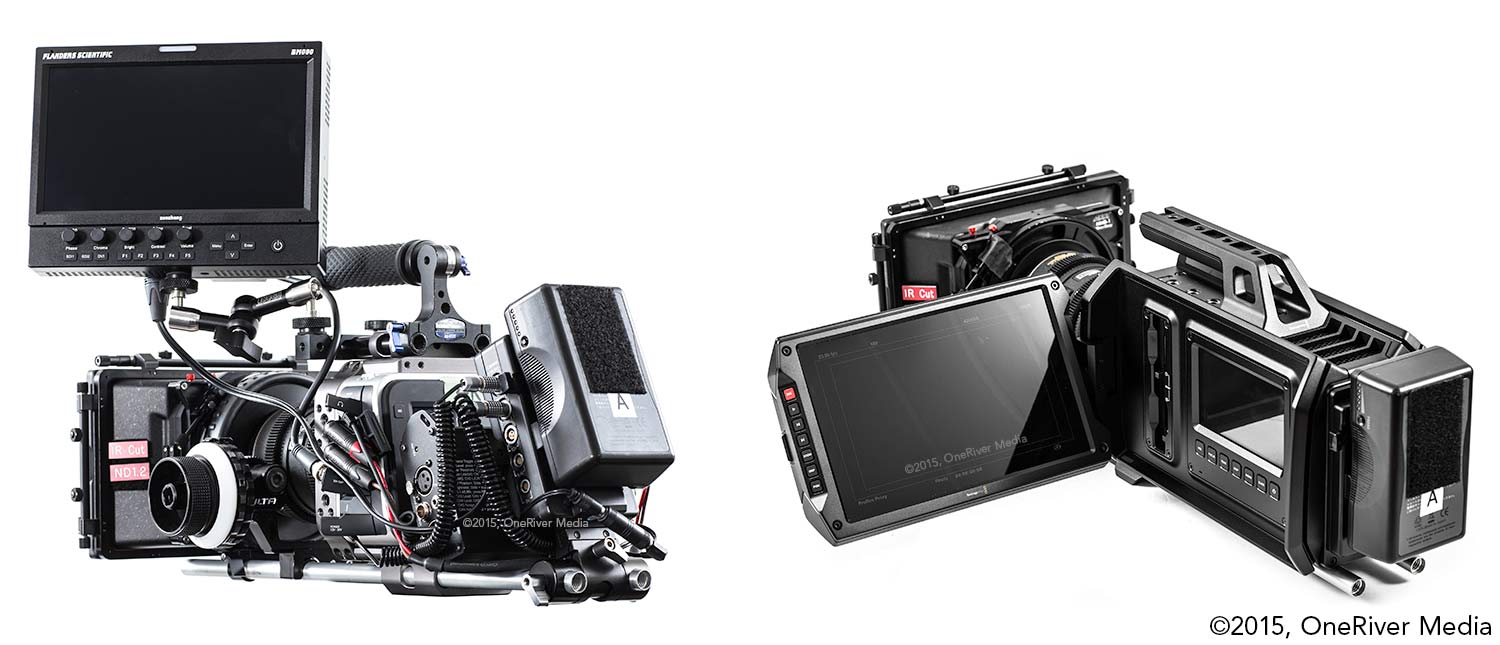 Although the URSA is inherently large in its physical stature, I'm literally bringing less gear and rigging for this camera as compared to our other Blackmagic cameras since those cameras typically have to be rigged up (external monitor, external battery plate/distribution, top handle, phantom powered audio box, various cables, etc.) to essentially build what the URSA is as one, single, simplified unit. If anything else, rigging up the URSA consumes far less time than an equally equipped Production Camera 4K or Cinema Camera as shown above.
Out of the 10 to 12 or so cameras we can choose for our productions, which includes a RED Dragon and a Canon C500, the URSA has been our number 1 used camera since we started shooting with it in 2014… that's pretty nuts. The fact of the matter is, the URSA's combination of powerful internal 4K recording options, it's unified form factor, the Super35 global shutter, the 10-inch screen, its various I/O ports, and many other features, all for the cost of only $6K is truly hard to beat (or imagine). And the fact there's a future upgrade path to an even higher performance sensor (that is easily swappable) is the icing on the cake.
As for lenses, we've used an assortment of various primes and zooms. I recently posted a review of LockCircle's affordable PrimeCircle XM50 50mm f/1.4 super speed cine lens and have found it to be a wonderful compliment to shooting with the URSA. Using a fully manual cine lens on the URSA just feels right and logically so.
Is the URSA perfect? Hell no. No camera is. It's an impossible task that can never be accomplished. But even with URSA's imperfections, the advanced features the URSA employs completely outweigh its limitations, at least for our needs. But like anything, a camera is merely a tool and nothing more.
For some, the URSA may not fit their type of production needs and I totally understand that. I'm a big fan of many cameras outside of Blackmagic's arsenal (Sony FS7, Sony F5, Sony F55, Sony F65, Sony A7s, RED Dragon, ARRI Amira, ARRI Alexa, ARRI Alexa Mini, Canon C300, and the Panasonic Varicam 35 to name a "few"). But for our specific production needs, the URSA has been a consistent winner for us. As a busy production/post-production facility, we have the option to use, buy, or rent any camera we want, but the URSA has kept us busy the most.
Sadly, I've seen comments that the URSA is "just a toy" or that it's "only for Youtubers", which in my opinion is completely ignorant and self-absorbing. I've seen incredible footage captured from the URSA (and the Production Camera 4K, which uses the same sensor). Who cares what camera was used to shoot footage, if in the end it looks incredible with amazing detail, latitude, and color space tied together with an amazing story? For us, image quality has always been our first priority (including the original Cinema Camera) while keeping budget in mind and the URSA delivers, not just in that regard, but in features and functionality. Yes, the camera isn't lightweight, but neither is an ARRI Alexa; both cameras have their place in the production world and continue to operate just fine with their payload. Under no condition do I put the URSA on the same level as the ARRI Alexa. They are in two completely different leagues in terms of quality and budget. The flawless color rendition and latitude of the Alexa is unparalleled (in my opinion), but for a camera like the URSA with all its features to cost 10 to 15 times less than the price of the Alexa (body only), the URSA should be applauded.
Is the URSA right for you? Only you can answer that million-dollar question. If you're used to only operating DSLR-sized cameras, then the URSA will definitely feel heavy and overbearing to you. But if you're used to operating anything from Betacam SP cameras of old to newer cameras with large payloads like the Alexa, then the URSA wont feel any different in that regard. The water-cooled power of internal 4K 80p RAW and ProRes formats, all of which captured by a Super35 global shutter, and displayed with a beautiful 10-inch screen is really hard to beat… especially at a paltry $6,000 price tag for the EF mount model and $6,500 for the PL mount model. For our types of productions, the URSA has fit the bill incredibly, as our #1 used camera in the facility.
[image_frame url="http://www.onerivermedia.com/blog/wp-content/uploads/2015/04/URSA-Capture-Beach-Sunset-Marco-Solorio.1a.jpg" border_style="boxed-frame" action="open-lightbox" link="" animation="" animation_delay="" class=""]
Marco Solorio using the URSA in 80 FPS 4K RAW mode to capture the birds flying through the sunset in Carmel, California for an up-coming series delivered in 4K.
[title type="special-h4-left" color="" animation="left-to-right" animation_delay="" class=""]Top Features At A Glance[/title] [list type="unordered" lined="no" animation="" animation_delay="" class=""] [list_item icon="" color=""]Super35 4K 16-bit linear sensor with global shutter[/list_item] [list_item icon="" color=""]
EF mount
or
PL mount
options (Removable "turret" to upgrade mount + sensor)[/list_item] [list_item icon="" color=""]12-bit RAW, 1:1 (5-30 FPS) or 3:1 compression (5-80 FPS)[/list_item] [list_item icon="" color=""]12-bit RGB ProRes444 (5-60 FPS 4K, 5-80 FPS 1080 HD), 10-bit Y'CrCb ProRes HQ/422/LT/Proxy (4K UHD or 1080 HD at 5-80 FPS)[/list_item] [list_item icon="" color=""]Time-lapse (in any RAW or ProRes format) from 2 FPS to 10 minutes per frame[/list_item] [list_item icon="" color=""]LOG or Rec709 color space (Blackmagic refers to these as "Film" and "Video" mode respectively[/list_item] [list_item icon="" color=""]Dual CFast 2.0 slots (with formatting to either HFS+ or exFAT)[/list_item] [list_item icon="" color=""]Water-cooled CPU[/list_item] [list_item icon="" color=""]2 XLR audio inputs with phantom power, soloing, and muting[/list_item] [list_item icon="" color=""]12G-SDI output and input ports[/list_item] [list_item icon="" color=""]Secondary 3G-SDI output with 4-pin XLR power for dedicated external EVF or monitor[/list_item] [list_item icon="" color=""]Timecode input and timecode output BNC ports[/list_item] [list_item icon="" color=""]BNC reference input[/list_item] [list_item icon="" color=""]4-pin XLR power input (comes with 4-pin XLR power adapter)[/list_item] [list_item icon="" color=""]10-inch flip out screen with 2X zoom for focus assist[/list_item] [list_item icon="" color=""]Two 5-inch touch screens[/list_item] [list_item icon="" color=""]Histogram and focus peaking on touch screens[/list_item] [list_item icon="" color=""]Adjustable exposure zebras[/list_item] [list_item icon="" color=""]Focus assist peaking overlay[/list_item] [list_item icon="" color=""]Running 2-channel audio waveform with 0db red-peaking[/list_item] [list_item icon="" color=""]18-step 2-channel LED audio meters[/list_item] [list_item icon="" color=""]Integrated metadata support[/list_item] [list_item icon="" color=""]EF model has support of electronic lenses including image stabilization, aperture control, and auto focus (for electronic lenses that support these features).[/list_item] [list_item icon="" color=""]Integrated battery plate support (V-mount or Gold Mount)[/list_item] [list_item icon="" color=""]Full license with USB dongle of
DaVinci Resolve
included[/list_item] [/list]
Blackmagic Design URSA EF – $5995
Blackmagic Design URSA PL – $6495
Company website: www.blackmagicdesign.com
Product webpage: www.blackmagicdesign.com/products/blackmagicursa
---
---
FCC Disclaimer - Links from this article might go to affiliate links to B&H and/or Amazon (not much different than the ads you see in YouTube ads, but more focused). Visiting these links (or buying products from the links) cost you nothing additional and may in turn help us pay for the cost of hosting these free articles we write. These articles take an enormous amount of time (in most cases, weeks and months) to research, draft, write, edit, rewrite, and shoot custom photography/video for. In no way do these affiliate links cover the cost of all of that, so any help these links can provide is a huge help to us to continue to offer free content to our readers.
---
RECENT BLOG POSTS